Reviewed by GREG KING
Director: Ol Parker
Stars: George Clooney, Julia Roberts, Kaitlyn Dever, Billie Lourd, Maxime Bouttier, Genevieve Lemon, Lucas Bravo.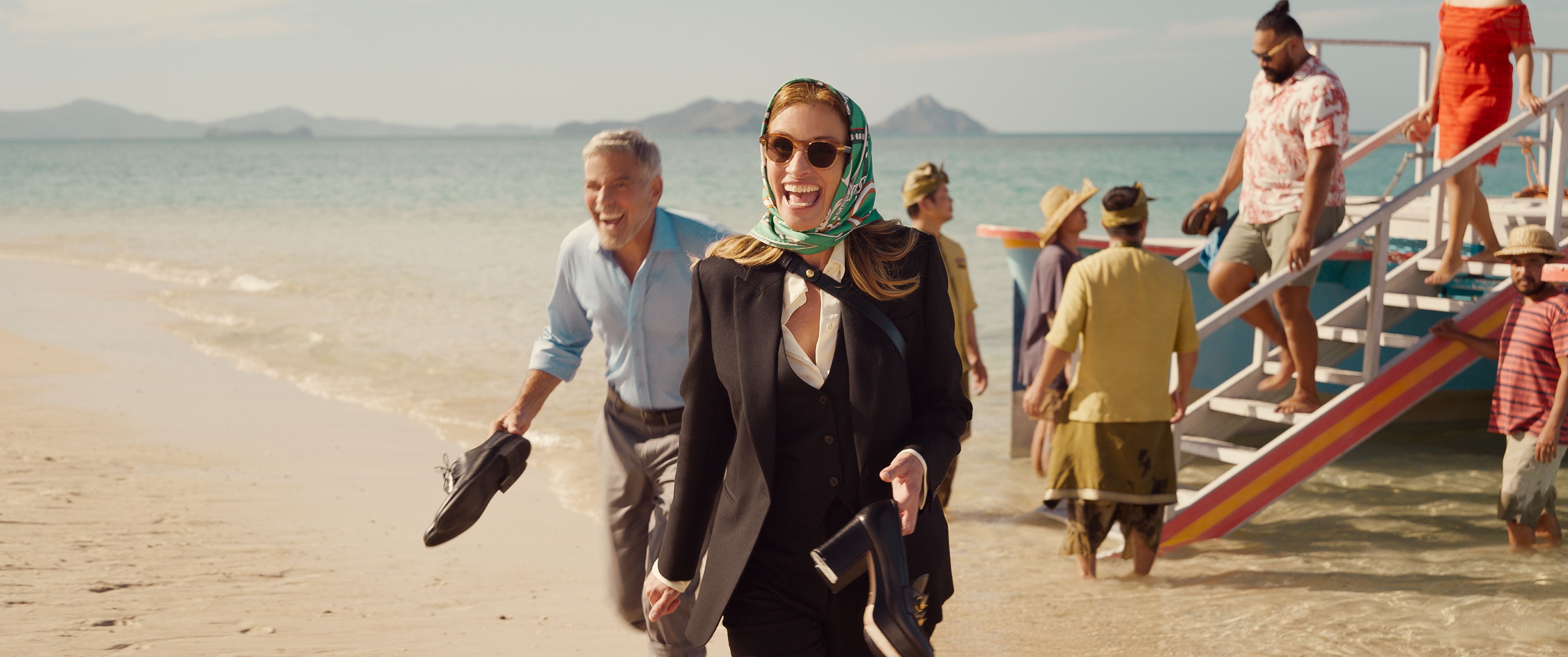 Shot in Queensland Ticket To Paradise is a formulaic and lightweight but ultimately bland romantic comedy that pairs Hollywood heavyweights George Clooney and Julia Roberts for their fifth film together. It will be crowd pleasing entertainment for undemanding audiences of a certain age. 
Clooney plays David, a successful architect who has been divorced from Georgia (Roberts) for 14 years, and they are barely on speaking terms. Their relationship is characterised by their continual barbs, putdowns and vitriol. But the feuding pair temporarily put aside their mutual hostility when they come together to sabotage their daughter's upcoming nuptials. Lily (Kaitlyn Dever, from Booksmart, etc) has just graduated from college and seems headed for a promising career with a prestigious Chicago law firm.
But before beginning her career she heads off on a holiday to Bali with her hard partying best friend Wren (Dever's Booksmart co-star Billie Lourd). There she meets Gede (charmingly played by Indonesian actor/singer Maxime Bouttier in his first Hollywood feature), a seaweed farmer, and falls in love. After a whirlwind romance she agrees to marry him. However, because of their own experience with their own unhappy marriage, David and Georgia fear that Lily is making a big mistake by rushing into a marriage with a man she has only known for a couple of months. Determined to stop her from making a mistake that may lead to further unhappiness, David and Georgia conspire to sabotage the wedding.
However, in joining forces the two come to rediscover the youthful dreams and spark that initially drew them together in the first place twenty-five years earlier. Further complicating matters is the unexpected arrival of Georgia's love-struck but rather boring pilot boyfriend Paul (Lucas Bravo, from Emily In Paris, etc).
Ticket To Paradise has been written by Ol Parker (who wrote The Best Exotic Marigold Hotel, etc), and Daniel Pipski, and it ticks all the boxes for the romcom genre without bringing anything fresh to the formula. Parker, who also directed Mamma Mia! Here We Go Again, has a suitably light touch here, and there are quite a few laugh-out loud moments. But the film is fairly predictable from the outset and Ticket To Paradise holds no surprises for those familiar with the tropes of the genre.
This is Clooney's first romcom since 1996's One Fine Day, and he exudes plenty of charm here and demonstrates a nice sense of comic timing. Having worked together previously he and Roberts share a palpable and easy chemistry here as the bickering couple who quickly fire barbs at each other, and their cutting comments and snide putdowns somehow elevate the material. They are clearly having fun and this is shown in the outtakes that play during the end credits. Dever is solid in her role as the headstrong Lily, while Lourd seems underused in the role of the best friend.
The film was largely shot in Queensland, with the Whitsunday Islands doubling for Bali, and the scenery is certainly nice to look at. Cinematographer Ole Bratt Birkeland (American Animals, etc) has done a nice job with the post card like visuals, bringing to life the beautiful beaches and rainforests that will have many in the audience planning their next holiday abroad.  
★★★