Reviewed by GREG KING
Director: Shawn Levy
Stars: Ryan Reynolds, Jodie Comer, Joe Keery, Taika Waititi, Lil Rey Howery, Utkarsh Ambudkar, Aaron Reed, Tina Fey, Channing Tatum, Hugh Jackman, Chris Evans, Dwayne Johnson.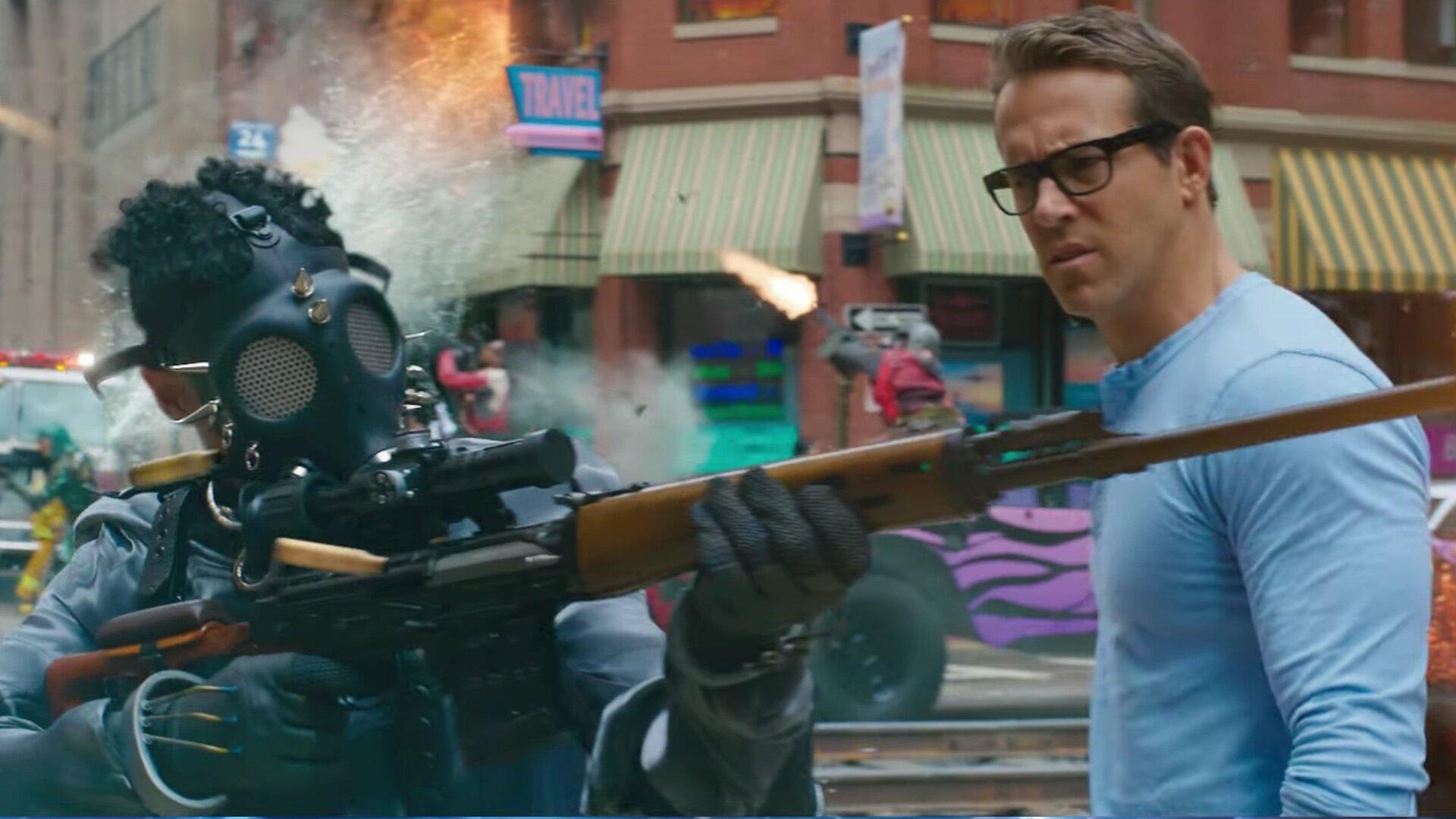 Guy (Ryan Reynolds) is a mild-mannered bank teller who loves his job and his life in Free City. For him, every day is like Groundhog Day in which the characters experience the same day and events over an over – he gets up, has his morning coffee, walks to the bank where he works, and every day the bank is robbed. Guy is actually a non-participant character in a multiplayer online video game developed by Soonami Games. But that all changes when a code is inserted into the game and he develops a conscience and becomes aware that he is only a character in a game. He catches sight of a mysterious AI character known as Molotov Girl (Jodie Comer, from Killing Eve, etc) and becomes obsessed with her. Guy's actions are uncharacteristic and he becomes an instrument of change within the game, changing the dynamics and reshaping the action. Recognised as "the blue shirt guy" by game players he becomes a hero of this world as he starts to rid Free City of its crime and violence. 
A parallel secondary plot set in the real world follows genius game developers Millie (also played by Comer) and Keys (Joe Keery, from Stranger Things, etc), who have created the video game. But their design and ideas have been stolen by their sleazy boss Antwan (New Zealand filmmaker Taika Waititi, Hunt For The Wilderpeople, etc) who becomes rich from the game and its commercial offshoots. Millie and Keys set out to prove that Antwan stole their intellectual property and exploited their ideas for profit. Keys constructed Molotov Girl as a way to reflect his true feelings and unrequited affection for Millie. But as Antoine tries to delete the evidence, ironically it becomes Guy who is the only one who can save this online world.
An anarchic mix of sci-fi and video game action, Free Guy is a clever idea that has been written by Matt Lieberman (Playing With Fire, etc) and Zac Penn (Ready Player One, etc), and is heavily influence by the likes of Wreck-It Ralph, The LEGO Movie, Tron, The Matrix, The Truman Show, and even the video game Grand Theft Auto (as Free City has been inspired by the settings of that game). Director Shawn Levy (Night At The Museum, etc) and his production designer Ethan Tobman suffuse the material with video game like visual aesthetic and eye-popping visual candy. Levy brings plenty of energy to the material with chases and some comic book like violence.  
Levy and his special effects crew have created a digital effect spectacle as the game literally begins to collapse around Guy. The film's critique of the moral ambiguity of the video game world with its violence and greed seems a little hypocritical given that it revels in its video game ambience. The film is liberally spiced with lots of in-jokes, movie references, video game references', and there are video game elements liberally scattered throughout the film. The film has been superbly shot by cinematographer George Richmond who uses bright colours.
Reynolds lends his usual smug, arrogant and snarky persona to the role of Guy, and is the glue that holds it all together. Waititi hams it up wonderfully with an over-the-top performance as the megalomaniacal and narcissistic Antwan. Comer makes the most of her dual role with s surprising physicality. Some clever vocal cameos from the likes of Dwayne Johnson, Tina Fey, Hugh Jackman, John Krasinski, Chris Evans and some well-known gamers themselves further add to the novelty value. 
★★☆