TAR Reviewed by GREG KING
Stars: Cate Blanchett, Nina Hoss, Noemie Merlant, Sophie Kauer, Mila Bogojevic, Adam Gopnik, Mark Strong, Allan Corduner, Julian Glover.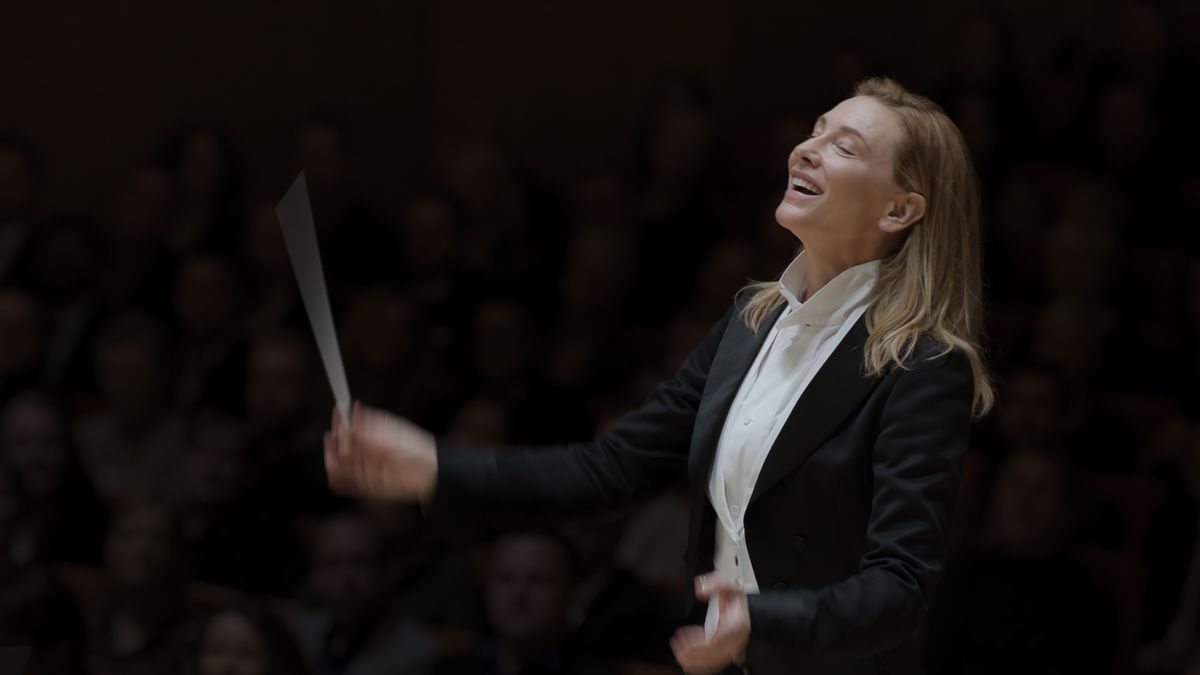 Despite two Oscar nominations to his name Todd Field is not the most prolific of filmmakers. Tar is only his third feature in two decades, following In The Bedroom and Little Children, and is his first film in 16 years. Tar is a detailed, warts and all character study and psychological drama that charts the downfall of a world-famous conductor. But the film is also an examination of power, ambition, fame, sex, abuse, gender and identity politics, artistic integrity, and even cancel culture in the age of #MeToo.
Lydia Tar (played by Cate Blanchett) is a phenomenally successful and internationally revered female conductor who has made her mark in a predominantly male dominated field. A protégé of the legendary Leonard Bernstein, she is one of a handful of artists to have won the big four entertainment awards – an Emmy, a Golden Globe, an Oscar and a Tony – and is at the peak of her career. She is the first ever female conductor of the Berlin Philharmonic Orchestra and is in the middle of rehearsing Mahler's Fifth Symphony with them. She has a series of top selling albums, Broadway scores, sell out concert appearances and even a couple of best-selling books to her name. She lives with her long-suffering and patient wife Sharon (Nina Hoss, from Homeland, etc), who is also the orchestra concertmaster and first violinist. The couple raise their adopted young daughter Petra (played by first-timer Mila Bogojevic). Tensions arise when Lydia promotes young Russian cellist Olga (newcomer Sophie Kauer) to lead role in the orchestra over the usual long-time lead.
She also teaches at the prestigious Julliard School in New York, where, during one class she confronts a student who is critical of Bach because of his flaws as a human, and she mounts a spirited and passionate defence of the musician. This scene was apparently shot in one take.
But then it all begins to spectacularly fall apart when allegations of sexual harassment and abuse surface, and it has been suggested that she has sought sexual favours from aspiring young musicians. These allegations arise after a former protégé commits suicide after Lydia has painted her as unstable and obsessive. From that point Field slowly chips away at Lydia's carefully crafted and maintained façade.
The film opens with an extended sequence in which real life New Yorker journalist Adam Gopnik interviews Tar before a live audience to launch her personal memoir Tar On Tar. She talks about how the world of classical music seems to be dominated by males.
Blanchett delivers one of the best performances of her career to date with an icy, controlled and precise reading of her complex character and she captures her arrogance and egotistical nature and her frailties and flaws as well as her strengths and drive. She also taps into that growing sense of uneasiness and desperation as her career and life begins to fall apart. She brings a brittle quality to her performance as Lydia's life begins to spectacularly derail. Blanchett totally inhabits the character, and it's little wonder that her performance has been winning awards everywhere since the film premiered at the Venice Film festival in 2022. Lydia is a fictitious creation, but she seems so real and fully developed that it is easy to mistakenly assume that this is a biopic of a real-life famous maestro.
There are a couple of strong performances from the supporting players that leave an impression on the material. Hoss delivers a strong performance as the long-suffering who finally leaves Lydia amidst the very public fallout and scandal that engulfs her. Noemie Merlant (from Portrait Of A Lady On Fire, etc) plays Francesca, Lydia's beleaguered personal assistant (the latest in a long line) who is ambitious but who also is protective of Lydia.
Field adapts an almost European approach to his film, with lots of long takes and a static camera, but with an overly generous running time of 160 minutes the film may test the patience of some in the audience. Tar is a superb looking production. Cinematographer Florian Hoffmeister (Antlers, etc) uses a greyish colour palette that heightens the film's chilly and austere look. This is a slow burn film and Field and Hoffmeister use long takes to create a certain mood. But as Tar's career crashes and burns, he uses lots of shorter, rapidly edited shots that bring a sense of energy to the material. But the ending seems a little soft and disappointing given all that had preceded it. Hildur Guonadottir's evocative string-led music score adds to the tense atmosphere. There is also some great production design from Marco Bittner Rosser (Only Lovers Left Alive, etc).
★★★★