Reviewed by GREG KING
Director: Damien Chazelle
Stars: Brad Pitt, Margot Robbie, Diego Calva, Jovan Adepo, Jean Smart, Tobey Maguire, Max Minghella, Olivia Hamilton, Samara Weaving, Lukas Haas, Katherine Waterston, Olivia Wilde, Spike Jonze, Jeff Garlin, Li Jun Li, Eric Roberts, P J Byrne, Joe Dallesandro, Ethan Suplee, Flea, Albert Hammond jr, Patrick Fugit.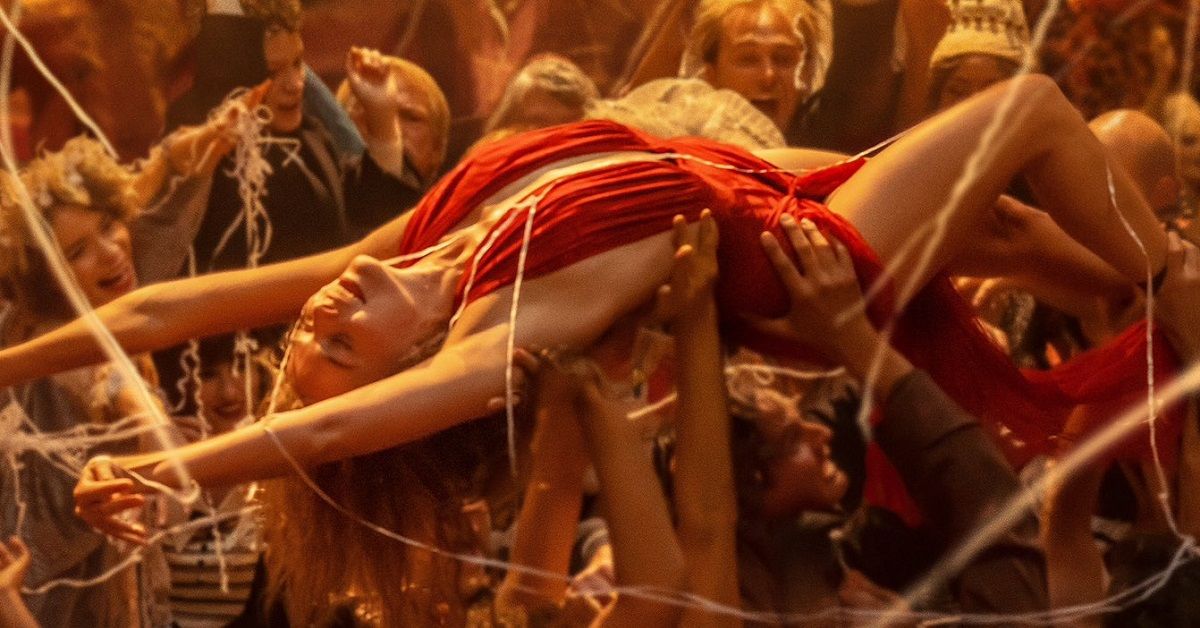 Hollywood loves movies that explore its rich history and colourful past, but they are not always as enthusiastically embraced by audiences. The latest film from Oscar winning director Damien Chazelle (Whiplash, etc) is an ambitious, epic celebration of the movies and their power to entertain, to enthrall, to move and to inspire us.
Babylon is a love letter to cinema, but it is also a sprawling, energetic, wild, bonkers look at the early history of Hollywood movie making, spanning a decade from the mid 1920s when filmmakers shot in the studio backlots of the orchards and orange groves of California, often with three or four movies being shot on the same location simultaneously without any safety protocols in place, through to the mid 1930s. Chazelle even looks at the transition to sound to see how filmmakers were affected by and adapted to these new and emerging technologies. Chazelle takes a scattershot approach to the material over the course of 189 minutes, and not all of what he throws at the screen is successful.
Film buffs will certainly recognise many of Chazelle's obvious cinematic influences here, and among the more obvious is Stanley Donen's 1952 classic Singin' In The Rain, whose plot about the transition from silent films to talkies mirrors some of the developments here. There is a wonderful and hilarious sequence that explores the early attempts to shoot a film scene using sound technology for the first time.
Babylon essentially follows the trajectory of four characters who cross paths during this time, either on film sets or at lavish society parties or even at raucous orgies. Jack Conrad (Brad Pitt) is a former matinee idol and top box office draw whose career has stalled with the advent of talking pictures and he seems unable to adapt to this new paradigm. Nellie LaRoy (Margot Robbie) is a brash young starlet determined to succeed in Hollywood but is brought down by her self-destructive nature and her addiction to drugs and gambling. Manny Torres (Diego Calva in his first Hollywood production) is an impoverished Mexican immigrant who finds work in the movie industry, first as a gofer on film sets then rising to become Conrad's personal assistant and finally becoming a studio producer. Both Manny and Nellie are outsiders determined to succeed in the film business and experience the "American Dream", but Nellie is more brazen and nakedly ambitious and willing to do anything to become a movie star. Manny is infatuated with the brash Nellie but is unable to halt her fall from grace. Samuel Parker (Jovan Adepo) is an African-American trumpet player who enjoys the highs of Hollywood success as a movie star of elaborate and lavish musicals, but who also feels the sting of racism.
Chazelle obviously knows his film history and the history of the silent era and Hollywood productions in the era before the restrictions of the censorious Hayes Code were introduced, and he captures the frenetic energy and creativity superbly. There some impressively staged set pieces here, but there are some sequences that are overly indulgent and more problematic and disturbing and not entirely successful – including a defecating elephant, some nonsense with a rattlesnake, and a bizarre Lynchian sequence in which Manny is introduced to a sleazy underbelly of Hollywood and a hidden world of sadism and violence via creepy gangster James McKay (Tobey Maguire, who is also credited as one of the executive producers of the film) when he tries to settles Nelly's gambling debt.
Fictitious characters mingle with real life figures of the era such as powerful producer Irving Thalberg (played by Max Minghella). There are strong performances from the leads, especially Pitt who brings charisma and swagger but also a melancholy quality to his faded star, who is broadly based on John Gilbert. Robbie brings a manic energy, exuberance and a seductive quality to her performance as Nellie and she dominates every scene she appears in. Eric Roberts appears as her debauched father Robert Roy, while Jean Smart plays Elinor St John, a gossip columnist much in the mold of Hedda Hopper and Louella Parsons. Li Jun Li plays Lady Fay Zhu, a sexually ambiguous cabaret singer, but her character remains pretty much underdeveloped. Olivia Hamilton plays the fictitious Ruth Adler, a pioneering female director.
The film unfolds at a fast and frantic pace, largely due to the frenetic editing of Chazelle's regular collaborator Tom Cross, whose work especially in the final montage sequence is superb. This montage revels in Chazelle's passion for cinema and film buffs will recognise many of the images that fly past their eyes. The film is technically superb, thanks to the glorious widescreen cinematography from Linus Sandgren (another regular collaborator). Justin Hurwitz's propulsive score is heavily influenced by the jazz music of the era. And the production design from Florencia Martin (Licorice Pizza, etc) is also evocative of this decadent era.
The film opens with an eye-opening extended coke-fuelled bacchanalian orgy that is full of debauchery, decadence, and thus is more realistic, more chaotic, raunchier, sexier and gleefully uninhibited than the strangely stilted orgy sequence captured by Kubrick in his Eyes Wide Shut.
Babylon is ultimately a film for cineastes and lovers of film and the rich history of filmmaking. General audiences may find it all a little overwhelming and disconcerting. 
★★★☆