Reviewed by GREG KING
Director: Harry Macqueen
Stars: Colin Firth, Stanley Tucci, Pippa Haywood.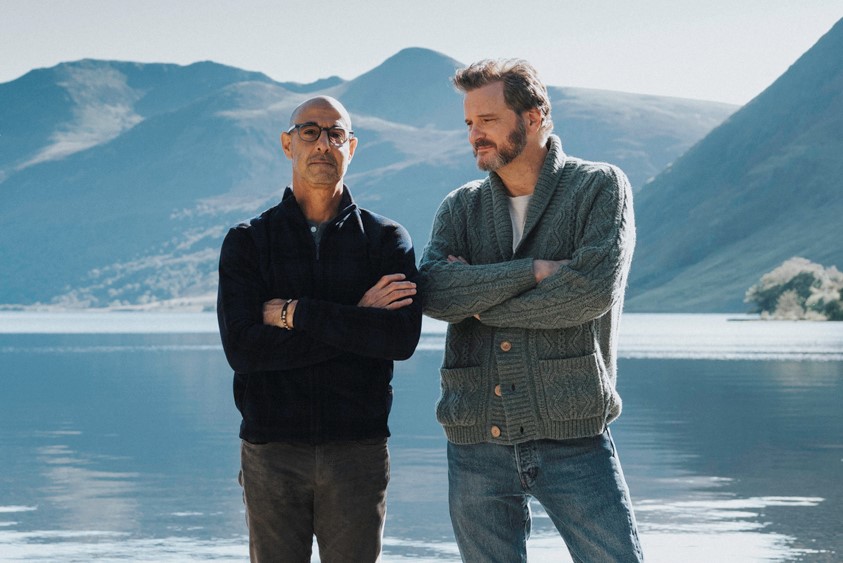 This is a bittersweet and intimate yet moving story about love and loss and it features a pair of superb performances from Oscar winner Colin Firth (The King's Speech, etc) and the always dependable Stanley Tucci (The Devil Wears Prada, etc).
Classical musician Sam (Firth) and renowned writer Tusker (Tucci) have been a happily married couple for years. But, two years ago, Tusker was diagnosed with early onset dementia, and Sam has put his concert career on hold to care for him. Tucker's disease is deteriorating, and he senses that the end is near, but he doesn't want to become a burden to Sam. "I want to be remembered for who I was, not who I am about to become," he says earnestly to Sam. Tusker and Sam set out on a road journey in their RV to revisit some familiar spots, favourite haunts, and even pay a visit to Sam's sister Lilly (Pippa Haywood) for a happy reunion. The journey is filled with plenty of playful bickering, reminiscences, and sarcastic jibes at the SATNAV system. During the road trip the pair also reveal a few secrets and personal intimacies they haven't shared before. But a dramatic revelation soon casts a pall over the trip and Sam and Tusker face a hard decision.
Supernova is a quiet, subdued and slow-moving film that deals with universal themes of sex, love and pain, family, friendship, loss and mortality, and even euthanasia. It is the sophomore feature for Harry Macqueen, following his 2015 debut Hinterland. His direction is restrained, sensitive and empathetic, and perfectly suits the tone and contemplative nature of the material. He avoids any overt sentimentality. Macqueen has worked extensively with some of the UK's leading dementia specialists, and his research lends an authenticity to the material.
Macqueen is better known for his work as an actor, and this has enabled him to draw out superb performances from his two leads. The chemistry between Firth and Tucci is palpable, and they completely inhabit their characters. Apparently, they swapped roles during the rehearsal period. They establish an easy-going rapport and dynamic that shapes their relationship and informs their shared history. They are obviously comfortable with each other. Macqueen effectively uses silences and small intimate gestures to convey the depth of the connection between the two men.
The bucolic countryside and the picturesque Lakes District has been superbly captured by Mike Leigh's regular cinematographer Dick Pope, and his widescreen lensing gives us some glorious scenery.
There have been many films dealing with dementia – the recent The Father, Still Alice, Away From Her, Michael Haneke's Amour, etc – and Supernova is another fine, intelligent, subtle and genuinely moving addition to this canon. It would be a hard heart indeed that is not moved by the film's final scene.
★★★☆