Reviewed by GREG KING
Director: Jaume Collet-Serra
Stars: Dwayne Johnson, Emily Blunt, Jack Whitehall, Jesse Plemons, Paul Giamatti, Edgar Ramirez, Pedro Lopez, Andy Nyman.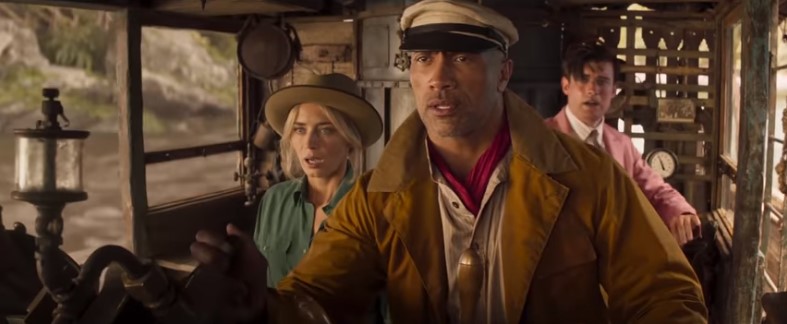 Not for the first time Disney has created a film purely based on one of their  theme park rides. There was Pirates Of The Caribbean, which launched a successful franchise featuring Johnny Depp, and the less successful Haunted Mansion which starred Eddie Murphy. Now we get Jungle Cruise, which is based on the theme park attraction that was launched in 1955. Here visitors ride a creaky old boat along a muddy Amazon River, and are treated to a number of animatronic creatures and artificial dangers, accompanied by a corny pun-laden narration from a grizzled sea faring captain. 
Written by Michael Green, Glenn Ficarra and John Requa (Crazy, Stupid Love, etc), Jungle Cruise comes across as an old-fashioned Saturday afternoon matinee adventure that is part Indiana Jones, part Pirates Of The Caribbean and part The African Queen. Jungle Cruise features a treasure hunt along the Amazon, evil Germans and a WWI era submarine, supernatural elements including a 500-year-old curse and resurrected Spanish conquistadors, and a feisty female British scientist in search of a legendary tree with healing powers. Despite the preposterous nature of many of these elements though, the film is actually a lot of fun, tremendously entertaining and a lot more enjoyable and exciting than the ride upon which it is based.
The film is set in Brazil in 1916. Lily Houghton (played by Emily Blunt, from A Quiet Place, etc) is a feisty scientist who is tired of not being taken seriously by the male dominated academic and stuffy geographic association of London. They refuse to take seriously her plans to mount an expedition to search for the legendary "tree of life", whose flower is supposed to have healing powers. Lily steals an artifact from the society's store room which is supposedly the key to finding the tree which is located somewhere in the deepest reaches of the Amazon jungle. Lily is accompanied by her reluctant and effete brother MacGregor (Jack Whitehall, from the ensemble romcom Mother's Day, etc, in his first major film role).
But the pair are also being pursued by the crazed and fanatical Prince Joachim (Jesse Plemons, recently seen in Judas And The Black Messiah, etc), the youngest and power hungry son of the Kaiser, whose pursuit of the fabled tree is less than altruistic. He wants to use its powers to not only win the war but grant himself a kind of immortality. Joaquim has revived a handful of undead conquistadors, led by the vengeful Aguirre (Edgar Ramirez, from Point Break, etc).
Arriving in the Amazon, Lily sets out to hire a boat to take her down the river. Through a series of misunderstandings, she hires a boat skippered by the roguish Frank Wolff (Dwayne Johnson, from Jumanji, etc), the less than reliable steamboat captain and tour guide who ferries tourists down the river. Much of his corny pun-laden banter, backstory and the artificial dangers they face are drawn from the Disneyland ride itself.
The effortless chemistry between Johnson and Blunt is palpable and their witty banter is a highlight of the film. Their dialogue crackles and sparkles and is reminiscent of the rapport between Humphrey Bogart and Katherine Hepburn in the Oscar winning 1951 adventure The African Queen. Johnson further capitalises on his surprising facility to mix action with a flair for light comedy in his performance. For her part Blunt throws herself into the physical demands of the role with ease and matches Johnson. She is not the typical helpless damsel in distress. It would be great to see them team up in another film.
Also surprising is that a Disney film features a protagonist who is gay, and Whitehall leaves his mark as the clumsy milquetoast MacGregor. Paul Giamatti brings his usual unctuous and smarmy persona to his small role as the sleazy businessman Nilo, who owns the fleet of boats and to whom Frank is heavily in debt. Plemmons also has fun chewing the scenery as the villainous Prince Joachim.
Director Jaume Collet-Serra (who helmed a number of Liam Neeson action films like Non-Stop, etc) maintains a fast pace throughout. The cinematography from regular collaborator Flavio Martinez Labiano (The Shallows, etc) is atmospheric and creates a suitable aesthetic, bathing the jungle in muted lighting. There is some superb production design from Jean-Vincent Puzos (The Lost CIty Of Z, etc), especially with his recreation of WWI London and the jungles of the Amazon.
However, the very busy climax overdoses on CGI special effects, and at 127 minutes the film's running time seems a little overly generous given the material. 
★★★☆