Reviewed by GREG KING
Director: Carina Tardieu
Stars: Francoise Damiens, Cecile de France, Alice de Lencquesaing, Guy Marchand, Andre Wilms, Esteban.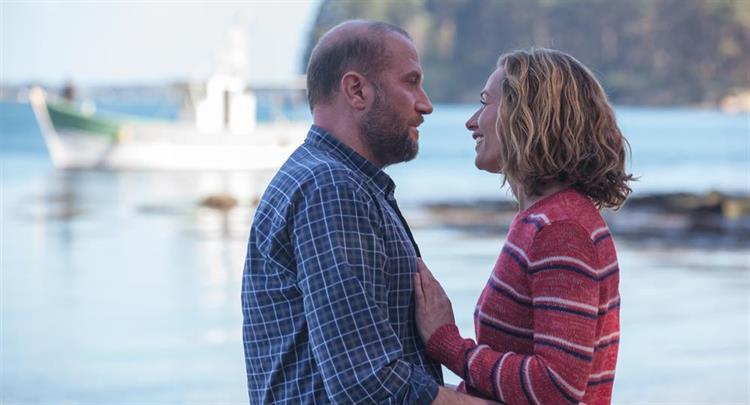 Erman Gourmelon (played by Francois Damiens, from the entertaining comedy The Family Belier, etc) is a widower in his mid-forties. He works as a bomb disposal expert, helping to clear mines and building sites of unexploded munitions from WWII. But little does he know that his personal life is about to become a minefield. His 22-year-old daughter Juliette (Alice de Lencquesaing, from the recent Frantz, etc) is pregnant following a one-night stand and declares that she does not know who the father is. But a medical test for a genetic abnormality reveals that the man Erman thought was his own father is not his biological father. Complications ensue.
Erman has enjoyed a close relationship with his father Bastien (veteran French actor Guy Marchand). Bastien is himself an old man, who loves heading out on his boat, but now needs regular medical check-ups to continue to pursue his hobby. Anxious to learn more about his biological father, Erman hires a private investigator (Brigitte Rouan), who locates the mischievous but charming 70-year-old Joseph (Andre Wilms, from Le Havre, etc), who lives about ten miles away. Erman develops a strong friendship with Joseph.
Meanwhile though Erman has grown attracted to local doctor Anna (Cecile de France), but complications arise when he discovers that Joseph may also be her father, and this affects their blossoming romance. And Erman's hapless employee Didier (Esteban) would like to be a father to Juliette's child.
The third feature for French filmmaker Carina Tardieu (The Dandelions, etc), Just To Be Sure is billed as a French romantic comedy, but it seems rather short of genuine laughs and humour. This light romcom deals with some pretty serious, weighty themes of paternity, fatherhood, family, and complex father/daughter relationships. The film has been written by Tardieu, Baya Kasmi (The Country Doctor, etc), Michel Leclerc (The Names Of Love, etc) and Raphaele Moussafir (The Dandelions), who try to bring a somewhat light-hearted approach to its themes and the numerous subplots running throughout the central narrative.
Tardieu draws nice performances from her ensemble cast. Damiens has a gruff and rough exterior, but he also has a gentle heart and brings warmth to his performance. De France brings warmth, charm and a sense of assurance to her performance. Esteban brings a hint of physical comedy to his role as the hapless but well-meaning Didier.
The film has been nicely shot by cinematographer Pierre Cottearau (Come What May, etc), who makes good use of locations to give the material a slick visual surface. There is also a lively score from Tardieu's regular collaborator Eric Slabiak.
Just To Be Sure received a rousing reception and standing ovation at its premiere at the Cannes Film Festival, but the typically Gallic sense of humour doesn't seem to have translated quite as effectively to international audiences.
★★★