Reviewed by GREG KING
Director: John R Leonetti
Stars: Annabelle Wallis, Ward Horton, Alfre Woodward, Tony Amendola, Brian Howe.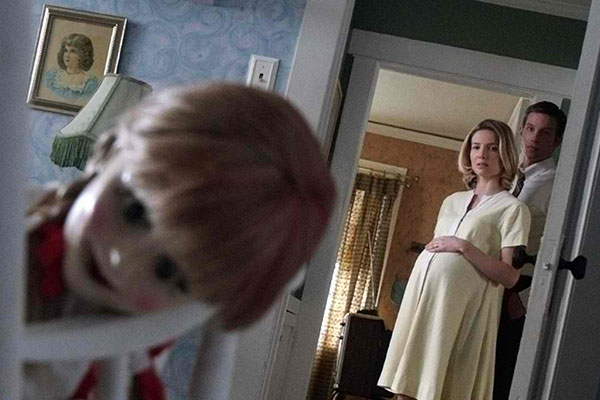 The Conjuring was a horror film that had an old fashioned look and feel about it, reminiscent of 70s supernatural flicks like The Amityville Horror, which was more about creating an uneasy atmosphere rather than giving us lots of gore and buckets of blood. And that brand of subtle old school horror works effectively here in Annabelle. The creepy looking, sinister and possessed doll played a small role in The Conjuring, but was deserving of its own spinoff film. And here it is!
Annabelle serves as a sort of prequel to The Conjuring, giving us a look at the early days of the doll and another family that was terrorised by its creepy presence. But this competent thriller is not another Magic, in which Anthony Hopkins' alcoholic ventriloquist was seemingly possessed by his dummy, or even another Chucky or Child's Play. Australian filmmaker James Wan, who directed the first couple of films in the Saw franchise and The Conjuring, is attached to this film merely as a producer, but his influence can be found all over the stylish look and feel.
Mia Gordon (Annabelle Wallis) and her devoted doctor husband John (Ward Horton) are a happily married young couple who live in the suburbs of Los Angeles. Mia is pregnant with their first child. John gives her a rare raggedy doll as a present to add to her extensive collection. Soon after that their lives are turned upside down. Their neighbours are brutally murdered by refugees from a cult, and Mia herself is attacked during a violent home invasion. And her attacker kills herself, with her blood dripping into the doll Annabelle.
The couple move into a spacious apartment in downtown Pasadena, where Mia can raise their baby in relative peace and calm. But spooky happenings seem to have followed them. Furniture moves, doors slam, there is something sinister in the bowels of the apartment block. Could Annabelle the doll somehow be responsible?
Director John R Leonetti (The Butterfly Effect 2, etc) worked as a cinematographer on Insidious and The Conjuring, so he knows this territory well. He deliberately taps into that 60s and 70s vibe with the look of the film, which has been shot in muted colours, and has a slow burn quality. Setting the film in the aftermath of the Manson Family's murderous spree also suffuses the material with a sense of paranoia and uncertainty. Suburbia had lost its innocence and was no longer a safe place for young families, with evil lurking in unexpected places. Annabelle also effectively taps into those natural fears and anxieties experienced by many pregnant women.
Nonetheless, Annabelle is still a little cliched in its structure, and Leonetti uses many familiar tricks to try and suffuse the material with an edge of suspense and unease. The way in which Leonetti shoots a rather brutal murder through a window, relying on shadows and light, is effectively jarring and almost reminiscent of Hitchcock. And the script from writer Gary Dauberman (Swamp Devil, etc) seems to reference a number of classic horror films of the era. There is one scene in which a character gets in his car and looks in his rear view mirror and you almost expect a murderer to leap up from the back seat. The film also uses a soundscape of things that go bump in the night and other unsettling noises to add to the atmosphere.
Unfortunately the central couple are a rather bland pair that makes it a little difficult to care about their fate. This is the first leading role for Wallis, who has worked extensively in television, but her performance as Mia is clunky and wooden, and we needed a stronger performance to really convey a sense of terror, fear and helplessness.
Leonetti and his production design team use the cavernous rooms and labyrinthine corridors of the Gordon's sprawling apartment effectively, and these claustrophobic interiors recall the classic Repulsion and especially Rosemary's Baby. The fact that the central heroine here is named Mia is no accident, and their surname could be a subtle reference to Ruth Gordon, who earned an Oscar for her work in that film.
And the presence of Alfre Woodard as a seemingly well meaning neighbour and local book shop proprietor also adds a further element of unease to the material as we are never sure if she can be trusted. After all, we have seen lots of sinister nurses and creepy nannies in horror flicks like The Omen, etc, to be instantly suspicious of such characters and their motives. Tony Amendola's neighbourhood priest Father Perez is also another character whose presence seems enigmatic and uncomfortable.
Annabelle is a spooky horror thriller that will appeal to those who prefer their horror dished up in more subtle and old school fashion.
★★★