Reviewed by GREG KING
Director: Martin Campbell
Stars: Chris O'Donnell, Robin Tunney, Bill Paxton, Scott Glenn, Izabella Scorpurio, Ben Mendelsohn, Robert Taylor, Steve Le Marquand, Temeura Morrison, Stuart Wilson.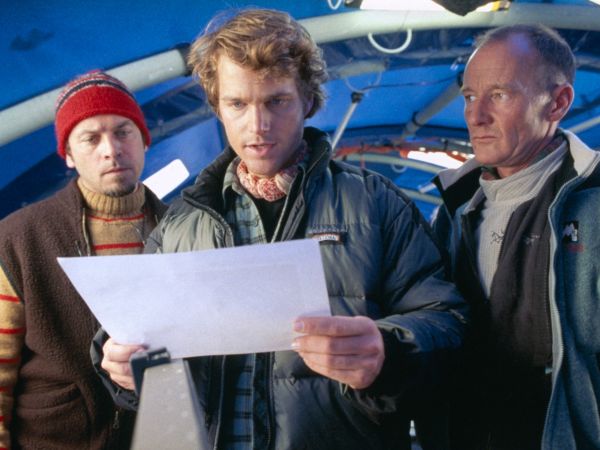 Martin Campbell (Goldeneye, The Mask Of Zorro, etc) is quickly building a reputation as a director of exciting, action yarns. His latest film Vertical Limit takes audiences on a spectacular thrill ride on top of one of the world's highest and most treacherous mountain peaks, and further enhances his reputation.
Vertical Limit combines the spectacular action of Stallone's Cliffhanger and the tension of Eastwood's The Eiger Sanction, with some edge of the seat thrills. Some of the unbelievable stunt work will have audiences sitting on the edge of their seats! In all, it's certainly not a film for those afraid of heights!
Chris O'Donnell, whose stalled career badly needs a hit, tries his hand at action mode as Peter Garrett, the son of a famous climber. Following a tragic incident that killed his father, Garrett turned his back on mountain climbing and has since has carved out a career as a wild life photographer for National Geographic. On assignment in Pakistan he takes time out to visit his sister Annie (Robin Tunney), who is guiding millionaire entrepreneur Elliot Vaughan (Bill Paxton) up K2, the world's second highest mountain.
Four years ago, Vaughan's previous attempt to conquer the mountain ended in disaster and tragedy. This time around however, his expedition is also a publicity stunt to help launch his new business venture, Majestic Airlines. But a sudden storm and an avalanche wipe out the expedition at 24,000 feet, stranding Vaughan, his guide, and Annie inside an ice cave, with time running out for their survival.
Garrett mounts a desperate rescue mission to try and reach the trapped party before they die from lack of oxygen. His ragtag team of climbers is led by enigmatic veteran Montgomery Wick (Scott Glenn), who has his own reasons for wanting to find Vaughan. The team also carry with them an unstable supply of volatile nitroglycerine, a la the classic Wages Of Fear, which adds another dimension to all the precarious high level antics.
There is plenty of tension in this race against time scenario, and Campbell efficiently milks the situation for thrills. But there are also plenty of ludicrous moments in the clichéd screenplay from writers Robert King (Red Corner) and Terry Hayes.
Ben Mendelsohn lends a touch of laconic humour to proceedings with his performance as one of the pair of Australian climbers who go along on the mission, while Izabella Scorupio (Goldeneye, etc) makes the most of her role as a feisty, no-nonsense female climber.
Shot partly on location in New Zealand's Queenstown region, Vertical Limit looks fantastic, and the cinematography is awesome.
★★★