Reviewed by GREG KING
Director: Kogonada
Stars: Colin Farrell, Jodie Turner-Smith, Justin H Min, Malea Emma Tjandrawidjaj, Orlagh Cassidy, Sarita Choudhury, Clifton Collins jr, Haley Lu Richardson.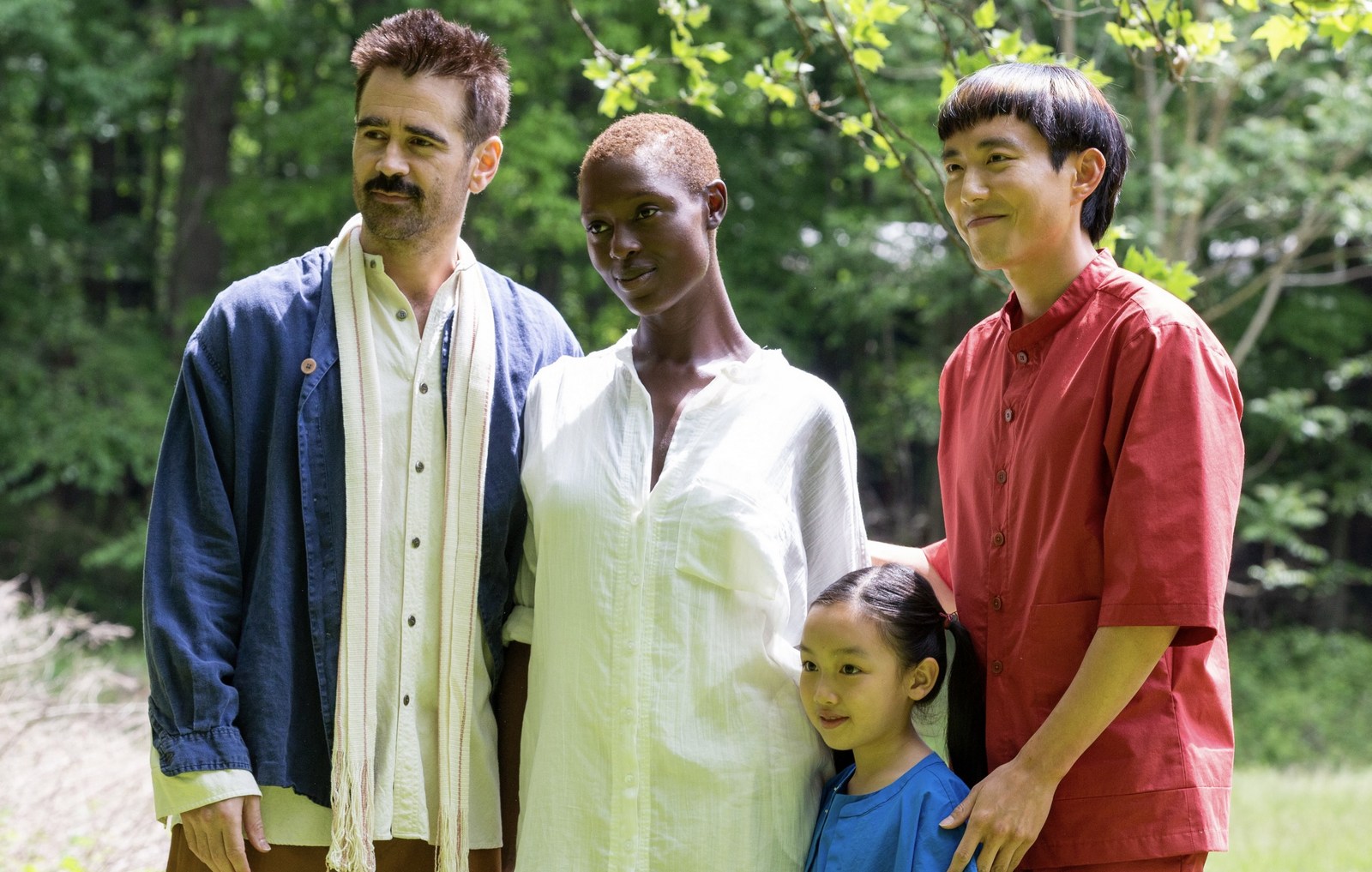 The sophomore feature for filmmaker Kogonada (Columbus), this low key science fiction drama deals with universal themes of death, loss, grief, identity, connections, alienation, the loss of innocence, the memories and emotions that make us human, and also the role of technology in our lives.  
The film is set in a not too distant future. Jake (Colin Farrell) runs and operates a tea shop, while his wife Kyra (Jodie Turner-Smith) is a successful business woman. The pair have an adopted Chinese daughter named Mika (newcomer Males Emma Tjandrawidjaja). But because they are both busy with their own lives, the couple have acquired an android big brother named Yang (Justin H Min) to look after her, keep her company, and, most importantly, keep her connected with her Chinese heritage and traditions. Mika leans heavily on Yang for guidance and company. But then one day Yang mysteriously breaks down and stops working and Mika is heartbroken.
Jake tries to have him repaired but he discovers that the warranty is invalid because he purchased Yang as a reconstituted model and not an original. Jake's attempts to repair Yang often flirt with the law, and he even discovers that there is an underground market for used androids and their parts. He even visits a museum where the curator tries to restore Yang. Eventually Jake also learns that Yang has been recording all of his interactions, not only with Mika and his family, but also with the families of his previous two owners. In accessing Yang's data storage through special glasses, Jake is able to learn more about his own family and the lives of others.
There have been numerous other films that have explored the role of androids and artificial intelligence in shaping our world, from HAL in Kubrick's 1967 classic 2001: A Space Odyssey through to Spielberg's 2001 film AI, the comedy Bicentennial Man, the classic Blade Runner, Alex Garland's Ex-Machina, Her, and the self-evolving Skynet of Terminator 2: Judgment Day, in which a self-aware computer network set out to destroy humanity, but in After Yang the tone is more realistic, with a subtle, reflective and whimsical tone rather than threatening.
After Yang is based on the short story Saying Goodbye To Yang, which comes from the book Children Of The New World by Alexander Weinstein and has been subtly adapted to the screen by Kogonada. The pseudonymous Kogonada is a video essayist who has perfected a cold and somewhat distant and detached style that keeps audiences at an emotional distance. The rich cinematography from Benjamin Loeb (Pieces Of A Woman, etc) gives us a rich and poetic mosaic of images that is reminiscent of the later works of Terrence Malick and his impressionistic approach to filmmaking. The repetition of some lines of dialogue and certain images reinforces the theme of memory. There is some good production design and aesthetic, and the deliberately detailed mise-en-scene is suggestive of a cold and impersonal future world. The haunting and evocative score from Aska Matsumiya adds to the film's tone.
Kogonada draws solid performances from his cast. Farrell projects a stillness and quiet quality here with a more introverted performance as Jake, who has a real lack of connection and understanding with his own family. Newcomer Tjandrawidjaja has a warm and adorable presence and delivers a confident performance.
After Yang is a small film that eschews the usual tropes of the sci-fi genre, and this whimsical, wistful and existential drama will appeal to audiences looking for an intelligent and provocative science-fiction drama that is grounded in a contemporary domestic reality.  
★★☆