Reviewed by GREG KING
Director: Michael lembeck
Stars: Ellen Burstyn, Jane Curtin, Ann-Margret, Loretta Devine, James Caan, Christopher Lloyd, French Stewart, Matthew Barnes, Elizabeth Mitchell, Alec Mapa, Courtney Gaines.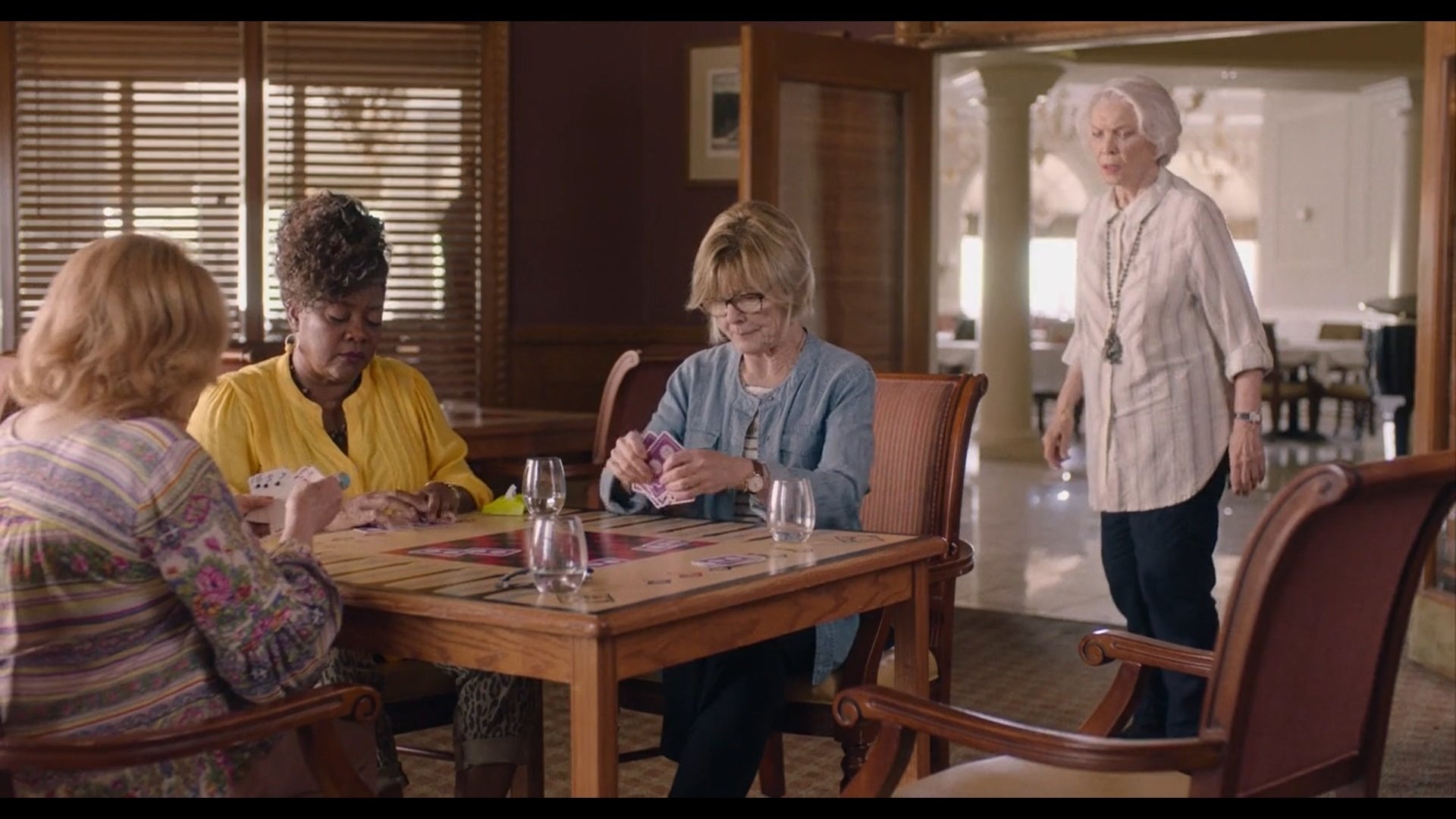 A geriatric Mean Girls? This likeable romantic comedy set in a retirement home is a moderately entertaining crowd pleaser that will appeal to audiences of a certain age.
Helen (played by Oscar winner Ellen Burstyn) is an independent 80 something widow living alone in the house that she and her husband built. But she is becoming increasingly forgetful, often locking herself out of the house. Her controlling estranged daughter Laura (Elizabeth Mitchell) is trying to convince here to move into Pine Grove, a nearby upmarket retirement village where she can be properly looked after. Then when she accidentally sets fire to her house Helen is reluctantly forced to temporarily move into Pine Grove until the insurance company can repair the damage.  
Helen finds that within the village community there exist cliques. Immediately she runs afoul of a quartet known as the "queen bees" who seem to wield a lot of influence within the village. Helen describes them as "mean girls, but with medical alert bracelets." Many of the other residents are intimidated by them. The four also seem to have a say over many of the activities run within the village, including the bridge club. Helen clashes with Janet (SNL veteran Jane Curtin doing her usual acerbic and sarcastic shtick), the self-appointed but bitter leader of the bees. But when one of the members passes away, Helen is invited to join the group, much to Janet's displeasure.
Helen seems unhappy with being in the retirement home until the arrival of a charming new resident in the widowed Dan (James Caan), who seems to share her passion for poetry and flower arrangement. But is he too good to be true? As Helen and Dan become more involved, Janet becomes aware of his secret that could tear their relationship apart.
Queen Bees has been directed by Michael Lembeck, a veteran of tv comedies having worked on a number of series and sitcoms including Veronica's Closet, Mad About You, Friends, Everybody Loves Raymond, Coach, Two Guys, A Girl And a Pizza Place, etc. The script comes from Hallmark veteran Donald Martin and is based on a story written by Harrison Powell, who was inspired by his own grandmother's experiences of finding love in a retirement village. Several subplots run through the film, and some are surprisingly tender when highlighting the fears and vulnerabilities of older people living in such an environment. The film briefly touches on some of the problems they experience, their fear of mortality, but it is done with gentle humour. There are moments of broad comedy that keep the mood generally upbeat and lightweight.
Lembeck has assembled a strong ensemble cast to flesh out the characters, and each of them is given their moment to shine. Burstyn still presents a strong character in her 80s, although she manages to find moments of fragility and vulnerability. She and Caan share a wonderful and effortless chemistry, and he brings a sympathetic and compassionate quality to his performance. Ann-Margret is good as the man hungry Margot; Christopher Lloyd plays the womanising Arthur; Loretta Devine brings warmth and vitality to her role as Sally, who befriends Helen; Matthew Barnes is solid as Helen's supportive and adoring grandson Peter; French Stewart (from tv sitcom 3rd Rock From The Sun, etc) is good as Ken, the supercilious and smarmy manager of Pine Grove. Alec Mapa brings humour to his small role as a philosophical Filipino masseur.
Production designer Dara Wishingrad has created a comforting look and feel for the retirement village interiors, and it has been nicely shot by cinematographer Alice Brooks (In The Heights, etc) who gives the material a warm vibe with a soft pastel pallet.
Queen Bees is familiar stuff, and fits comfortably in the same wheelhouse as The Golden Girls, Book Club, and its ilk, and will appeal to audiences of a certain age.
★★★