Reviewed by GREG KING
Director: Damian Szifron
Stars: Ricardo Darin, Dario Grandinetti, María Marull, Mónica Villa,Rita Cortese, Julieta Zylberberg, Leonardo Sbaraglia, Oscar Martinez, Maria Onetto, Osmar Nunez, German da Silva, Diego Gentile, Erica Rivas.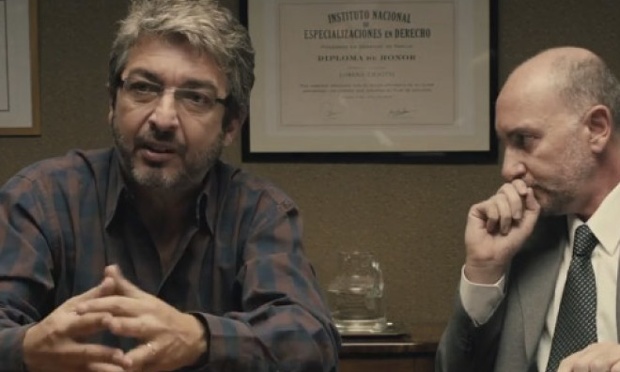 The closing night film of the recent Spanish Film Festival was the wonderful, twisted and blackly funny Wild Tales, from director Damian Szifron, which has been a massive hit in its native country and also Argentina's official entry for the Foreign Language Oscar. It is a portmanteau of six diverse short stories, all of which deal with ordinary characters pushed to the brink, and they are linked by common themes of revenge, obsession, murder, and frustration with everyday life.
The highlight is a tale involving a road rage incident that escalates and gets wildly out of hand. There is another superb tale involving an engineer (played by Argentinian actor Ricardo Darin) who gets frustrated as his car is continually being towed, and his battles with the bureaucracy over the situation appear to go nowhere. This segment and its sense of slow building frustration and impotence in the face of bureaucracy will remind many of the Michael Douglas/Joel Schumacher film Falling Down. Then there is the wealthy family facing a crisis after their son is involved in a fatal hit and run accident. Their response allows Szifron to explore issues of class, status, justice and corruption in modern Argentina.
There is also a wedding reception that goes pear shaped after the bride learns of the groom's infidelities. This final sequence is shot in the fashion of the Dogma-style of filmmaking pioneered by Lars von Trier – it uses natural light, long takes, and unforced naturalistic performances. But it does seem to go on a little too long. But it is the opening sequence that cuts close to the bone, and will undoubtedly raise a few eyebrows. This story of a psychotic pilot and a plane load of passengers is eerily prescient of the Germanwings plane incident from a couple of months ago.
Unlike a lot of anthology films though which are often uneven in style and tone, Wild Tales benefits from a consistency of tone thanks to it being the work of a single filmmaker. Director Szifron maintains a fairly consistent and anarchic tone throughout, and the six vignettes are shaped by his dark sense of humour and social conscience. There is not a dud episode amongst the six vignettes. The film was produced by Pedro Almodovar, and his influence on the material is also obvious.
★★★★