Reviewed by GREG KING
Director: Ben E Lucas
Stars: Alex Russell, Oliver Ackland, Adelaide Clemens, T J Power.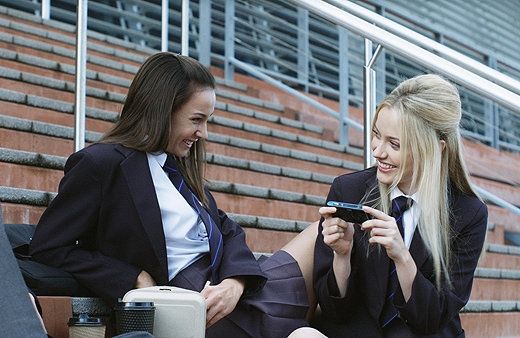 "Youth is wasted on the young," said George Bernard Shaw with customary wit and insight. His quote seems to be borne out by this blistering, scathing portrait of the vapid Generation Y from young local filmmaker Ben E Lucas.
Wasted On The Young highlights that sense of isolation, disillusionment and detachment felt by many of today's adolescents. This film speaks to an overly indulged and technology-obsessed generation, who are heavily reliant on social networking sites, who have a false sense of entitlement, and who rebel against the values and rules of their parents' generation. The film offers an unflinching exploration of cyber bullying, the importance of social cliques, isolation, and the consequences of violence.
The amoral landscape of high school and its attendant horrors has been fertile ground for any number of dramas. Much of the action occurs against the background of a group of privileged and well-educated adolescents who prefer to annihilate themselves with booze, drugs and sex. Their cruelty towards each other is often intentional, but with unforeseen consequences. In depicting this contemporary tale about a breakdown of societal rules, this bleak and downbeat film is venturing into similar territory explored by Larry Clark in films like Kids and Bully and Gus Van Sant's Elephant. However, Wasted On The Young is nowhere near as confronting or deliberately controversial.
It also has powerful echoes of another local production Black Rock, the low budget drama 2:37, and even the classic Lord Of The Flies. In this world, adults and authority figures are conspicuous by their absence. Parents are referred to but never seen, and at school we never see the teachers.
Darren (played by newcomer Oliver Ackland) moves into the lavish new house he shares with his stepbrother Zack (Alex Russell). Zack is the popular school jock and head of the swimming team, and his achievements reflect glory on the school. But Zack is also the local drug dealer and a vicious and manipulative stand over merchant with a couple of acolytes willing to do his bidding. He is virtually untouchable, and gets away with anything at school. Darren on the other hand is the complete opposite. He is reserved, introspective, and a nerd more into computers rather than sport.
But when both brothers are attracted towards the beautiful Xandie (Adelaide Clemens) trouble follows. Xandie makes it clear she prefers the quite and thoughtful Darren to the more aggressive Zack. At a party at Zack's place, Zack and his two friends drug and rape Xandie, and then leave her for dead near the beach. Her absence from school causes plenty of speculation via social networking sites. When she mysteriously returns to school Xandie finds that no-one is really interested in learning the truth about what happened. "If you witness something happen and do nothing, then you're an accomplice," she tells Darren. But Xandie's return also sets in motion an elaborate scheme of revenge, which climaxes at the next alcohol and drug fuelled party.
This is an impressive debut from Lucas, who shows an assured command of the medium. Lucas is film literate, and it shows in his visually impressive approach and his stylish direction. He uses lots of flashy visual tricks to propel his non-linear narrative, including jump cuts, slow motion shots, flashbacks, and on screen text messages. Some flashy editing and a pounding soundtrack lend energy to the material.
Lucas draws some solid performances from his unknown cast, many of whom have never acted before. Most impressive is T J Power, who brings a volatile energy to his role as the brutish Brook. Clemens brings a touch of vulnerability to her role, while Russell is charismatic as the reptilian Zack. Ackland is excellent as the sullen and awkward Darren. However, most of the characters here are singularly unlikeable, and audiences will find it hard to empathise with them.
Wasted On The Young is a bleak morality tale that speaks to its target audience with an urgency and immediacy. This is a film aimed squarely at the under 35 audience, for whom this grim but gripping trawl through a contemporary teenage wasteland will resonate most strongly.
★★★