Reviewed by GREG KING
Director: Stephen Kessler
Stars: Chevy Chase, Beverly D'Angelo, Ethan Embry, Marisol Nichols, Randy Quaid, Wayne Newton, Sid Caesar, Wallace Shawn,Christie Brinkley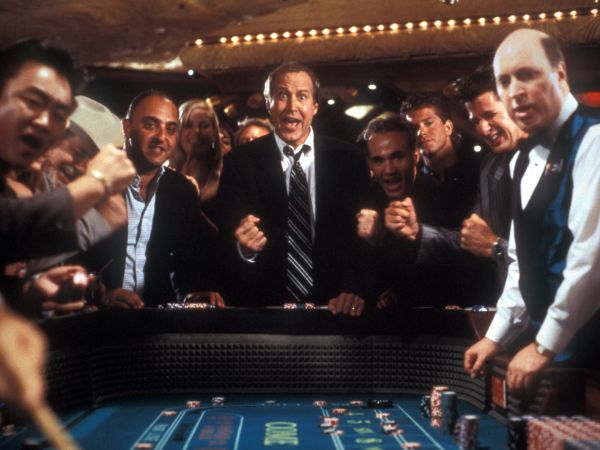 The very thought of the Griswold clan, America's most hapless and naive family of holiday makers, venturing into the neon lit playground of America's gambling Mecca for a week long vacation should provide enough chuckles, one would think. But don't bet on it! The fourth installment in this series of crass, low brow movies in which popular holiday destinations are trashed is disappointing and easily the weakest of the uneven series. Vegas Vacation follows in the tradition of its predecessors, with an emphasis on idiotic humour and cheap laughs, although after a while Chevy Chase's trademark smirk and loony antics become merely irritating. This could have been an eventful and entertaining comedy, but under Stephen Kessler's laboured and pedestrian direction it quickly becomes a disaster in which inspired moments are few and numerous potential opportunities are squandered.
When Clark Griswold's formula for dried food products is accepted by his company he decides to head off to Las Vegas for a celebratory holiday and reaffirm his wedding vows to long suffering wife Ellen (Beverly D'Angelo). But, as is to be expected, the vacation turns into a disaster from the moment the family steps onto the aeroplane. Struck by the gambling bug, Clark loses his shirt and virtually everything else in a losing streak that is longer and more pitiful than Chase's recent string of box office duds. Meanwhile son Rusty (now played by Ethan Embry, recently seen in That Thing You Do!) hits a lucky streak, winning four luxury cars and linking up with a high roller who treats him to the finer life style of Vegas. Daughter Audrey (Marisol Nichols) ends up becoming a dancer in a tacky night-club, while long suffering wife Ellen finds herself being wooed and courted by none other than smooth crooner Wayne Newton himself.
Randy Quaid returns to the series with yet another loud and outrageously over the top performance as the embarrassingly oafish cousin Eddie, who has settled down on a former H-bomb testing site in the Nevada desert. Wallace Shawn appears as a smarmy croupier who gleefully takes Clark's money from him, while veteran Sid Caesar and Vegas show magicians Siegfried and Roy contribute small cameos. Christie Brinkley also pops up in a brief cameo that pays sly homage to her appearance in the very first National Lampoon's Vacation.
Fourteen years after the Griswolds first hit our screens, it seems as though they are finally running out of steam. Vegas Vacation is for hard core fans of this series only.
★★☆