Reviewed by GREG KING
Director: Ruben Fleischer
Stars: Tom Holland, Mark Wahlberg, Sophia Ali, Tati Gabrielle, Antonio Banderas, Steven Waddington, Rudy Pankow, Tiernan Jones, Pingi Moli.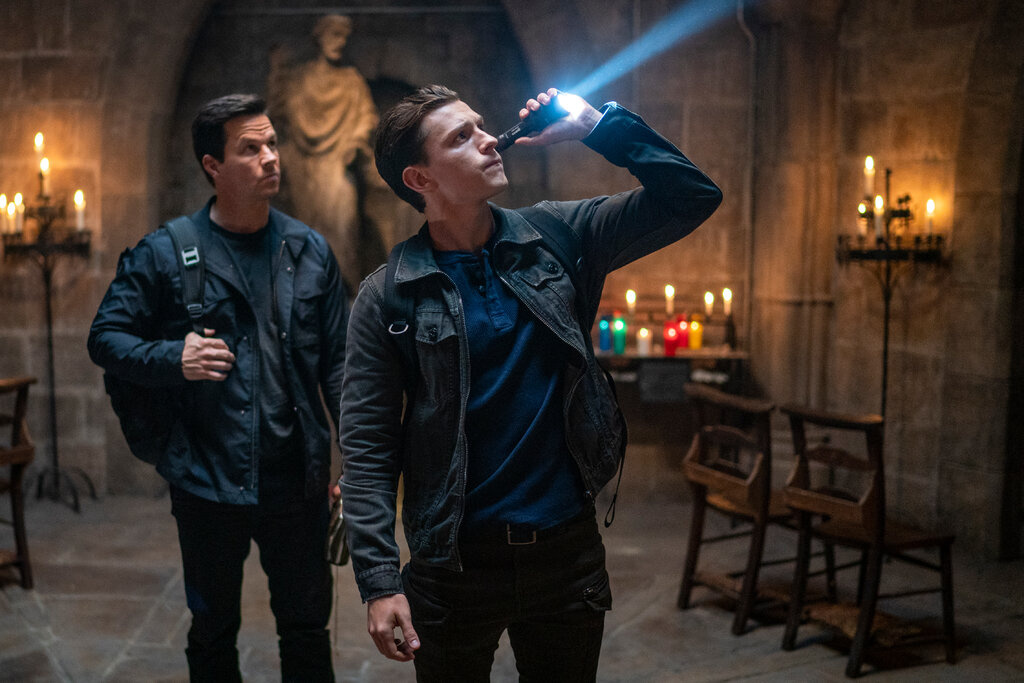 Films based on video games have a checkered history, as they have to pay lip service to the fans. Films like Assassin's Creed, etc, failed to kick start potential franchises. Thankfully Uncharted, which is based on the popular game produced by Play Station, is solid if mindless entertainment. Its narrative structure mirrors its videogame origins with lots of obstacles to overcome, archaic clues to decipher, exotic locations, and a treasure map that holds the key to a fortune. The film also works as a prequel to the game itself.  
Centring around the search for a lost treasure, the film borrows liberally from the likes of Indiana Jones, National Treasure, Tomb Raider and even Pirates Of The Caribbean for many of its ideas, and follows the usual tropes of the globe-trotting adventure. Uncharted was something of a passion project for star Tom Holland; after the box office success of Spiderman: No Way Home, Holland has obviously got some clout in terms of being able to get his own projects outside of the Marvel Cinematic Universe green lighted by major studios.
Holland stars as Nathan Drake, a street smart orphan and history buff with an encyclopedic knowledge of seventeenth century Spanish explorer Ferdinand Magellan. He and his older brother Sam (Rudy Pankow) shared an obsession with history and treasure maps, but fifteen years ago Sam left the orphanage promising to keep in touch and reunite with him. He has somehow kept in touch via postcards he has sent from the exotic places he has visited.
When we first meet the adult Nathan he is working as a bartender in a New York bar. While plying his trade he also helps himself to valuable trinkets from his clientele. One night he meets the roguish seasoned treasure hunter Victor Sullivan (Mark Wahlberg), who claims to have known Sam. He recruits the reluctant Nathan to join him on a hunt for a fortune in lost gold bullion that was associated with Magellan's ill-fated final voyage five centuries earlier.
They key to finding the treasure lies with two gold plated crucifixes, one of which is about to be auctioned off in New York. Sully and Nathan set out to steal the crucifix. Nathan is able to decipher various clues that lead the pair to Spain, where they meet Sully's colleague Chloe Frazer (Sophia Ali), who is in possession of the other crucifix but she may have her own agenda. An uneasy alliance develops between the three.
The fortune apparently belonged to the fabled House of Moncado, and now Santiago Moncado (Antonio Banderas), a descendant of the ancient family who helped finance Magellan's ill-fated voyage, is also on the hunt. Working for him is an incomprehensible Scotsman (Steven Waddington) with a garbled accent, and the lethal mercenary Jo Braddock (Tati Gabrielle, from The Emoji Movie, etc), who used to be Sully's accomplice before crossing over to the dark side.
The film has been written by first time feature writer Rafe Lee Judkins (tv series Chuck, etc), Art Marcum and Matt Holloway (Iron Man, etc) and director Ruben Fleischer (Zombieland, Venom, etc) keeps things moving at a fast pace. The action set pieces are staged in a number of spectacular locations, ranging from an upmarket New York auction house to the catacombs of a Spanish cathedral to an uncharted island somewhere off the coast of the Philippines.
There some quite good special effects, especially during one hair raising aerial sequence. And it climaxes in a gloriously overblown sequence that sees not one, but two, Spanish galleons dangling from helicopters as they fly over dense jungle. Some suspension of disbelief is required for some of the gravity defying action.
When this film was first mooted nearly fifteen years ago Wahlberg was slated to play Nathan, and a host of big name stars were approached to play various roles. A buffed up Holland acquits himself well with the physical stuff which includes lots of running, jumping and climbing. Holland has a likeable presence and brings plenty of charm and youthful enthusiasm to his performance as the jocular, wise-cracking hero, while Wahlberg is perfectly suited to the role of the lovable rogue and he brings a snarky attitude and cynicism to his performance. There is great chemistry between Holland and Wahlberg, and the comic byplay between the pair keeps the tone light. Banderas is wasted in a fairly bland and one-dimensional role as the not very threatening villain here, while Gabriella brings a dangerous edge to her role.
There are two brief post credit sequences here that work as teasers for future sequels if Uncharted should prove successful at the box office.
This is A-grade nonsense but if you check your brain at the cinema door you'll have a lot of fun with it.   
★★★