Reviewed by GREG KING
Director: Jeff Wadlow
Stars: Lucy Hale, Tyler Posey, Violett Beane, Hayden Szeto, Nolan Gerard Funk, Sophia Taylor Ali, Sam Lerner, Landon Liboiron, Gary Antony Williams, Tom Choi, Morgan Lindholm, Aurora Perrineau.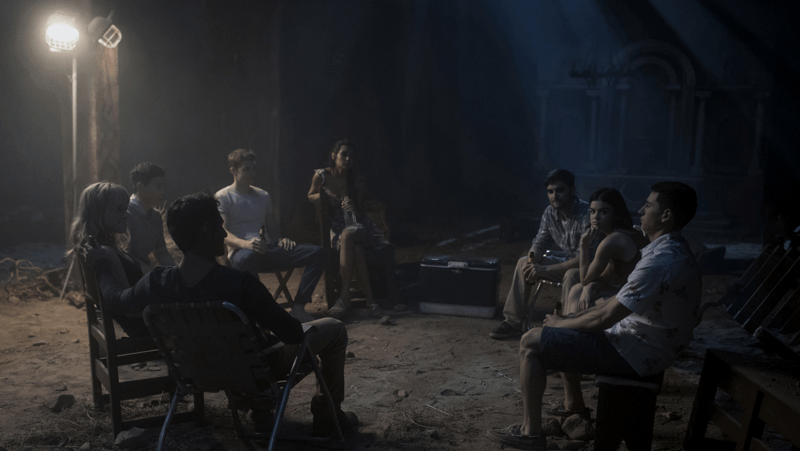 The familiar drinking game that played a small role in the recent comedy thriller Game Night takes on a more deadly and supernatural touch in the latest film from producer Jason Blum, whose production company specialises in low budget films like the Paranormal Activity and Insidious series. Blumhouse Productions knows its demographic and what it wants and has an enviable record for producing low budget teen horror films like last year's sleeper hit Happy Death Day that appeal to its target audience.
Truth Or Dare is a slasher flick which serves up another variation on the tried and true formula of a group of sexy teens in peril from a malevolent force. This high concept horror film comes across as a cross between The Ring and the Final Destination series but is let down by some cliched and thoroughly unlikeable characters and some gaps in logic.
Olivia Barron (Lucy Hale, from the tv series Pretty Little Liars, etc) is an overly nice, socially conscious good girl with an interest in humanitarian causes, but she harbours a dark secret. She is reluctantly talked into accompanying her roommate and best friend Markie (Violette Beane, from The Flash, etc) and a group of friends down to Mexico for the spring break holiday. Accompanying them are Lucas (Tyler Posey, from tv series Teen Wolf, etc), a pre-med student who is illegally selling prescriptions on campus; the alcoholic Penelope (Sophia Taylor Ali, from Grey's Anatomy, etc); Brad (Hayden Szeto, from The Edge Of Seventeen, etc), the closeted gay afraid to come out to his policeman father; Tyson (Nolan Gerard Funk, from Glee, etc); and the sleazy Ronnie (Sam Lerner, from The Goldbergs, etc).
In Mexico Olivia strikes up a conversation at a bar with the handsome Carter (Landon Liboiron, from Degrassi: The Next Generation, etc), who invites them to an abandoned mission for some drinks and party games. He then invites them to participate in a game of truth or dare, which turns a little nasty when he reveals that he has tricked them into playing the game so that he can pass on a curse. The friends find themselves caught up in a game that has been possessed by an evil Mexican spirit known as Calax and its rules now have deadly consequences. If you lie or refuse to complete the dare you die. The only way to survive is to tell the truth or complete the dare.
But the malevolent Calax seems able to know their insecurities, weaknesses and deepest secrets and uses these to commit nasty acts and pit them against one another in a brutal contest. The demon is also able to use mobile phones and social media platforms to target its victims. And occasionally it possesses strangers, causing them to challenge the main players to play the game. There are some intriguing special effects that warp the faces of the supernatural messengers that make them look more demonic.
The viral nature of the curse is drawn from the main plot device that drove The Ring. And there are elaborate set ups for some of the gruesome deaths here that draw upon the Final Destination series and the way in which the characters could not escape their fate. The script has been put together by four writers including Christopher Roach (Non-Stop, etc) and director Jeff Wadlow (Kick Ass 2, etc), together with first time writer Jillian Jacobs (a former producer on Big Brother) and former actor turned writer Michael Reisz, who has written for tv series like Boston Legal, etc.
Director Wadlow shapes the material with a few shocks and a couple of gory deaths but this is fairly predictable stuff and the thin premise is stretched almost to breaking point over an overly generous 100 minutes. And the film shares a few thematic similarities with 2005's Cry Wolf, his previous foray into the slasher/horror genre. There are a couple of quite well-staged set pieces here, and Wadlow does manage to wring some tension from a couple of his elaborate set ups.
The cast are drawn largely from the world of television and do their best with these flawed and fairly cliched and thinly drawn characters. They are basically cardboard characters and given little depth. And somewhat annoyingly, the actors playing teenagers are all in their early 30s, which is a minor distraction. Beane brings a self-destructive edge to her performance as Markie, who is still grieving over the recent suicide of her father. Posey brings a mix of strength and vulnerability to her performance as Lucas, while Szeto manages to invest a touch of genuine emotion into his character of Brad, whose sexuality becomes an important plot device.
There is not much here that is original or fresh, but for those willing to suspend disbelief and go along for the ride Truth Or Dare will prove an entertaining diversion.
★★★