Reviewed by GREG KING
Director: Joseph Kosinski
Stars: Tom Cruise, Miles Teller, Jennifer Connelly, Glen Powell, Monica Barabaro, Jon Hamm, Ed Harris, Val Kilmer, Charles Parnell, Lewis Pullman, Jay Ellis, Manny Jacinto, Bashir Salahuddin, Danny Ramirez.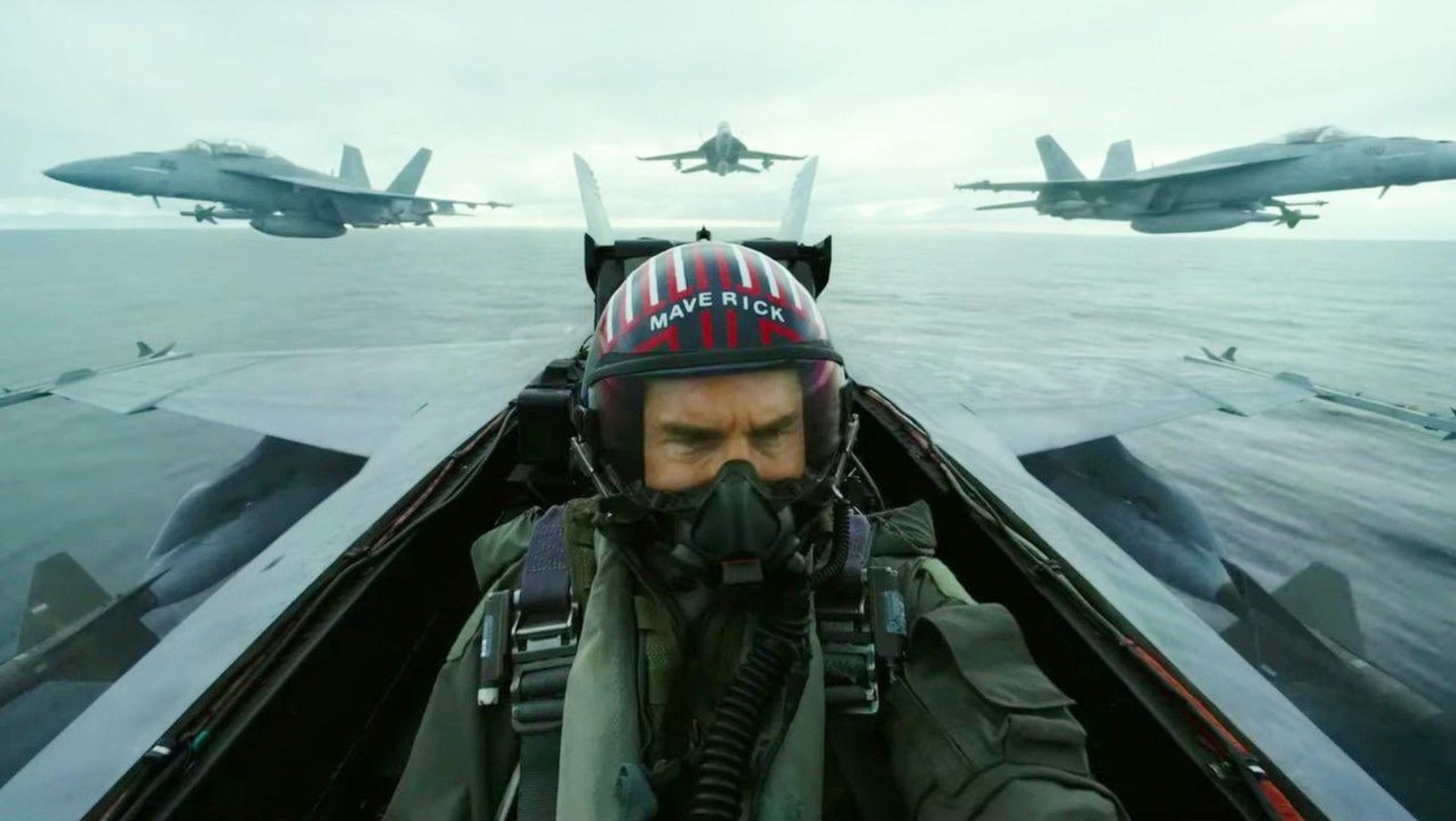 It's been 36 years since Top Gun burst onto our screens full of gung-ho energy and testosterone, and with the belated release of this long-awaited sequel that is one of the longest gaps between a film and its sequel in movie history. It's release has been delayed by COVID, but unlike many films that were released onto streaming services during the pandemic, Top Gun: Maverick deserves to be seen on the big screen. 
Tom Cruise reprises his role as Pete "Maverick" Mitchell, the hot shot pilot and daredevil aviator with a strong streak of rebellion and a healthy lack of respect for those in authority. But after thirty years in the military he is still only a captain – he has refused promotions so he can keep flying. When the film opens, he is now a test pilot working on developing an experimental hypersonic jet. The project is about to be shut down by the officious and humourless Admiral Cain (a cameo from Ed Harris) and the funds diverted to further developing drone technology. But Maverick takes it upon himself to show the admiral just how important the human element is to aviation. Then Mitchell is dispatched to the familiar environs of the Top Gun flight school in San Diego on a special assignment at the request of his former rival Tom "Iceman" Kazansky (Val Kilmer), who is now an admiral in charge of the Pacific Fleet.
His task is to train a new breed of top gun graduates for a special mission behind enemy lines in hostile territory. An unnamed Middle Eastern country hostile to the US is planning to bring on line a nuclear enrichment plant which is buried deep inside a valley in mountainous country and protected by surface to air missiles and modern fighter jets. Vice Admiral Beau Simpson (Jon Hamm) is in charge of the mission and is opposed to bringing in Mitchell, precisely because he is a maverick who has trouble following orders. He has just two weeks to train the pilots and ready them for their mission impossible, and then ensure that they all return home alive. 
The pilots he is to train include the arrogant hotshot Hangman (Glen Powell, from Hidden Figures, etc), Phoenix (Monica Barbaro) and Nick "Rooster" Bradshaw (Miles Teller, from Whiplash, etc), the son of Pete's former best friend Goose, who died in the first film. There is already plenty of tension between Pete and Bradshaw that needs to be resolved before it can upset the mission. Mitchell also reconnects with Penny (Jennifer Connelly), an old flame who runs the local bar which is a hangout for the pilots when off duty.
Top Gun: Maverick has been written by Peter Craig, Ehren Kruger (the bulk of the Transformers movies), Eric Singer (American Hustle, etc) and Christopher McQuarrie, who is a frequent collaborator with Cruise. The film works both as a sequel and a loose remake as it repeats a number of beats from the original. The beach volleyball game has been replaced by a game of touch beach football, but it is just as sweaty and homoerotic as the original. Like the original Top Gun, this sequel will likely do wonders for the Navy's fighter pilot recruitment program and is full of the same sort of gung-ho macho action, macho posturing and testosterone fueled adventure that made the original so popular. The romantic subplot involving Connelly's character is also similar to the romance between Mitchell and Kelly McGillis' character in the original.
The film has been slickly directed by Joseph Kosinski (Tron: Legacy, etc), who worked with Cruise on the sci-fi drama Oblivion, and he seems to know how to use his charismatic star to good advantage. And Cruise looks good for his age. And, as with most of his movies, he takes great personal risks to ensure a high level of authenticity and realism to the flying sequences, and it is really him in the cockpit of the planes. The flight scenes and the dogfight sequences are quite spectacular and exciting. At Cruise's insistence they were filmed without CGI augmentation and an over reliance on special effects, and thus we can see the actors' faces distorted by the G-forces. Apparently some 800 hours of footage was shot and reshaped into the 137 minutes we see on screen. Kosinski uses the latest technology, including IMAX cameras, to capture the action.
Cruise is in fine form here with his cocksure grin, his mega-watt smile and his assurance. Alongside Cruise, Kilmer is the only other star from the original to return for this sequel, although Kosinski has included some footage from the original as flashbacks to help establish an emotional connection with Teller's character. Kilmer's visible illness has been written into the character of the ailing Iceman and his performance is tinged with a palpable sense of sadness.
Together with the superb cinematography from Oscar winner Claudio Miranda (Life Of Pi, etc), the razor-sharp editing of Eddie Hamilton (Mission Impossible: Rogue Nation, etc) and Hans Zimmer's exciting score add to the entertaining package. The original film also had a great soundtrack that enhanced the excitement of the film and topped the charts when released in 1986. This sequel reprises Kenny Loggins' hit Danger Zone over a montage of planes taking off from an aircraft carrier and a new ballad from Lady Gaga, but generally the soundtrack lacks oomph.
It may have been 36 years since Top Gun first hit the screens, but this blockbuster sequel certainly delivers and will score big with fans who have been hanging out for Top Gun 2. It's been worth the wait!
★★★☆