Reviewed by GREG KING
Director: Dome Karukoski
Stars: Pekka Strang, Lauri Tilkanen, Jessica Grabowsky, Seumas Sergent, Jakob Oftebro, Christian Sandstrom, Niklas Hogner, Werner Daen.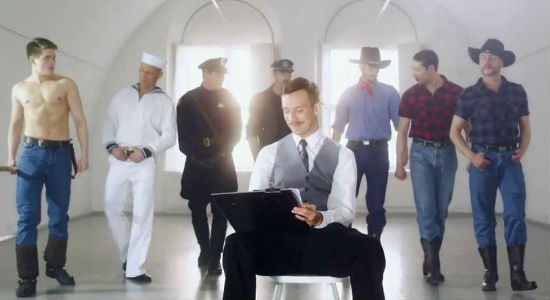 Finland's official entry for the Foreign Language Oscar in 2018, this handsome looking production is a biopic of artist Touko Laaksonen, whose erotic drawings under the pseudonym of Tom of Finland had a huge influence on gay identity and became a symbol of gay pride in the sexually liberated 70s and 80s. Laaksonen's life was previously explored in Ilppo Pohjola's 1991 documentary Daddy And The Muscle Academy: A Documentary On The Art, Life And Times Of Tom Of Finland. This biopic takes a more dramatic approach to the material, and spans some forty years.
The film opens in Finland in the 1940s, with Laaksonen (played by Pekka Strang, from tv series Bordertown, etc) serving in the army, fighting against the Russians. He returns home from the war traumatised by his experiences. He lived with his sister Kaija (Jessica Grabowsky, from Thicker Than Water, etc) in their shared apartment. He worked in the same advertising company as Kaija, and his drawings were appreciated. But at night in his own room he would draw exaggerated masculine masturbatory fantasies, erotic and highly stylised drawings of leather clad men.
Attracted towards men, Laaksonen would cruise the parks at night for illicit trysts, running the risk of being arrested. This was time when homosexuality was illegal, and Finland's draconian anti-gay laws were vigorously enforced and gays were persecuted by the police. When Kaija brings handsome closeted dancer Veli (Lauri Tilkanen) home, and he moves into the apartment as a lodger, Laaksonen and Veli become secret lovers. Veli encourages him with his drawings and helps him find his voice in conservative post war Finland.
His drawings make their way to America where they are championed by Doug (Seumas Sargent), a publisher. Laaksonen makes his way to America where he finds the sexual revolution a liberating experience and a contrast to the more conservative and oppressive attitudes of his native Finland. He produced some 3500 drawings, and his subversive homoerotic drawings became a symbol of the queer leather subculture. He became a counterculture hero, and played an important role in the emerging gay leather and S&M subculture.
There is a nice, sympathetic performance from Strang who plays Laaksonen, and he is aged delicately to portray the character across the course of four decades. Performances from Tilkanen and Grabowsky are also solid.
There is a fine line between art and pornography, and that is one of the themes explored in this biopic. Tom Of Finland has been written by award winning Finnish director Dome Karukoski and Aleksi Bardy, (who both collaborated on the WWII drama Heart Of A Lion, etc) and spans some four decades. The film covers the period from the conservative 40s through to the sexually liberated 80s, and Laaksonen's successful career in America where he was lauded as a champion of the gay rights movement. The film even looks at the spectre of the AIDS epidemic and the impact it had on the gay community. The film even looks at Laaksonen's misadventures in Germany where an abortive attempt to sell his drawings on an underground market landed him in jail.
Because of his own background, Karukoski seems drawn to stories of outsiders and their struggle to find acceptance. Given the subject matter though, Karukoski's approach is surprisingly tame, and this is a fairly conventional biopic. It seems a little rushed at times, and glosses over some events in Laaksonen's life.
The film was shot in four different countries, and cinematographer Lasse Frank Johannessen (Borgen, etc) uses a different colour scheme to highlight the contrasts. The Finnish scenes have been shot in a darker palette, reflecting the austere conservative nature of the post-war society, while the scenes set in a more liberated America have used a brighter palette evoking that sense of freedom. The handsome looking production design from Christian Olander captures the austere nature of post-WWII Finland.
Tom Of Finland screened at the recent Scandinavian Film Festival, and this limited theatrical release will bring this inspiring story to a wider audience.
★★★