Reviewed by GREG KING
Director: Taylor Sheridan
Stars: Angelina Jolie, Finn Little, Aidan Gillen, Nicholas Hoult, Jon Bernthal, Jake Weber, Medina Senghore.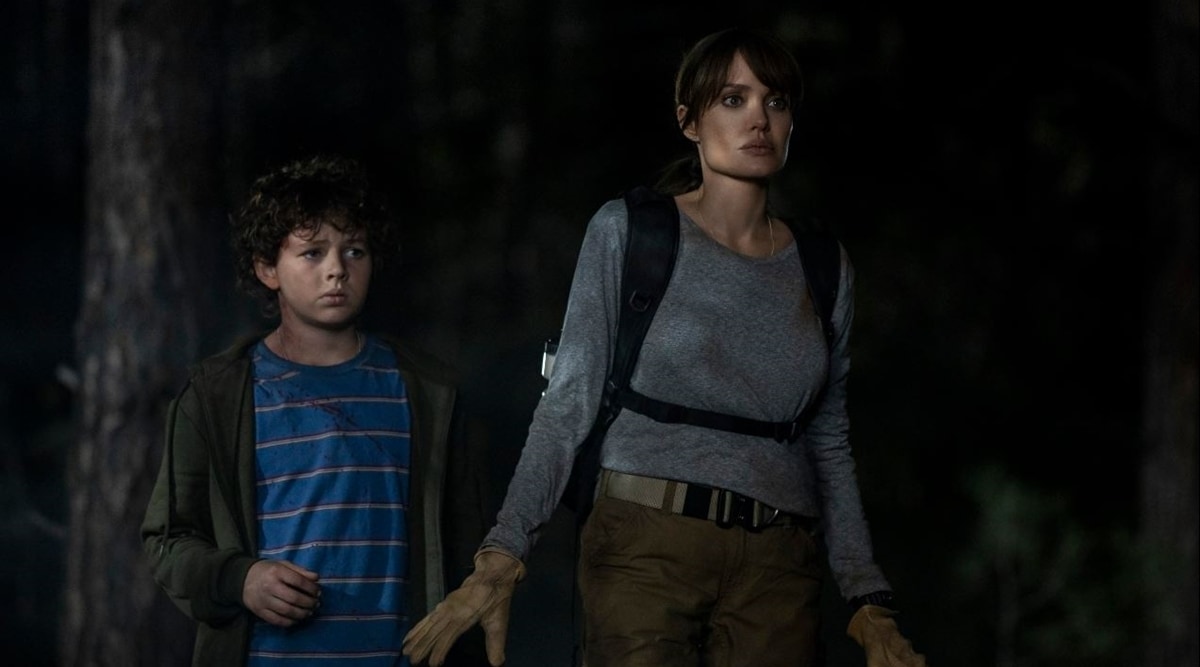 Taylor Sheridan has written muscular, tough neo-westerns set in the new American frontier, with films like 2015's drug cartel drama Sicario and 2016's Hell Or High Water (with veteran Texas Ranger Jeff Bridges tracking down a pair of bank robbing brothers) and the tv series Yellowstone with Kevin Costner. All of which makes his latest film an automatic must see.
Those Who Wish Me Dead is a tense and tough thriller about survival and redemption and is based on the 2014 novel of the same name written by crime novelist Michael Koryta. While it may a little less original than those other films in his repertoire it still a tense and gripping thriller infused with many of the familiar tropes of the genre.
Angelina Jolie plays Hannah Faber, a deeply troubled smokejumper (those fire fighters who parachute into the middle of raging conflagrations) who has been left reeling after failing to save three kids from a forest fire the previous year. She is wracked by guilt and has been self-harming and suffering nightmares of the incident. Having failed her compulsory psych evaluation, she has been relegated to watching over her section of the vast Montana forest wilderness from atop her fire watch tower.
When she spots 12-year-old Connor Casserly (Australian actor Finn Little, who made his debut in the recent remake of Storm Boy) wandering in the woods with blood on his face and clothes she tries to help the frightened youth. "Are you someone I can trust?" he asks. Connor's father Owen (Jake Weber) was a forensic accountant who had uncovered financial shenanigans than will bring down some of the most powerful people in the country. Already the Florida DA investigating has been blown up, and Connor's father was fleeing to find safety at a Montana wilderness survival school. However, Connor watched in horror as his father was brutally killed by Jack (Aidan Gillen, from Game Of Thrones, etc) and Patrick Blackwell (Nicholas Hoult, largely cast against type).
With her communications equipment knocked out of action by a lightning storm Hannah decides to lead Connor to the survival school run by Allison (Medina Senghore, in her feature debut), the heavily pregnant wife of local sheriff Ethan Sawyer (Jon Bernthal), who just happens to be Hannah's former boyfriend and, coincidentally, Connor's uncle. But Jack has started a massive forest fire as a distraction so that they can get to the boy before anyone else. Hannah and Connor have to outrun not only a pair of heavily armed killers but a raging inferno as well.
Sheridan has cowritten the script with Kortya and Charles Leavitt (Blood Diamond, etc), and they draw the various narrative strands neatly together in the economical 99 minutes. This marks his sophomore directorial effort, following 2017's Wind River, and his direction is muscular, and he creates an effective and visceral thriller. The action is fast and well-staged, giving the audience little time to ponder the various gaps in the narrative's logic. However, the forest fire sequences are quite suspenseful, and the raging fire, although obviously created through CGI effects, is terrifying and impressive. Sheridan makes great use of the wide-open spaces of New Mexico (standing in for Montana) to give the film its epic sweep.
It's been a while since Jolie has flexed her action heroine chops (2010's Salt), but she acquits herself well in this physically demanding role. She manages to bring a touch of vulnerability and empathy to her performance as the trauma-ridden heroine. Little delivers a confident performance, and he and Jolie develop a good rapport that gives the material its emotional core as well as injecting some much needed touches of humour. Gillen and Hoult bring a relentless and ruthless edge to their roles as a pair of cold-blooded and efficient assassins who wrack up quite a body count. There is a brief cameo from Tyler Perry as the mysterious man who has organised the hits.
The film has been beautifully shot by cinematographer Ben Richardson (Wind River, etc) who captures the grandeur of the locations.
Those Who Wish Me Dead is a lean, mean, violent and yet enjoyable action thriller.
★★★☆