Reviewed by GREG KING
Director: Tom Gormican
Stars: Nicolas Cage, Pedro Pascal, Sahron Horgan, Tiffany Haddish Ike Barinholtz, Lily Mo Sheen, Neil Patrick Harris, Paco Leon, Demi Moore, Alessandra Mastronardi, David Gordon Green.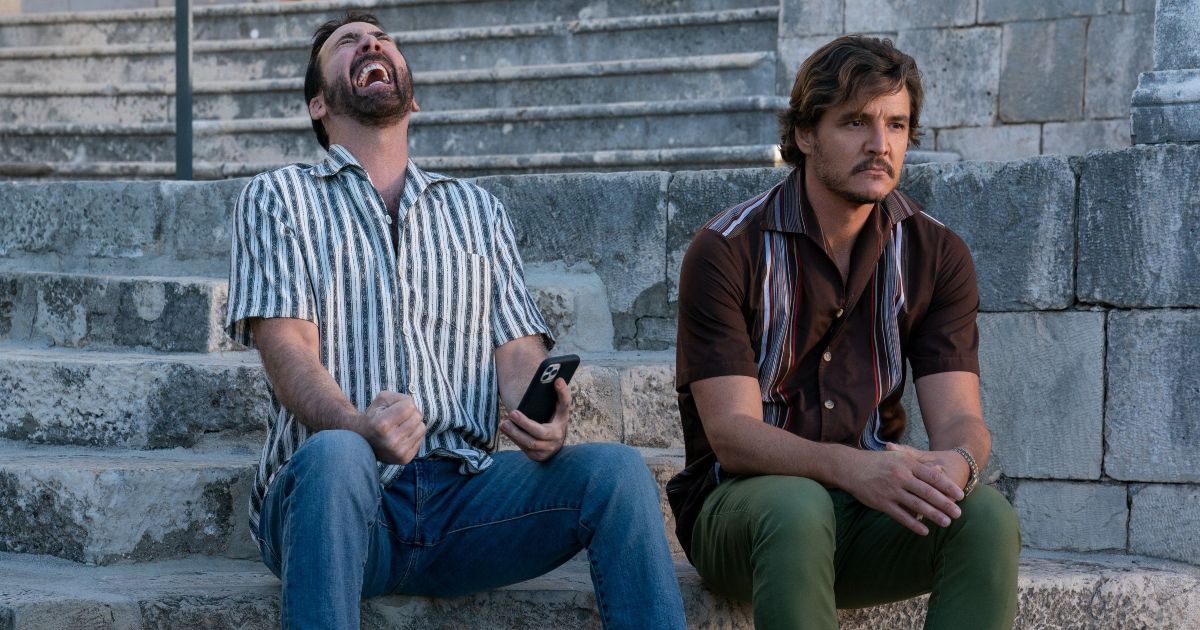 Nicolas Cage, the Oscar winning actor and iconic and prolific star of nearly 100 movies, plays a thinly disguised fictional version of himself in this entertaining and enjoyable action comedy that explores the fickle nature of fame, the process of making a movie and the movie industry itself.
Cage is undergoing some sort of mid-career crisis – the roles have started to dry up, he is suffering financial problems, and the one juicy role he had his eye on because he considered it a game changer, eventually goes to another actor. His family life is also a bit of a mess – he is separated from his wife (Sharon Horgan, from Military Wives, etc) a makeup artist, and his relationship with his estranged daughter Addy (Lily Mo Sheen, daughter of actor Michael Sheen) is prickly as he tries to control what she does and what movies she watches. She doesn't appreciate his favourite movie The Cabinet Of Dr Caligari, a classic example of German expressionist cinema from 1920.
His manager (Neil Patrick Harris) holds out a lifeline – Javi Gutierrez, a millionaire movie buff and huge fan, has offered him $1 million to come to Mallorca on the coast of Spain for his birthday party. With few other offers on the table Cage reluctantly agrees. But on arrival he is approached by Vivian (Tiffany Haddish) and Martin (Ike Barinholtz), a pair of CIA agents who recruit him to spy on Javi. They believe that Javi is the head of an international criminal organisation that is responsible for the kidnapping of the daughter of a Presidential candidate in an attempt to force him out of the upcoming election.
Cage reluctantly agrees, but he is torn between his need for work and the demands of becoming a spy. He learns that Javi (Pedro Pascal, from Game Of Thrones, etc) who builte his fortune on olive oil, has written a film script that he wants Cage to star in. Javi introduces Cage to his secret room full of memorabilia from his movies, including a life size wax statue figurine from Face/Off, complete with golden pistols.
As the bromance between Cage and Javi develops, he becomes conflicted by his role as a spy and the fact that Javi seems like a genuinely nice guy. He has to live up to his own screen image as he channels many of his own iconic characters to save himself and his family. And in revisiting some of his previous characters he learns to become a better man and a better father.
This is the debut feature for writer and director Tom Gormican, who co-wrote the script with Kevin Etten, who has worked extensively in television as a producer and writer. For Gormican this film was something of a labour of love and a passion project to pay homage to all things Cage. Cage himself is credited as a producer here and one wonders how much creative input he had into the project. The film is very meta, with lots of clever references to Cage's body of work and the various characters he has played over the years. There is even a couple of scenes in which Cage appears opposite a younger version of himself, circa Vampire's Kiss; the character of Nicky has been realised through the clever use of CGI.
Cage throws himself in his role here with enthusiasm, chewing the scenery at every opportunity, and he seems to have a fine time sending up his own screen image and filmography. His performance here allows him to run the gamut of his many screen personas – angry, bat shit crazy, low key, introspective, intense, comedic, unhinged, and self-effacing and self-deprecating. Cage develops a wonderful chemistry with Pascal, who has an easy going presence and steals several scenes with ease. Haddish is normally over the top and grating, especially in comedies like Girlstrip and Night School, but here she dials back her performance. Harris is no stranger to playing himself in movie spoofs, and he also seems to throw himself into the spirit of the material.
The film has been shot on location in Croatia by cinematographer Nigel Bluck (tv series True Detective, etc), who brings the sun drenched locations to life.
The Unbearable Weight Of Massive Talent is one of the better films of Cage's spotty filmography as many of his films of late have been released straight to DVD. This is part buddy comedy, part action film, and part family drama, but by the end it turns into another Nic Cage action film with car chases and guns blazing in a race against time finale.
★★★★