by GREG KING.
"I've really had a bit of an up and down career in terms of things that have worked and things that haven't worked," candidly admits Iranian-born screenwriter Hossein Amini (Drive, The Wings Of The Dove, etc). Amini makes his directorial debut with The Two Faces Of January, a slow burn suspense thriller in the Hitchcock mold. The film has been adapted from the novel written by Patricia Highsmith (who wrote Strangers On A Train, The Talented Mr Ripley, etc).
The film is set in Greece in 1962, and the central plot features an innocent man on the run from the police after becoming mixed up in murder and intrigue. Rydal (Oscar Isaac, from Balibo, Drive, etc) is a young expatriate American working as an unofficial tour guide in Athens, with a profitable side-line in conning tourists. Then he meets urbane and wealthy tourist American Chester McFarland (Viggo Mortensen) and his pretty but demure wife Colette (Kirsten Dunst), and befriends them. But Chester has a dark secret that catches up with him, resulting in a dead body in their hotel bathroom. He is forced to flee Athens with Colette and Rydal in tow, and enlists Rydal's help in trying to arrange false passports to leave the country.
Amini recently visited Australia to promote the movie during screenings at the Sydney International Film Festival. When asked what attracted him to the Highsmith novel, he explained that he liked her writing, the fact that she writes suspense thrillers and suspense dramas and is really interested in character. Amini first read the novel while he was at university, and tried to buy the rights back in 1996. "You have these three fascinating and contradictory characters," he elaborates over the phone, "both loveable and hateful characters, heroes and villains, which is very unusual in crime writing where everything is usually quite black and white. I'm a big crime reader anyway, but I recognise so much of myself and other people I knew in these characters.
"I love adaptations," he continues. "I'm a big reader, and I love that sort of intimate relationship between a reader and a book, and feel that something speaks to you in a way that it doesn't speak to anyone else. And it's a great privilege to take a book you love and be able to turn it into a movie. Those are the books I like adapting the most, the ones that leave you enough space to put some of your own experiences and your own reactions to what you're reading. They're half original and half-adaptation. This one took a long time."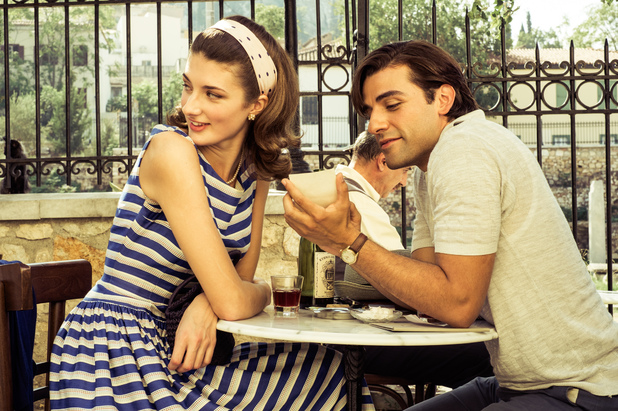 Hitchcock was a big influence on the tone and mood film, although there wasn't any one particular film from the master of suspense that Amini drew on. He wanted to draw upon his storytelling technique of putting audiences in the shoes of villains. "And that's what Hitchcock used to do so well, put you in the shoes of villains. And that's what drew me to the book. Even though they've done terrible things, you don't want them to get caught. You're nervous for them or frightened for them," says Amini. And he watched a lot of 60s cinema to get a feel for the style and the mood. He also watched Plein Soleil, a 1960 French version of The Talented Mr Ripley starring Alain Delon.
"I felt that if I strayed too far from that style of filmmaking in terms of camera style and stuff like that I would break the illusion of the 60s," he explains, "and I didn't want it to be too modern in the way that it was shot. And it took so long to get made that I spent months just watching those films that I love from the French new wave, the Italian movies of the 60s."
Amini had to fight quite hard to shoot on location in Greece because at the time there were lots of problems in Greece and the financiers were very nervous. Amini looked at Croatia and other places as alternatives but the landscape was so important to this story that he eventually said to the producers: 'Look I really need to shoot this in Greece'. Amini spent a week shooting in Athens, two weeks on Crete, a month in Istanbul, and this was the first in twenty years to actually shoot on location at the Acropolis.
"It was great to be able to shoot where Patricia Highsmith set the story," he says. But there were a number of challenges to actually shooting on location in Greece, including never really knowing until the last moment if he could actually use the location he was supposed to shoot in. "We were really taking a risk in assuming that it would all be fine," he says. "People would say it would be fine, but you know the bureaucracy was a bit of a nightmare. But it all worked out, and the Greek crew were all fantastic and people were very helpful." These were problems that Amini never had to deal with when he was merely the writer.
Highsmith usually writes about morally ambivalent characters, acknowledges Amini. "The difference with this one is that with Ripley you're watching a psychopath, someone who's so brilliant at being a baddie. What I loved about this was that there were two very ordinary characters caught up in murder. They are not particularly clever at what they do, they're just really unlucky, and they're just noir-like victims in a sense. They're unlucky and they lose, and that was the sort of element of noir thrillers that I like."
Amini made a few changes to the original source for his adaptation. In the book the character of Chester is shabby and overweight, and a drunk right from the beginning. But Amini was a little influenced also by his reading of Fitzgerald and imagined that he was more like the great Gatsby with a hat and a beautiful white suit.
So what was it about this particular novel and script that made Amini want to direct? "I just felt that I understood the characters," he elaborates. "I think that's really important when you direct something. When an actor asks you what is happening here you can give them answers and feel those answers. I don't know what it says about me as a person, but jealousy and paranoia, and I recognise a lot of that. I recognise that you can love someone and hurt them in the very next moment. These emotions everyone shares in their everyday life, and I sort of put those emotions into the characters in a crime novel, and that's pretty unique. And it's really an intimate story even though its set against this lush backdrop and different countries. So I thought I could handle all that as a first feature film."
Amini would often watch directors at work on those scripts that he had written, trying to learn from watching them interact with the actors. "Some directors like you on the set as the screenwriter and others don't, but I went every opportunity I had and I learned an enormous amount from watching how they worked. One of the things I learned off Nicholas Refn on Drive was how long he spent talking to those actors, I mean it was literally months before shooting. That was something I planned to do with this one. I would go and visit Viggo in Madrid, or Oscar in New York, and Kirsten in LA, and just talk to them about the part, and it just evolved form there. And I think actors like to collaborate in the screenplay. As a screenwriter I wish directors would allow you more access to the actors so the scripts kind of evolve and breathe and become more real, and the characters become more real as they have their own input."
Amini says that he was lucky to be able to cast Mortensen as Chester. "It was the nicest phone call I've ever had in my years of working in the film industry. I didn't even know he was reading it. And my agent phoned up and said: 'Viggo Mortensen's read the script and would like to meet.' I was thrilled. Because of the roles he's played he comes a cross as a very heroic and beautiful man and beautifully dressed in the beginning, he's almost like a God at the Acropolis the first time you see him, but as an actor he's not afraid to show the ugliness of the paranoia, the jealousy, the drunkeness. And gradually as the film progresses you sort of see how his character disintegrates and unravels, and you need an actor who looks like he does and who has that kind of screen persona but who is brave enough to show human weakness and frailty, and I think he does that brilliantly. I think he was very interested in it because it was someone who appeared strong at the beginning he is a brilliant conman at the start but he's quite weak. He's not a bad person, but I think he's just a weak, jealous older husband who desperately wants to hang on to his wife and the money that he' stolen. And I think that becomes interesting for an actor to play someone whose deperation is an interesting factor to play."
According to Amini, Kirsten Dunst has an incredible sensitivity and intelligence and brought something extra to the role of Colette. In the book Colette in the book is far more careless to the damage she causes, and doesn't really care that she's married to a conman and is a nymphomaniac who wants to hop into bed with Rydal at every opportunity. But Amini rewrote the character slightly to give her more culpability in what's going on, more of an awareness of what her husband's doing, and more guilt really about the whole situation that they find themselves in.
He had always wanted to cast Isaac, who had appeared in Drive. But unfortunately when he first approached him Isaac hadn't been cast as Llewyn Davis in the Coen brothers movie. It was hard to get it financed. But as soon as he got cast in Inside Llewyn Davis, it was like his star wattage was hot, and the financers agreed. "I definitely wanted him," Amini continues, "I just think he has edge and vulnerability, which is what I think all great actors have – they can be masculine and tough but also very fragile when the moment calls for it."
Although he has written films like the critically acclaimed Drive, Jude for Michael Winterbottom, and The Four Feathers, there have been some that have not been quite as well received, including the recent 47 Samurai with Keanu Reeves and the Elmore Leonard adaptation Killshot. Amini was fired from that project after early test screenings, an experience that leaves a bitter taste in his mouth. "I'd seen an early cut of the film, which I really liked," he elaborates, "and then it was tested in front of a test audience and scored miserably. At which point I was replaced and the film was reshot, partially reshot and recast. So it was painful. I thought there was something closer to Elmore Leonard's book in there, but obviously the test audience didn't find it, so it did get changed. I felt very gutted to be fired. But I also felt that the final film had lost what I loved most about Elmore Leonard's writing, which was a mix of dark humour and very human characters, and I think it became a more conventional thriller.
"I think what I found very useful about the test screening process for example is that every director I've ever worked with thinks their first cut is better than it actually is, and I think the test screenings work really well when it tips a bucket of cold water over their heads, and they realise they have to go back to work. Some films like comedies or action movies will test better than say horror movies which always test badly.
"The Wings Of The Dove was a great experience, because I had a very good relationship with the director Ian Softley and I felt very included in the whole process and I spent a lot of time in Venice. It was great to be able to take these Jamesean characters and put in bits of my own experience. And obviously the reception to the film was great and it really helped my career."
For his Movies At Dusk program, Greg King spoke to writer/director Hossein Amini. To listen to the interview click on the link below:
https://www.mediafire.com/listen/dr19zx8erxi7x31/190526_002.MP3