Reviewed by GREG KING
Director: Peter Chelsom
Stars: Asa Butterfield, Britt Robertson, Gary Oldman, Carla Gugino, BD Wong, Janet Montgomery, Colin Egglesfield, Peter Chelsom.
The kid who fell to Earth?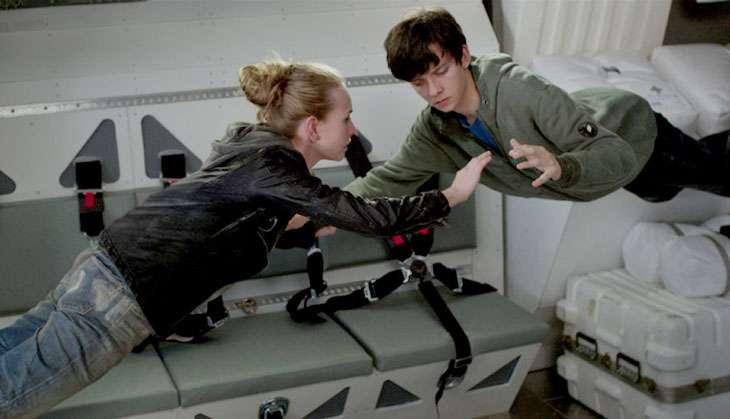 In 2018 a small group of astronauts head off to live on Mars in an experimental colony known as East Texas. This space mission is the brainchild of Nathaniel Shepherd (Gary Oldman), a billionaire entrepreneur clearly modelled on Richard Branson, who is the CEO of Genesis Space Technologies. But unknown to the mission organisers until it is too late, Sarah Elliott (Janet Montgomery), the pioneering female astronaut in charge of the mission, is pregnant. Once on Mars she gives birth to her son Gardner, but dies during childbirth. Shepherd and his team cover up Gardner's existence and lie about the cause of Sarah's death for fear that it may compromise further missions and lead to a reduction in funding.
Cut to sixteen years later. Gardner (played by Asa Butterfield, from Hugo, etc) is now a curious teen who wants to learn more about his unknown father. The only clue he has to his identity is a photograph of his mother with a man on the veranda of a house by the ocean. He has been raised in a bubble by scientists, but is curious about Earth. The only understanding he has of Earth and its culture and social mores has been gleaned from watching old movies like Wim Wenders' Wings Of Desire and old instructional videos. However, he has been told that because he was born on Mars his body wouldn't be able to handle the Earth's atmosphere and its gravity. His bones are too brittle to handle Earth's environment.
Gardner has also been skyping Tulsa (Britt Robertson, from The Longest Ride, etc), a tomboyish and street smart teenaged girl who lives in Colorado and is the product of the foster care system. She is tough, cynical, and defensive. Gardner has told her that he lives in an apartment in New York and that a rare illness has kept him isolated, which is why he can't meet her. Both are misfits and loners and there is an immediate connection between them.
Eventually Gardner is able to convince his fellow astronauts to allow him to visit Earth. After some radical surgery to strengthen his body, Gardner is accompanied by Kendra (Carla Gugino), a fellow scientist who has protected him on Mars and become something of a surrogate mother. But once on Earth and in the NASA facility, Gardner escapes and makes his way to Colorado to meet his interplanetary pen pal Tulsa.
At first, she is suspicious of Gardner and his story of being raised on Mars, but she soon comes to help him on his mission to try and locate his father. Meanwhile the pair are being pursued by Shepherd and Kendra. They need to return Gardner to Mars quickly as his body cannot handle Earth's environment and the large levels of tropamine in his body is slowly killing him. Thankfully the tomboyish Tulsa can ride motorbikes and fly an old crop duster bi-plane, which they use to elude the authorities.
The Space Between Us has been written by Allan Loeb (the recent Collateral Beauty, etc) and first time script writers Richard Barton Lewis, and Stewart Schill (a former editor who has worked extensively on tv series like Dexter, American Crime Story, etc). This is essentially another coming-of-age tale and teen romance about a pair of star crossed lovers mixed with elements of the typical road movie, albeit with a backdrop of sci-fi. It fits comfortably into the genre of YA fiction popular with filmmakers at the moment. There is an element of John Carpenter's Starman about the film. It will also remind some of Nicolas Roeg's 1976 film The Man Who Fell To Earth, which starred David Bowie as an alien adjusting to life on Earth.
The director is Brit Peter Chelsom, a journeyman filmmaker whose credits include Funny Bones, Hear My Song, Hannah Montana The Movie, Hector And The Search For Happiness, etc, and he does a good job of keeping things moving at a fast pace. There is a certain level of sentimentality and mawkishness about the material, particularly in the final scenes. But the film is let down by some cheesy dialogue and a surfeit of lazy clichés.
Both stars have dabbled in sci-fi before – Butterfield with Ender's Game, and Robertson with Tomorrowland – and they seem comfortable with the make-believe nature of the material. Butterfield has grown up in both size and maturity since Hugo, and is now a tall and gangly youth; but his physique is perfect for conveying Gardner's awkward gait on Earth. He delivers yet another solid performance here and he manages to capture that same childlike demeanour, naivety and innocence that he also conveyed so effectively in Hugo. There are some brief flashes of humour throughout the material as Gardner asks everyone he meets: "What is your favourite thing about Earth?"
There is also a good rapport between him and Robertson, even though she is seven years older than him and clearly looks a bit too old to be playing a teenager. But she brings a nice feisty quality to her performance as the tomboyish Tulsa, and downplays some of the grittier elements of her hard life. Oldman typically hams it up and chews the scenery as Shepherd, who has lost all interest in his space program following the death of Sarah, and is driven by a sense of guilt to "save" Gardner. Gugino is typically strong as Kendra, who develops her hitherto nascent maternal instincts while pursuing Tulsa and Gardner across America. Director Chelsom also contributes a small cameo by providing the voice of Gardner's cheeky and opinionated robot Centaur.
Although the film is set in 2034, the producers have resisted making the not too distant future seem too unfamiliar; the film is grounded in a reality that audiences can relate to. It is this very familiarity that allows the audience to engage with the story without the distraction of too many gadgets or an overdose of flashy CGI special effects.
The film was shot largely in New Mexico, and the harsh desert locations provide an eerie surface for Mars. Cinematographer Barry Peterson (22 Jump Street, Jumper, etc) captures some breathtaking scenery and gives us some great imagery of both the Earth locations and the extra-terrestrial landscapes of Mars.
★★★