Reviewed by GREG KING
Director: Lasse Hallstrom
Stars: Judi Dench, Kevin Spacey, Julianne Moore, Cate Blanchett, Pete Postlethwaite, Scott Glenn, Rhys Ifans, Gordon Pinsent.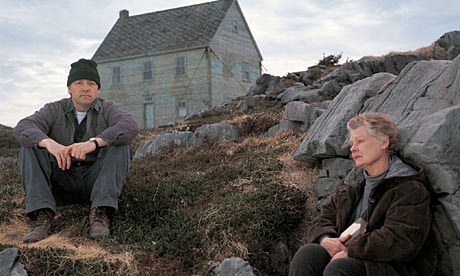 Previous literary adaptations from the potent combination of Miramax and Lasse Hallstrom (Chocolat, The Cider House Rules, etc) have attracted award nominations and critical acclaim, and their latest joint effort will probably be no exception. Based on the acclaimed novel by Annie Proulx, The Shipping News is another example of the beautifully shot, literate adaptation that Miramax does so well. But it is also a curiously soulless and languidly paced movie that may alienate many within the audience, and is, ultimately, somewhat disappointing.
An ink setter for a Poughkeepsie newspaper, Quoyle (Kevin Spacey) is one of life's losers, and a broken man whose life is characterized by unending drudgery and a series of mundane jobs. A chance meeting with the seductive Petal (Cate Blanchett, wonderful in a small role) gives him a taste of satisfying sex, and leads to a relationship in which he willingly forgives her sexual excesses and casual betrayals because he is so desperate and lonely.
But in the same week as his parents die in a bizarre suicide pact, Petal is killed in a car crash, leaving him to bring up his daughter Bunny (played by identical triplets Alyssa, Kaitlyn and Lauren Gainer) alone. Unexpected help arrives in the form of distant aunt Agnis (Judi Dench), who takes him back to the family's ancestral home on a remote, windswept coastal town in Newfoundland, where he can hopefully restart his life afresh. Quoyle lands a job writing a column for the local newspaper, and also comes to learn some of the dark history of the town and the hidden secrets of its eccentric inhabitants. He also finds love with the troubled Wavey Prouse (Julianne Moore), a single mother raising her handicapped son.
The Shipping News is a journey through the human spirit, which ends on an optimistic and upbeat note, holding out hope that even a broken man can eventually be mended. Hallstrom directs the material with his usual trademark care and reverence for the source material. However, the film is not as emotionally satisfying as it could have been as Hallstrom's direction and pacing are a little languid. Christopher Young's score is lilting and haunting, and perfectly complements Oliver Stapleton's gorgeous cinematography of the harsh, wintry landscapes, which makes the Newfoundland terrain a character in the drama.
Hallstrom is always able to draw subtle performances from his ensemble cast, and The Shipping News is characterized by some nicely restrained performances from an ensemble cast that includes Pete Postlethwaite, Scott Glenn, Rhys Ifans and Gordon Pinsent, who bring to life the oddball inhabitants of the town. Spacey is particularly good as the pathetic Quoyle (a role that was once rumoured to be slated for John Travolta), and gives the character a down-trodden quality that is somehow oddly endearing by the end. Dench is strong as the seemingly domineering but unexpectedly vulnerable aunt with her own dark secret, while Moore does her usual sterling work with an underwritten role.
But despite some insightful observations about the human condition, The Shipping News is ultimately little to write home about!
★★☆