Reviewed by GREG KING
Director: Jane Campion
Stars: Benedict Cumberbatch, Kirsten Dunst, Jesse Plemons, Kodi Smit-McPhee, Thomasin McKenzie, Keith Carradine, Genevieve Lemon, Frances Conroy, Peter Carroll.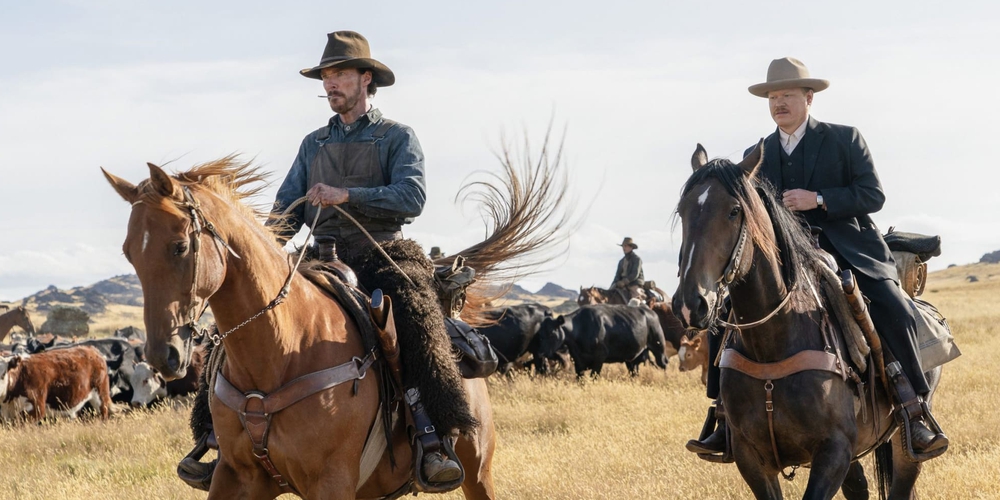 The Power Of The Dog is Jane Campion's first feature film since Bright Star, twelve years ago, but it is also, arguably, one of her best. Produced under the auspices of streaming giant Netflix, this modern western, set in Montana in 1925, is based on Thomas Savage's little known 1967 novel.
Phil Burbank (Benedict Cumberbatch) and his brother George (Jesse Plemons) work the sprawling family cattle ranch, having taken over from their parents who have retired. Phil has earned a degree in classical studies at university, but he has settled for a life as a rugged cowboy on the ranch. He is a rude bully who treats everyone with contempt, even his younger brother George, whom he addresses as "Fatso". George is the businessman who handles the ranch's financing. During a cattle drive, the pair stop overnight at a small inn, where they meet the widowed Rose (Kirsten Dunst, Plemons' real-life partner) and her sensitive, socially awkward teenaged son Peter (Australian actor Kodi Smit-McPhee, from The Road, etc).
George is smitten by Rose and her gentle manner and, after a brief courtship, marries her, moving her to the family ranch. Phil is less than impressed, believing that she has married George for his money, and he goes out his way to taunt and humiliate here at every opportunity. He also belittles Peter for his effeminate mannerisms. Rose sends Peter to medical school to study. When he returns for a visit during the holidays, he discovers that Rose has become an alcoholic as a result of Phil's bullying behaviour.
Phil seems to befriend Peter and takes an interest in the vulnerable lad, much to Rose's horror, teaching him to ride and even making a rope for him from cow hides. But Phil has a dark side, a deep secret that spells danger for both Rose and Peter, and tensions on the ranch slowly escalate.
The Power Of The Dog may be a western on the surface, but Campion eschews most of the usual tropes of the genre, turning this into a psychological drama and a study of masculinity with palpable homoerotic undertones. A subtle air of menace and foreboding permeates the material. Dialogue is sparse and Campion's unhurried direction allows us to soak up the details of the characters and setting. And despite the wide-open spaces of the setting there is something claustrophobic about the whole thing.
The picturesque Otaga region of New Zealand doubles for Montana's wide open and rugged terrain, and the landscapes have been gorgeously shot in widescreen by cinematographer Ari Wegner (Lady Macbeth, etc). Wegner's use of natural and subdued lighting for the interiors adds to the foreboding atmosphere. The evocative music score from Radiohead's Jonny Greenwood further enhances the sinister mood. Grant Major's production design and the period detail are all superb.
Cast largely against type, Cumberbatch has a powerful, unsettling and subtly malevolent presence as the psychologically damaged, sadistic and bitter Phil. Despite his fragile appearance, Smit-McPhee brings a hint of steel to his performance as Peter, and he more than matches Cumberbatch in the intense scenes they share. Dunst is also good as Rose, who feels increasingly trapped in this male dominated environment. As the dull, bland George, Plemons is sympathetic in a smaller role that does not offer as much to do.
The Power Of The Dog draws its title from a Bible passage that is quoted late in the film. But this meditative and introspective character study will maybe not appeal as much to lovers of those traditional westerns with their gunplay and action.
★★★☆