Reviewed by GREG KING
Director: Graham Moore
Stars: Mark Rylance, Dylan O'Brien, Johnny Flynn, Zoey Deutch, Simon Russell Beale, Nikki Amuka-Bird.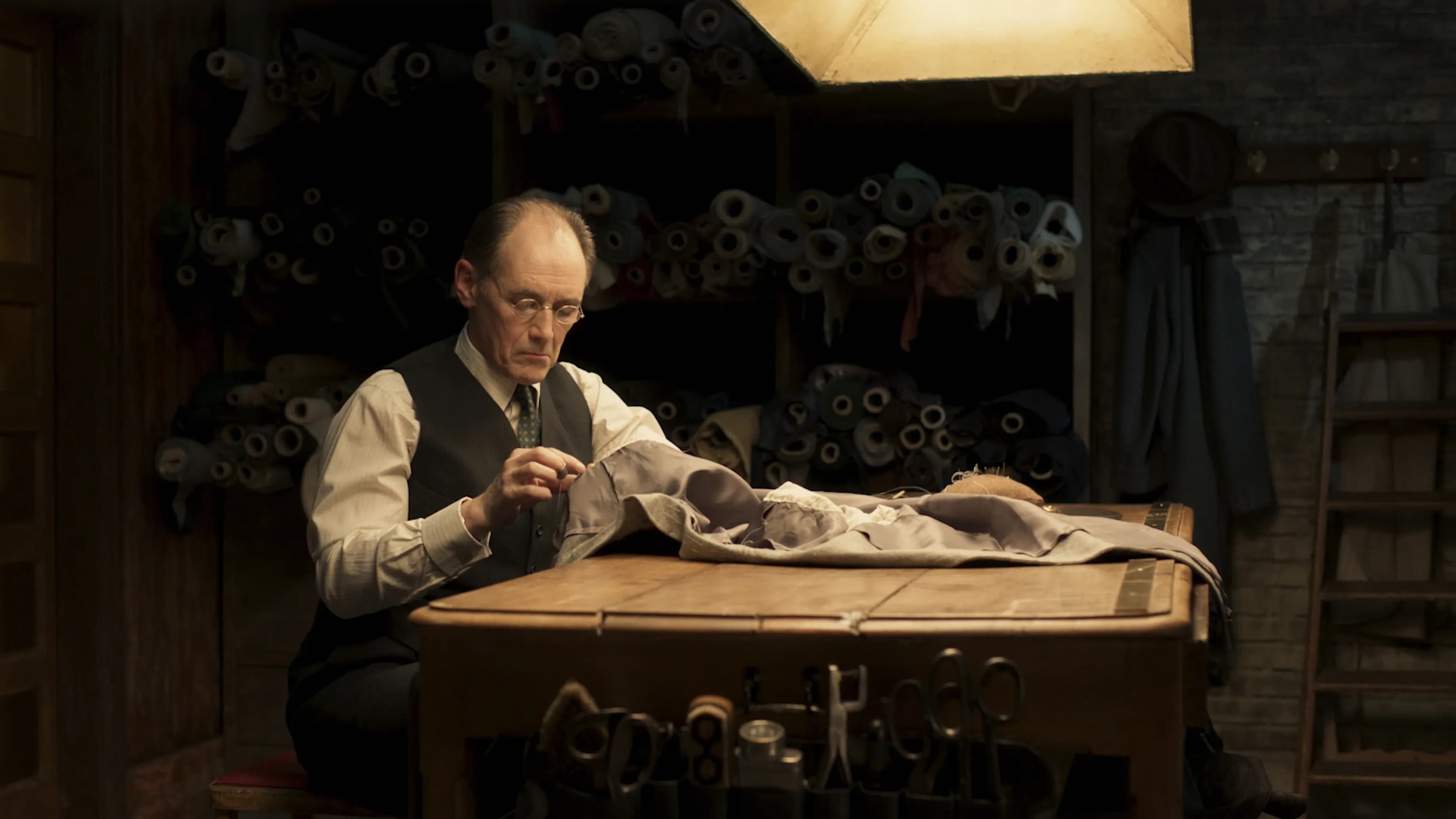 Not to be confused with the 1973 crime drama of the same name that was based on a novel by Donald E Westlake and which starred Robert Duvall as a former prisoner out for revenge against the mob that double crossed him. This is an intelligent and literate, yet claustrophobic drama in which the action is confined to the backroom of a bespoke tailor's shop in Chicago in the late 50s. The film has been written and stylishly directed by Graham Moore, who earned an Oscar in 2014 for writing the superb The Imitation Game, the drama which looked at how Alan Turing and a group of boffins working at Bletchley Park cracked the German enigma code and turned the tide of war. He makes his feature directorial debut with this deceptive but clever drama.  
Leonard Burling (Mark Rylance) is a fastidious tailor who learned his craft on Savile Row before leaving England following a tragedy and reestablishing himself in Chicago, which was still in thrall to gangsters. The film opens with Leonard narrating in detail how he designs and creates his suits. Leonard mainly provides suits for gangster Boyle and his crew, and his workshop contains a drop box which is used to store cash and crime related stuff.
One cold and snowy evening two of Boyle's gangsters burst into the backroom – Boyle's son Richie (Dylan O'Brien, from The Maze Runner series, etc) and the volatile enforcer Frankie (Johnny Flynn). Richie has been shot by members of a rival gang, and at gunpoint Leonard conducts amateur surgery to repair the damage and stop the bleeding. But then things become more tense with a standoff between Richie and Frankie over a briefcase and rumours of an FBI mole within the organisation. The pair hold Leonard hostage while they try to learn the identity of the mole and await further instructions from Richie's father. The briefcase itself is the MacGuffin of the film. There is a shootout, and Richie ends up dead. Frankie and Leonard hide the body. And when crime boss Roy Boyle (played by Simon Russel Beale, a veteran of London's theatre) comes looking for his missing son the situation becomes even more perilous.
The tension rises, and there are hints of double crosses and a compromising tape recording that needs to be found. The Outfit is a dialogue driven drama, but the script from Moore and Jonathan McClain develops as a sinuously plotted psychological thriller and a lethal cat and mouse game with a standoff between Leonard and a handful of gangsters. But the film still zips along at a cracking pace and resembles some of those classic early British gangster dramas. The tense gun pointing standoff mirrors Tarantino, particularly a scene from his his Reservoir Dogs.
The always excellent Rylance delivers a nicely understated, measured and nuanced performance as the quiet, calm and thoughtful Leonard and his strong performance anchors the film. Beale has a menacing presence that is effectively used here, while an edgy Flynn exudes a deadly menace as the ambitious and ruthless Frankie. Nikki Amuka-Bird has a small but important role, and Zoey Deutch rounds out the small cast as Mable, Leonard's plucky young receptionist who is in love with Richie.
The film was shot during the COVID pandemic and makes great use of its limited setting and small cast. McClain himself comes from a theatrical background and one could easily imagine the film being adapted to the stage. In fact, the single set was constructed in a theatre, and boasts some superb production design from Gemma Jackson, great costumes from Sophie O'Neill (Kingsman: The Golden Circle, etc), and the film has been nicely shot by veteran cinematographer Dick Pope, a frequent collaborator with Mike Leigh. Alexandre Desplat's score perfectly matches the tense mood of the material.
The title has a nice double meaning to it. It not only refers to the bespoke outfits created by Leonard but the Chicago mob was also referred to as the outfit. 
★★★☆