Reviewed by GREG KING
Director: Louis Julien Petit
Stars: Audrey Lamy, Francois Cluzet, Chantal Neuwirth, Fatoumata Kaba, Yannick Kalombo, Mamadou Koita.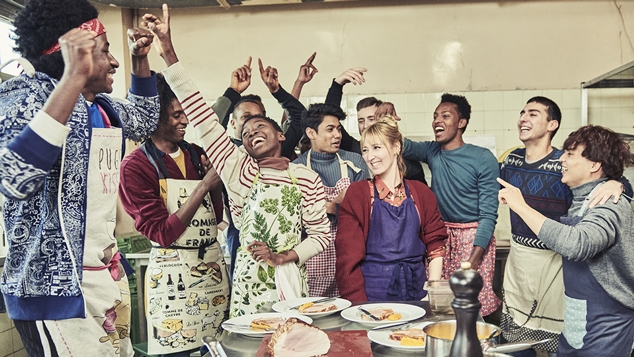 The Kitchen Brigade is a modest but generally upbeat crowd-pleasing French comedy and familiar underdog drama from filmmaker Louis Julien Petit, who has worked as a second unit director on a number of popular and successful Gallic comedies like Welcome To The Sticks, etc.  
The film centres around Cathy Marie (Audrey Lamy, from Invisibles, etc), a sous chef who works in the kitchen of a restaurant run by a celebrity chef. Feeling that her efforts are not appreciated she decides to head out on her own. Her ambition is to own and run her own restaurant, but due to the economy opportunities are scarce.
Following the efforts of her best friend and mentor Fatou (well know Instagram celebrity Fatoumata Kaba), who desperately wants to become a fashion designer, Cathy reluctantly accepts the position of working as a cook in the kitchen of a ramshackle migrant hostel for young African migrants awaiting determination on their future. Most of the boys face the challenging task of finding an education before they turn eighteen or face deportation.
At first she is unhappy with her new situation, as she is told that the boys like ravioli and soccer. Despite the optimistic attitude of the hostel's cheerful assistant Sabine (Chantal Neuwirth, from A Very Long Engagement, etc) who warmly welcomes her, Cathy is none too impressed with the setup. The hostel manager Lorenzo (Francois Cluxet, from The Intouchables, etc) encourages Cathy to take more interest in the boys. Heeding his advice, she starts to interact with the boys and learns of their own hopes and dreams for their new life in France. She slowly earns their trust and gets them to help her in the kitchen, teaching them all about the different ingredients. She encourages them to each introduce a dish of their own from their home land. Many of them aspire to become a chef, and slowly Cathy begins to change their lives.
Petit keeps things moving along nicely. Lamy is good with her role, especially as her character slowly begins to warm towards her young charges and shows them more compassion and affection. Fatou has a sassy and colourful presence. Neuwirth is also good as Sabine, who initially appears annoying and hopelessly clingy, but soon shows her support for Cathy and the work she does. She provides some of the comic relief. The young African youths have strong personalities, but their lack of experience is obvious, although this allows them to inject a natural quality into their performances. Of the migrants a couple stand out – newcomer Yannick Kalombo is good as the cheeky and enthusiastic ten-year-old Gusgus, while Mamadou Koita plays Djibil, who yearns to win a lucrative contract to play soccer. Not all of the migrants find a happy ending to their journey though.
The Kitchen Brigade is a compassionate look at the plight of immigrants who arrive in France full of hope but without any real perception of the difficulties they face in being granted citizenship. The film deals with the plight of illegal migrants – poverty, alienation, the problems of being undocumented minors – and it also tackles issues of social justice. It also manages some sly digs at the addictive but false nature of so-called reality tv cooking shows. The film has the potential to score some telling points on the contemporary issue of refugees and immigration, but Petit and his team of writers – Sophie Besandoun, Liza Benguigui and Thomas Pujol – ultimately squander their opportunity by sticking to a more formulaic and predictable narrative arc.
Loosely based on a true story The Kitchen Brigade has something of an episodic structure, and its final few scenes are quite rushed. Which is a shame because this likeable enough film had plenty of promise in initially tackling it contemporary themes of social justice, refugees and immigration. But, as with some of the best French films, there is plenty of delicious food to savour here along the way.  
★★★