Reviewed by GREG KING
Director: Matthew Vaughn
Stars: Ralph Fiennes, Harris Dickinson, Gemma Arterton, Rhys Ifans, Charles Dance, Tom Hollander, Djimon Hounsou, Matthew Goode, Daniel Bruhl, Alexandra Maria Lara, Valerie Pachner, Todd Boyce, August Diehl, Ian Kelly, Aaron Taylor-Johnson.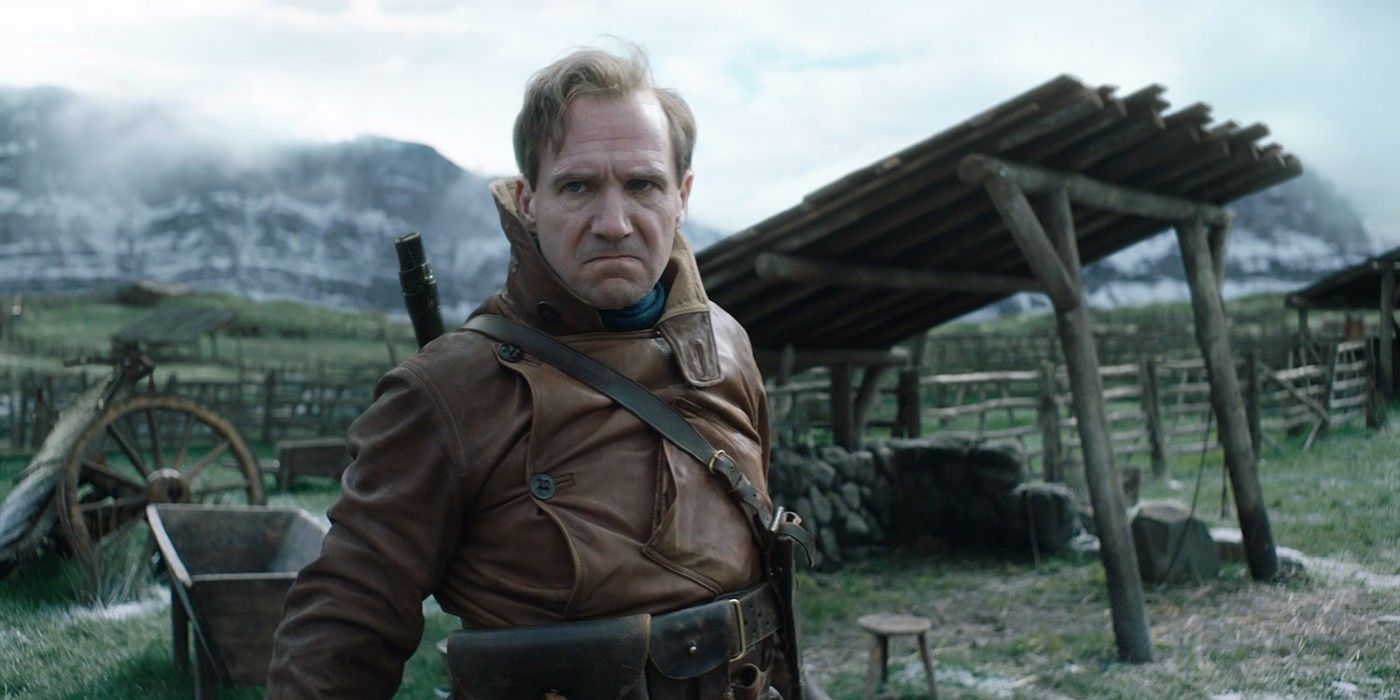 Matthew Vaughn gleefully rewrites the history of WWI with this totally bonkers and tonally uneven spy caper that is a prequel to his 2014 action drama Kingsman: The Secret Service. That film introduced us to a private intelligence service established because some things were too important to leave to politicians, and it was able to operate independent of government oversight. The secret agency operated from a back room of a gentleman's tailor in Savile Row (how like The Man From UNCLE, which was similarly headquartered at the back of a tailor shop). The film turned Oscar winner Colin Firth into an action hero who was able to vanquish a room full of killers with the use of kung fu and his deadly umbrella. The King's Man gives us a totally unnecessary prequel and origins story of the spy organisation. 
Vaughn takes us back to the start of the twentieth century and introduces us to Orlando, the Duke of Oxford (played by Ralph Fiennes), a former soldier who has grown disillusioned with the violence and senseless loss of life bought about by warfare. He has turned his life towards ensuring peace. When the film opens it is 1902 and the Boer War is drawing to a close. With his wife and young son Conrad in tow, the Duke arrives at a British army camp. He is working with the Red Cross and is trying to improve the lot of the Boers who are imprisoned in inhumane conditions in the concentration camps established to contain the enemy population. He intends to protest the conditions to Kitchener (Charles Dance), but a sniper, attempting to kill the British commander shoots Orlando's wife instead. Orlando promises his dying wife that he will protect their son and keep him from harm and do his best to ensure that there are no more wars.
Jump ahead to 1914 and the winds of war are blowing through Europe. The three heads of state in the most powerful countries are King George of England, Germany's Kaiser and Tsar Nicholas II of Russia. The three are all cousins but harbour a grudge against each other due to some petty incident from their past. It seems that a shadowy cabal, headed by a sinister figure known only as "the shepherd", is manipulating these three and their grievances to begin a war in Europe to further the cause of Scottish independence.
With central Europe a key flashpoint in the lead up to war, the Duke and his teenage son Conrad (Harris Dickinson, from the gay coming of age film Beach Rats, etc) head to Sarajevo to try and keep the Archduke Ferdinand safe from a potential assassination threat. When that mission fails, the world is drawn into a war. 
The Tsar is under the influence of Rasputin (an unrecogniseable Rhys Ifans) who uses opium to control the royal family, while the buffoonish Kaiser is being manipulated by his key advisor Erik Jan Hanussen (Daniel Bruhl).
Rasputin is manipulating the Tsar to withdraw Russia, an ally of Britain, from the war. Orlando is persuaded that the only way to ensure that Russia remains in the fight is to take Rasputin out of the equation. Putting aside his aversion to violence, the Duke and Conrad set off to Russia. This leads to a very creepy and unsettling confrontation in which Orlando plans to use Conrad in a honey trap to seduce the pansexual Rasputin, who is reputed to have a taste for young boys. The confrontation backfires leading to a deadly fight between Orlando and Rasputin.
Back in England, Conrad is keen to enlist and do his patriotic duty, but Orlando refuses to give his underage son permission, honouring his promise to keep him safe. Eventually Conrad enlists and experiences at first hand the horrors of war.
Meanwhile Orlando and his trusted housekeeper Polly (Gemma Arterton) and his loyal servant Shola (Djimon Hounsou) have established a network of spies who work as domestic servants in places as diverse as Whitehall and even the White House to keep him apprised of developments in the war. Thus he learns that American President Woodrow Wilson is being blackmailed by Mata Hari over a compromising sex film to stay out of the war. Eventually Orlando and his team have to venture to a remote mountain top hideaway, the base for the cabal, to retrieve the compromising film so that America can enter the war.
The energetic but bonkers script is based on the comic book series The Secret Service, written by Mark Millar (Kick-Ass, etc) and has been written by Vaughn in collaboration with Karl Gajdusek (The Last Days Of American Crime.) With its revisionist take on history, this sometimes comes across as a parody rather than a straight-out boy's own adventure story and spy caper. The film is something of a parody of many of the usual tropes of the spy genre, with the key villain here being a megalomaniac whose scheme would be suited to a Bond film.
Vaughn returns to the director's chair, which ensures some consistency, and the film contains many of his trademark flourishes and signature touches. The action scenes are staged with vigour and energy and laced with touches of outrageous and over the top violence.
Fiennes, who has found his niche as M in the last couple of Bond films featuring Daniel Craig, has a dour presence here that doesn't really suit the jokey, tongue-in-cheek nature of the material which needed a lighter touch. Fiennes is a dramatic actor who is not really known for his comedic touch, and he brings an intense quality to his role as the aristocratic spy. Dickinson brings the right amount of naivety and youthful energy and enthusiasm to his role as Conrad. The relationship between Orlando and his somewhat naïve but earnest son will remind audiences of the relationship between Firth and Taron Egerton in the original Kingsman outing. Arterton is good as the levelheaded and sensible Polly. And Tom Hollander plays the three heads of state, a deliberate casting choice which makes the connection between the three men clearer. Ifans chews the scenery with his deliberately unhinged performance as Rasputin.
Production values are superb here with some great period detail and design from Darren Gilford that bring to life the tailor shop and Orlando's lavish home, and there is some great period detail and costume design. The recreation of the battle scenes in the muddy trenches of France is superb and these scenes deliver a potent anti-war message that ultimately gets lost in the silly plotting that tears up the history books. The film has been nicely shot by cinematographer Ben Davis, who has shot a number of films in the Marvel Cinematic Universe.
But ultimately The King's Man is a messy and silly and unnecessary origins story.
★★☆