Reviewed by GREG KING
Directors: Olivier Nakache and Eric Toledano
Stars: Francois Cluzet, Omar Sy, Cyril Mondy.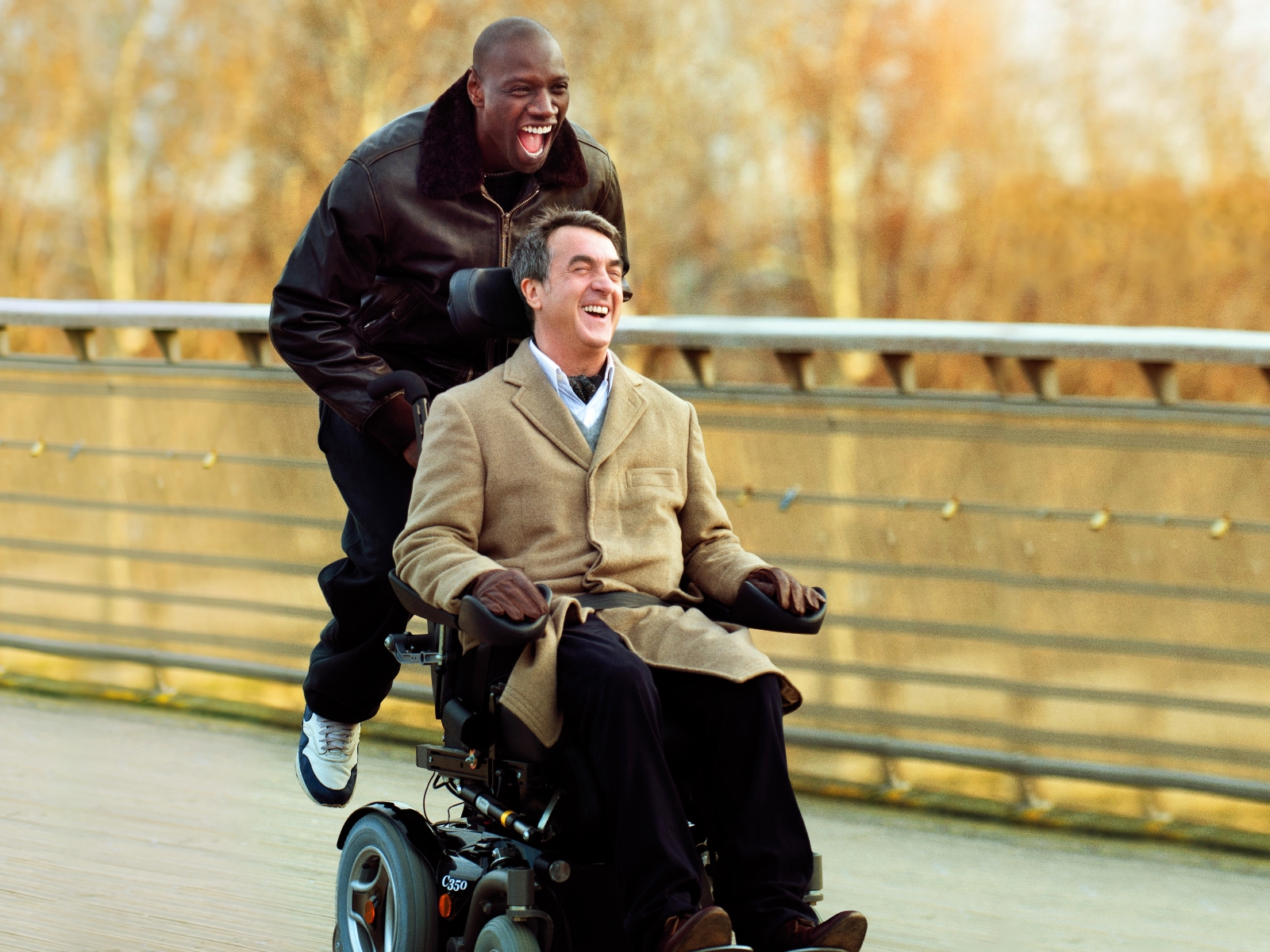 This charming and very enjoyable feelgood comedy from France is another odd couple buddy comedy/drama that deals with the unlikely friendship that develops between a quadriplegic and his carer. The film is based on a true story, and it deals with familiar themes of friendship, family, race, and it even explores the social divide in contemporary France.
The film opens with a car chase with police pursuing a Ferrari through the same tunnels in Paris where Princess Di perished. The car is stopped and the driver tells the police that his passenger is having a fit and needs to be rushed to the hospital. Then in a series of extended flashbacks we learn about the relationship between the two men in the car.
Phillipe (played by Francois Cluzet, from Tell No One, etc) is a rich widower who is left permanently paralysed from the neck down following a paragliding accident. He needs constant care and attention, but a succession of carers have found coping with him and his needs too difficult. He puts an advertisement in the newspaper.
Amongst those who respond is Driss (Omar Sy), a Senegalese immigrant, streetwise felon and petty thief who has recently been released from prison. Driss lives in the housing projects, and only responds to the advertisement because he wants to retain his social security benefits. Impatient with waiting his turn, Driss bursts into the room where Phillip and his advisors are auditioning prospective carers. Something about Driss and his irreverent attitude strikes a chord with Phillip, who doesn't want to be pitied or coddled, and on a whim he hires him. Phillip is surrounded by caring and loyal staff who are initially disapproving of Driss' presence.
Over the course of time the two men become friends and they slowly transform each others' lives. For instance, Phillipe takes Driss to the opera. Driss turns Phillip's stuffy birthday party on its head, and it's clear from the expression on Phillip's face that he hasn't enjoyed himself this much for ages.
The Intouchables is undoubtedly sentimental and occasionally manipulative, although it has been directed with great sensitivity and compassion by Olivier Nakache and Eric Toledano (Those Happy Days, etc), who also inject generous touches of sharp humour and warmth into the material. However, the film unfolds in almost episodic fashion, and there a few subplots that seem unnecessary and almost cliched. Phillip's teenage daughter is spoiled, and Driss has to try and prevent his younger half-brother (Cyril Mondy) from slipping into a life of crime in the projects.
There is an appealing and wonderful chemistry between Cluzet and Sy that lifts the film. Cluzet is excellent in a role that only allows him to use his facial expressions to convey a range of emotions and thoughts as the staid Phillip, who gradually loosens up under Driss's influence. This is a largely internal performance. Many of his mannerisms make him appear like a Gallic Dustin Hoffman. Comedian and television performer Sy is also very good and brings charisma, energy, sly humour and depth to his role. His performance won the Best Actor award at the Cesars, the French equivalent of the Oscars, beating Jean Dujardin, the star of The Artist and the favourite. At the end of the film we get a brief glimpse of the real characters who inspired the film, which is almost the norm now with films based on real life characters.
The Intouchables has been nicely shot in widescreen by Mathieu Vadepied. The film was a huge hit at the French box office, and similarly in Europe. As with many other popular Gallic comedies, a bland US remake is on the way. Apparently the Weinstein brothers are planning a remake, which could turn this hugely enjoyable and irreverent comedy into something less interesting and engaging. One of the highlights of this year's Melbourne International Film Festival, and also one of the more enjoyable films of the year.
★★★★☆