by GREG KING
Scandinavian crime fiction is all the rage at the moment, particularly following the international success of The Girl With The Dragon Tattoo trilogy from Sweden, and tv shows like The Killing and Borgen, etc. Capturing the zeitgeist for all things Scandinavian at the moment, Palace cinemas have launched the inaugural Scandinavian Film Festival which is screening around the country in July.
Here in Melbourne, this showcase of new and exciting cinema from Scandinavia kicks off at the Como and Brighton Bay cinemas from July 10 and runs through until July 27. The opening night film is the bizarre Swedish comedy The 100-Year-Old Man Who Climbed Out The Window And Disappeared, directed by Felix Herngren. Described as something of a Swedish Forrest Gump, the film tells of an elderly man (played by popular Swedish comedian Robert Gustafsson) who runs away from his nursing home on the eve of his 100th birthday. He travels on a bus and recounts some of his fascinating life story to those he meets. Other attractions include Waltz For Monica, a biopic about Swedish jazz singer Monica Zetterlund, taut crime thriller Easy Money and sequels Easy Money II and III. There is also The Keeper Of Lost Causes, another great example of Nordic crime thrillers, about a detective working in cold case unit who finds one of his investigations has links to the disappearance of a politician.
Finnish actress Laura Birn will be attending the opening night of the festival in Canberra on July 8, and screenings of her film Heart of A Lion in Sydney and Melbourne. She will also participate in Q&A sessions for her film at Palace Verona in Sydney on July 10, and in Melbourne on July 11.
To find out more about the inaugural Scandinavian film festival, Greg King spoke to Genevieve Kelly, from Palace for his Movies At Dusk program.
To listen to the interview, click on the link below:
https://www.mediafire.com/listen/s063ntldwqckvyf/190616_001.MP3
REVIEWS.
ALL REVIEWS BY GREG KING
LAST UPDATED JULY 9.
WALTZ FOR MONICA.
Waltz For Monica is a fascinating but melodramatic biopic of Swedish jazz singer Monica Zetterlund, who is not very well known outside her native country. Zetterlund worked as a telephone operator during the day, and sang jazz with a local band at night in her small home town. Anxious to make it big she accepts an offer from a visiting American to go to New York and sing with a band there. But she is disappointed when she finds herself ostracised, because it was not seemly for a white woman to be singing with a band of black musicians in that day and age. She returns home and struggles to find acceptance there, especially from her disapproving father who wishes she would show more responsibility in raising her young daughter Eva-Lena instead of pursuing a pipe dream. But then Monica hits on the idea of singing jazz tunes in her native tongue, and suddenly her career begins to take off. She also had the help of a local popular poet who wrote the lyrics for her. Like most music biopics (La Vie En Rose, etc), Waltz For Monica explores her rise and fall, the pitfalls of fame and success, and her troubled relationships, particularly with the men in her life and her estranged relationship with her father. It also explores the darker side of the music industry. Star Edda Magnason does her own singing throughout the film and is quite impressive, and she also delivers quite an emotionally charged performance. This is the sixth feature film for Danish director Per Fly, and he has tried to authentically recreate the period detail. The script from Fly and co-writer Peter Birro is occasionally a little melodramatic and overwrought, but this is an engaging biopic.
★★★
EASY MONEY.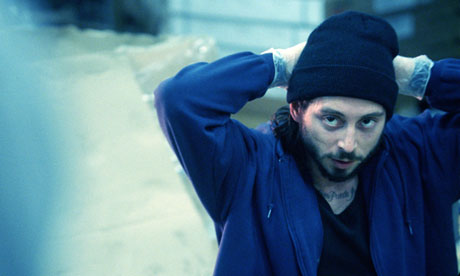 This tough crime thriller premiered at the Melbourne International Film Festival in 2013. It stars Joel Kinnaman (recently seen in the remake of Robocop and The Killing, etc) as JW, a Swedish economics student who gets caught up in a world of drugs and violence when he helps a gang of drug runners launder their money. While he reaps the rewards with lots of money, fast cars and a lavish lifestyle he finds that there is a high cost to pay. The film has been directed with muscular style by Daniel Espinosa, who, on the strength of his work here, went on to direct the Hollywood action thriller Safe House, with Denzel Washington and Ryan Reynolds. But Easy Money also has a strong political and social subtext as it looks at the pervasive influence of immigrant crime gangs on the fabric of Swedish society. Like most crime dramas from the region, it is also a little unpredictable and the violence has a nasty edge. This is a gripping and morally ambiguous crime thriller that keeps audiences off balance for much of the time. Kinnaman delivers a solid performance as the young social climbing student who is walking a dangerous tightrope. The film was such a smash hit in Sweden that it has produced two sequels, both of which are also screening during the festival. Although they are directed by different filmmakers who brings a slightly different aesthetic to the material they are also strong thrillers that bring the trilogy to a strong close.
★★★