Reviewed by GREG KING
Stars: Ryan Reynolds, Samuel L Jackson, Salma Hayek, Antonio Banderas, Frank Grillo, Caroline Goodall, Morgan Freeman, Richard E Grant, Tom Hopper, Rebecca Front.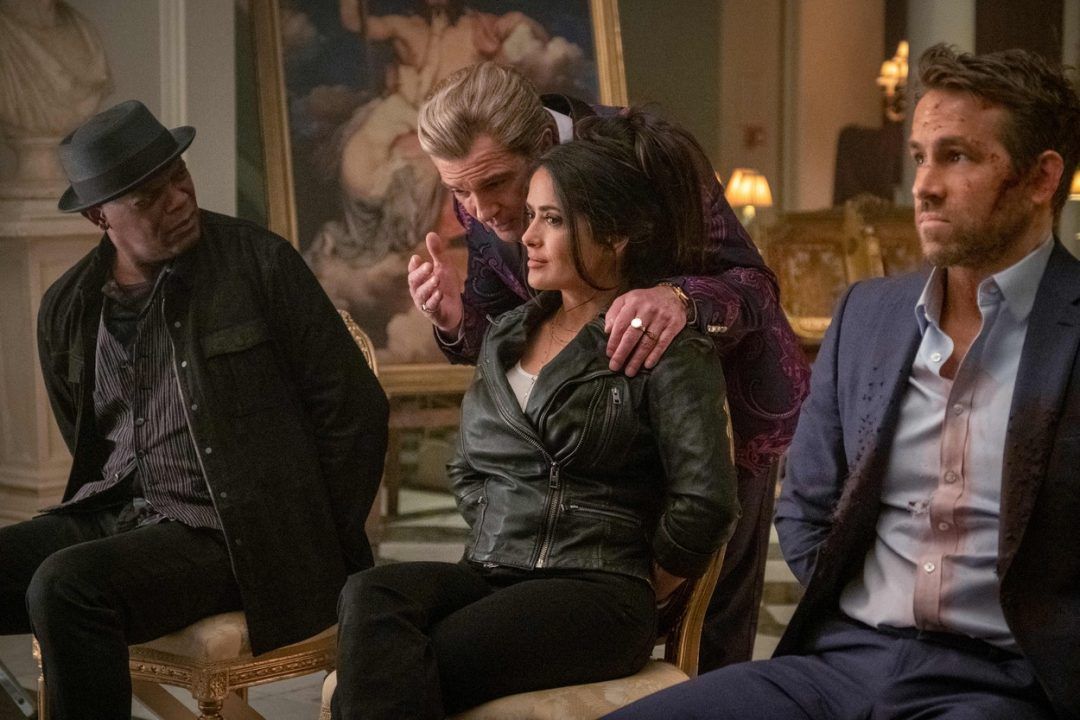 The 2017 odd couple buddy action comedy The Hitman's Bodyguard was a dumb film built around a dumb premise. Michael Bryce (Ryan Reynolds), a top bodyguard, was hired to protect notorious hitman Darius Kincaid (Samuel L Jackson) as he travelled to the Hague to testify against a ruthless European dictator. Nonetheless it proved popular enough to warrant a sequel. And here it is! But there are more apostrophes in the sequel's title than there are laughs in the film.
When the film opens Bryce is undergoing psychiatric therapy to get over his obsession with having lost his AAA rating and his bodyguard licence. But while on sabbatical on the picturesque island of Capri he is rescued from a mass shooting by Sonia (Salma Hayek), the volatile and foul-mouthed wife of Darius. She needs his help to rescue Darius who has been kidnapped by a ruthless gangster.
The three become caught up in a global conspiracy that threatens Europe's financial future. Flamboyant Greek billionaire shipping tycoon Aristotle Papadopoulos (Antonio Banderas) is peeved that the European Union is threatening to level sanctions at Greece for its failure to repay its debt obligations, and has hatched a scheme to destroy the organisation with a cyber-attack. He plans to tap into their giant power grid and upload a virus that will wipe out all their financial records.
Bryce, Darius and Sonia cross paths with a gruff Boston cop named Bobby O'Neill (Frank Grillo), who has been seconded to work with Interpol, and is investigating a series of sabotage attacks on the power grid of European capitals that is somehow linked to Papadopoulos' scheme.
The accent is on action here rather than comedy, and the film delivers plenty with pyrotechnics, explosions, car chases, shootouts, fisticuffs, and a high body count, but it all seems repetitive and tedious, and the tropes are familiar to any other action/comedy of the past couple of decades. The formulaic script has been written by original writer Tom O'Connor and first time screenwriters Brandon and Phillip Murphy. Returning director Patrick Hughes (Red Hill, etc) maintains the fast and furious pace throughout. But there is no subtlety or nuance to be found here and most of the attempts at humour fall flat.
Jackson and Hayek spend most of the film bickering, swearing and shouting at each other, and very little of their dialogue is amusing. Hayek's role in proceedings has been greatly expanded from the original, and she is both sexy and terrifyingly aggressive, and she effortlessly chews the scenery. The film makes the most of Reynold's smug persona and self-deprecating sense of humour though, and he suffers most of the physical punishment here as his character is shot, beaten up and struck by cars. But there is a distinct lack of chemistry between him and Jackson.
Banderas uses just about every bad guy cliché from previous screen villains to shape his performance here. Maybe he's auditioning for a role as the next Bond villain? Morgan Freeman is largely wasted in a small and undemanding role as Bryce's estranged stepfather, himself a former protection bodyguard – he must have needed to pay off some bills or a holiday, or else he was attracted by the thought of the exotic locations. And there's a thankless cameo from Richard E Grant briefly reprising his character of Seifert from the first film.
Speaking of which The Hitman's Wife's Bodyguard has been shot in several scenic locations in Europe, from Trieste to Croatia, Slovenia, and Bulgaria, all beautifully and brightly rendered by cinematographer Terry Stacey (A Dog's Purpose, etc).
This unnecessary, overly violent and crass sequel certainly caters to the lowest common denominator with its brash and noisy reliance on action and carnage rather than clever laughs and genuine wit.
★★