Reviewed by GREG KING
Director: Pierre Morel
Stars: Sean Penn, Javier Bardem, Idris Elba, Ray Winstone, Jasmine Trinca, Mark Rylance, Peter Franzen.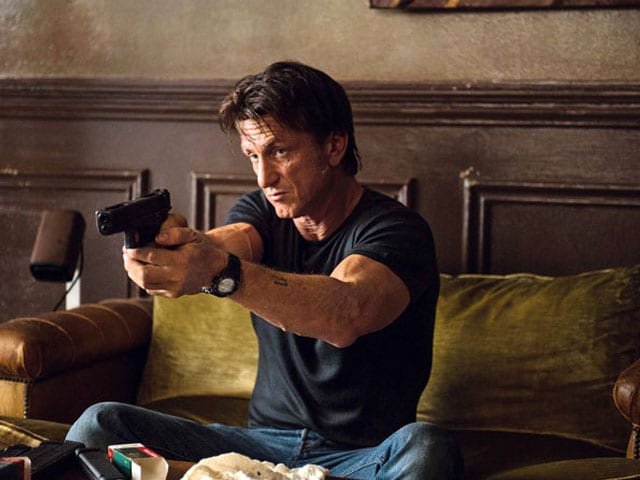 It's unusual to see Oscar winning actor Sean Penn (Mystic River, Milk, etc) stuck in such a generic action movie, but that's exactly what we get here. There must have been some attraction in this adaptation of The Prone Gunman, a crime novel written in 1981 by the late French author Jean-Patrick Manchette, as Penn has also served as one of the producers as well as co-writing the script with Don MacPherson (the dire big screen adaptation of 60s tv series The Avengers, etc) and Pete Travis (director of Vantage Point, etc). But the end result is a muddled and cliched ridden action thriller that has pretensions towards something deeper.
Here Penn plays Jim Terrier, who when we first meet him, is working for a non-Governmental humanitarian aid organisation in the war torn and poverty stricken Democratic Republic of Congo. The country has been engulfed in civil war for decades, and corruption is rife. And the conflict has been dramatically extended while the country is systematically stripped of its valuable resources like gold and copper to fill the increasing demand from the west. But Terrier also has another agenda. A mercenary and expert sniper, he has been contracted by one of the powerful mining conglomerates to assassinate the country's resources minister who has just banned the operations of foreign companies.
After the mission Terrier disappears for many years, leaving behind his girl friend Annie (Italian actress Jasmine Trinca). Eight years later, Terrier returns to Africa and, hoping to find redemption, is working with another relief agency. But then he is attacked by some thugs intent on killing him. It appears that a contract has been put on him by someone from his past.
Terrier's efforts to find out who wants to kill him lead him to some former colleagues, including Cox (Mark Rylance) and Felix (Javier Bardem), who now seem to be honest businessmen working in humanitarian causes. Felix has since married Annie, which adds some tension and mistrust to their relationship. And Terrier also turns to the former special operative Stanley (Ray Winstone), who still has friends and contacts in low places for help. What follows though is a series of brutal fights, chases, shootouts and a high body count as the action moves at a fast pace from the cesspool of Africa to London, and on to Gibraltar and Spain for a climax during a bullfight with a packed crowd baying for blood.
Director Pierre Morel (who put Liam Neeson through his paces in the relentless action thriller Taken) helps the usually intense and serious Penn reinvent himself as the aged action hero here, and he does acquit himself surprisingly well in the bruising physical action scenes. Some of the fight scenes, co-ordinated by stunt director Markos Rounthwaite, are quite brutal and violent. A former cinematographer himself who worked on films like Transporter, Morel knows how to stage visceral action sequences for best effect, and the action scenes are quite classy and stylish.
Penn seems to have worked out physically in preparation for the demanding role for he has solid, muscular arms and a ripped, buff body that belies his fiftysomething years. But his craggy and haggard face and weary nature bear testimony to some hard years that add some history to his flawed and psychologically damaged character.
Rylance is wonderfully sleazy and slimy as Terrier's former colleague. But the film wastes a solid supporting cast, giving them little to do as they appear briefly in fairly thankless roles. Bardem is wasted and given little to do but look drunk and obnoxious, while Idris Elba only appears briefly as an Interpol agent whose loyalties are uncertain. Winstone normally has a strong and intimidating physical presence, but he is also underused here. In her first English language film role Trinca plays a fairly familiar role here in an underwritten role as the obligatory love interest and hapless female who needs to be rescued from danger.
Morel and his cinematographer Flavio Martines Labiano make good use of some exotic locations to add to the atmosphere. But overall The Gunman offers little that is fresh to the well worn action genre. And it will be interesting to see if Penn decides to continue down the path by playing the aging action hero like Neeson before him.
★★★