Reviewed by GREG KING
Director: Wes Anderson
Stars: Bill Murray, Owen Wilson, Tilda Swinton, Benicio del Toro, Adrien Brody, Lea Seydoux, Frances McDormand, Timothee Chalamet, Jeffrey Wright, Mathieu Amalric, Edward Norton, Saoirse Ronan, Willem Dafoe, Stephen Park, Henry Winkler, Bob Balaban, Elisabeth Moss, Jason Schwatrzmann, Christoph Waltz, Liev Schreiber, Griffin Dunne, Anjelica Huston, Lyna Khoudri, Lois Smith, Cecile De France, Rupert Friend, Tony Revolori, Larry Pine, Fisher Stevens, Denis Menochet, Alex Lawther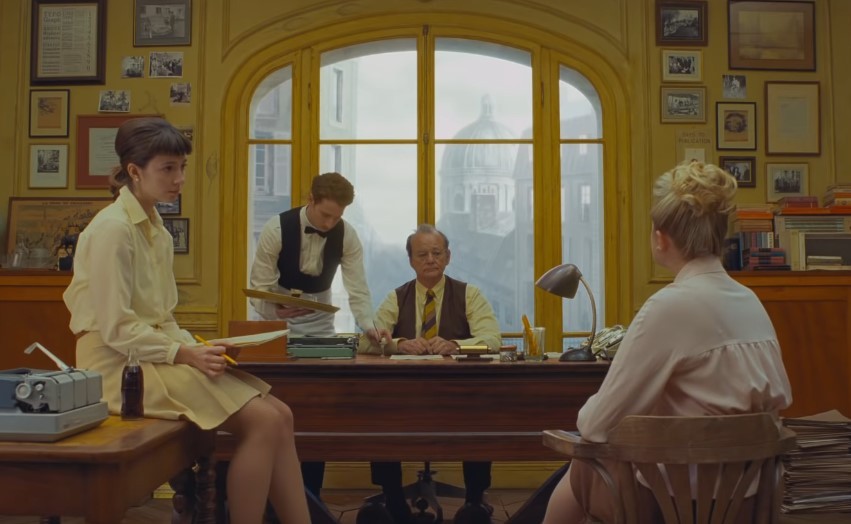 This is the tenth feature from Wes Anderson, and is typically rich with his droll, deadpan sense of humour, his self-aware aesthetic, his whimsical approach, and idiosyncratic touches. It is also his most ambitious and complex film to date, featuring one of the biggest, star-studded casts of the year. But The French Dispatch is also fairly self-indulgent, and a big comedown from 2014's sublime The Grand Budapest Hotel. Nonetheless it will still appeal to those who appreciate his idiosyncratic and offbeat style. But here Anderson is less concerned with narrative than with creating a series of carefully constructed vignettes, striking images and set pieces. 
The film is set in the provincial French town of Ennui-sur-Blasé (literally boredom upon apathy, a really clever name given the droll nature of much of Anderson's humour). The French Dispatch of the title is an off-shoot of the Evening Sun newspaper from Liberty, Kansas. It was established by Arthur Howitzer jr (Bill Murray, a regular in Anderson's comedies and whose droll style is a perfect fit for the filmmaker's deadpan style), who left Kansas and the family publishing business for an adventure in France. He ended up remaining in France for several decades.
The film is seemingly inspired by some of the great American writers, such as James Baldwin, who settled in France in the 50s and 60s and wrote novels and articles for American newspapers. The film is a love letter to journalists and writers and is basically structured around the final edition of the newspaper. The newspaper articles deal with culture, the arts, politics, crime, cooking, and the film's main narrative is divided into distinct chapters that explore aspects of French history and culture.
The French Dispatch is basically set following the death of Howitzer. According to his wishes, as expressed in his will, publication of the paper is to cease after one final issue, which features three articles from past editions.
While there are some insights into the editorial offices run by the acerbic Howitzer, the main thrust of the film follows those three major story lines. But as with most anthology films, some vignettes are more effective and engaging than others. And it is often hard to identify with many of the characters here who are given very little screen time.
By way of an introduction, we get Herbsaint Sazerac (Owen Wilson, another regular in Anderson's films) who reports on cycling around Ennui-sur-Blase, giving us some essential grounding in the charms of the town and provides a quick comparison between the town's character then and now, showing how it has changed little over time.
In The Concrete Masterpiece, arts reporter J K L Berenson (Tilda Swinton) provides a detailed account of Moses Rosenthal (Benicio del Toro), a serial killer who discovers his talent as a post-modernist painter while incarcerated in an asylum. His surreal paintings attract a lot of attention from con artists to art dealers and critics (played by the likes of Adrien Brody and Henry Winkler) who arrange an exhibition. This segment brings to the forefront the issue of what constitutes good art and good taste. Revision To A Manifesto finds respected political journalist Lucinda Krementz (Frances McDormand) reporting on a couple of intellectual student activists (Timothee Chalamet and Lyna Khoudri) as they establish their manifesto calling for revolution. Krementz finds it hard to maintain her objectivity when she starts sleeping with Zeffirelli B (Chalamet), the self-styled leader of the revolution. In The Private Dining Room Of The Police Commissioner comes across like an homage to the great Jacques Tati. Food writer Roebuck Wright (Jeffery Wright, CIA agent Felix Leiter in the Craig series of Bond movies) finds himself embroiled in a dangerous hostage situation when he sets out to write about the gastronomic tastes of the local police commissioner (Mathieu Amalric).
The film boasts some superb visuals, and there are some clever animated sequences that were directed by Gwenn Germain (who worked with Anderson on his Isle Of Dogs). There is some great production design from Adam Stockhausen. Cinematographer Robert Yeoman has shot the film in a range of cinema ratio formats and a mix of bold colours and monochrome, with these latter scenes evocative of a bygone era and some of the classic French new wave films that inspired Anderson. His deliberate framing of the scenes gives the film a hyper-realistic look and feel.
Anderson's typically dry sense and absurdist of humour is given full rein here and much of the dialogue is either literate and witty, or obtuse and pretentious and is delivered in that deliberately stilted fashion that is one of his signature touches.
Anderson has assembled a strong ensemble cast that includes a mix of American and French actors including Willem Dafoe, Edward Norton, Elisabeth Moss, Lea Seydoux, Lois Smith, Saoirse Ronan, Liev Schreiber, Christoph Waltz, Jason Scwhartzman (another Anderson regular), Griffin Dunne and Anjelica Huston in cameos.  
Quintessentially an Anderson film, The French Dispatch is a triumph of style over substance and one for those who have long admired Anderson as a filmmaker, but it is unlikely to win over new devotees. 
★★☆