Reviewed by GREG KING
Director: Florian Zeller
Stars: Anthony Hopkins, Olivia Colman, Imogen Poots, Rufus Sewll, Olivia Williams, Mark Gattis.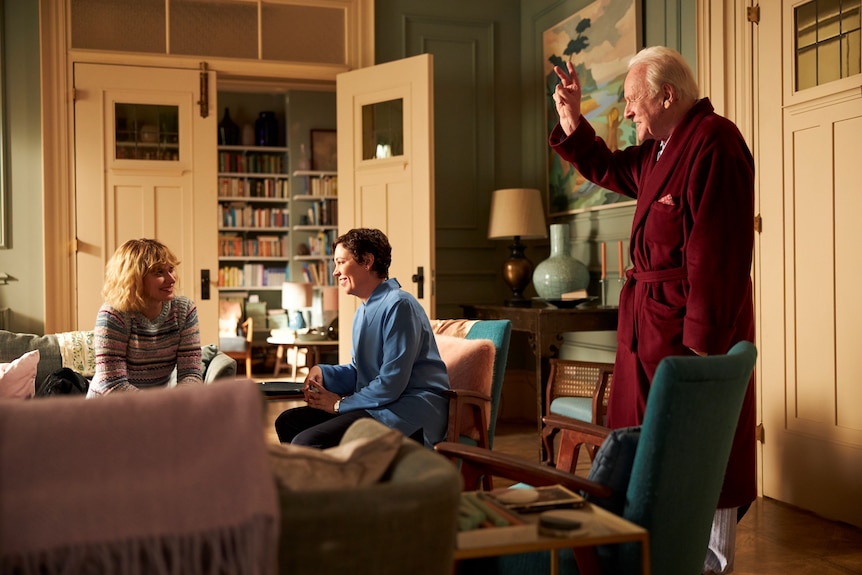 Anthony (played by actor Anthony Hopkins, in his Oscar nominated role) is an older man in his 80s, but he is fairly robust and set in his ways. He has lived in his cramped London flat for years, but as his mind begins to fail him he refuses any help. His dutiful daughter Anne (Oscar winner Olivia Colman, from The Favorite, etc) is moving to Paris to be with her boyfriend, and it becomes clear that other arrangements will have to be set in place. But Anthony prides himself on his health and sharp mind and steadfastly refuses any help.
He drives away many of the temporary nurses that Anne has arranged for them with his temper and feisty attitude. He often accuses them of having stolen his watch, but in reality he has forgotten where he put it. Anthony slowly slips deeper into dementia, and his mental decline is tough to watch.
The Father has been written and directed by first time filmmaker Florian Zeller, who has adapted his own multi-award winning 2012 drama to the screen, with the English translation from Oscar winning screenwriter and fellow playwright Christopher Hampton (Atonement, Dangerous Liaisons, etc). There have been other dramas dealing with a character slipping into dementia (Still Alice, Away From Her, etc) but The Father hits home hard with a reality and resonance that those other films seemed to lack because much of it unfolds from Anthony's increasingly confused perspective. This works to keep the audience disoriented and bewildered as well.
The film boasts a pair of first-rate performances from its two leads. The role in the film was written especially for Hopkins by playwright Zeller, which is why the previously unnamed character shares his name. Fittingly he delivers a superb performance that effectively depicts Anthony's failing mind and gradual descent into paranoia and dementia. Hopkins is usually a robust performer, but here he taps into vulnerability and frailty with his mercurial portrayal, but he brings a gruff charm to the role as well. It is a moving and emotionally draining performance to watch but feels entirely organic. Colman is also strong as Anne, his dutiful and supportive but long-suffering daughter who is growing weary and frustrated at the same time as she watches Anthony's mental deterioration and feels helpless. She brings warmth and intelligence to the role.
With its limited sets and small cast, the film retains much of its claustrophobic theatrical nature and emotional beats, but the film's visuals make Anthony's loss of his mind clearer with subtle changes to the layout of the apartment, the placement of furniture, the changing colour scheme, and a painting prominently displayed above the mantle. Peter Francis's production design for the flat is superb, and almost makes the apartment another character. Zeller uses the space effectively.
The Father is quite downbeat in nature, but Zeller has leavened the material with touches of wit and humour. Zeller's script is a devastatingly honest portrayal of dementia, but it is also empathetic and takes us inside this crumbling mind of a once strong, independent and intelligent man. He packs in a lot of emotional beats and the film explores some quite relatable truths about aging, responsibility, father daughter relationships, mortality. Anthony begins to question his own grip on reality, and certain scenes are repeated, which further adds to that growing sense of confusion. Rufus Sewell appears as Anna's resentful husband Paul; Imogen Poots plays a young nurse who reminds Anthony of his other daughter Lucy with whom he enjoyed a special relationship but whom he hasn't seen for years; and Olivia Williams and Mark Gattis all contribute smaller roles and their presence further adds to Anthony's sense of confusion and frustration.
I saw a Melbourne Theatre Company production of The Father a few years ago, with John Bell in the title role, but this film adaptation puts much of the character's failing mind into sharper focus, and it makes for a more compelling experience.
★★★☆