Reviewed by GREG KING
Director: F Gary Gray
Stars: Vin Diesel, Dwayne Johnson, Charlize Theron, Jason Statham, Michelle Rodriguez, Kurt Russell, Tyrese Gibson, Chris Ludacris Bridges, Scott Eastwood, Helen Mirren, Luke Evans, Patrick St Esprit, Elsa Pataky, Janmario Santiago, Kristofer Hivju, Peter Hansen.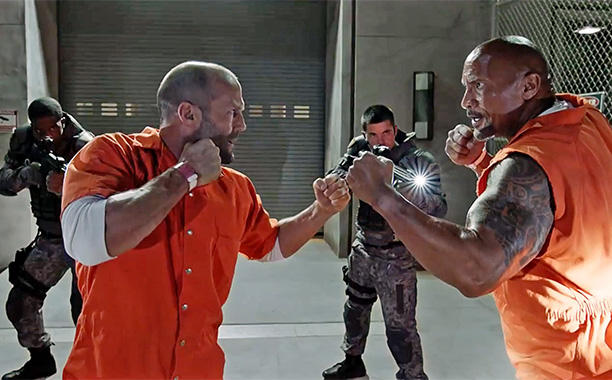 The Fate Of The Furious is the eighth instalment in the successful franchise that has boasted some wildly over the top car action and outrageous stunts that defy the laws of gravity. But with each successive entry since Tokyo Drift, the third film in the series, the films seem to have steered further away from the car porn of the original concept, which centred around a gang of street racers and car thieves. In the more recent instalments the series has become more like Mission Impossible rather than Gone In 60 Seconds. Dom Torreto (Vin Diesel) and his rag tag team of criminals have become agents for a shadowy government agency and sent on globe-trotting missions and battling terrorists and high tech criminals.
Fast And Furious 8 opens with a car race through the streets of Havana which suggests that the series is about to return to its roots. But before too long the main plot kicks in. Dom is being blackmailed by an enigmatic cyber terrorist and hacker known only as Cipher (played by Oscar winner Charlize Theron), who forces him to turn his back on his team and help her steal top secret EMP technology and the launch codes for some Russian nuclear missiles. The rest of his team, led by Hobbs (Dwayne Johnson), have to try and figure out what is going on and find a way to bring Dom back into the fold.
The plot, which has been written by series regular Chris Morgan, hardly seems to matter though as it is mainly an excuse for some spectacular high-octane, adrenaline charged car action and thrills. The highlights include cars raining down onto the crowded streets of New York and a high-speed chase across the ice fields of the Arctic Barents Sea involving a nuclear-powered submarine. Every instalment of the franchise seems to have upped the ante in terms of spectacular stunts and it will be interesting to see how they top all this nonsense with episode nine of the series, which is already in pre-production.
The director here is F Gary Gray, whose resume includes the heist thriller Set It Off, the remake of The Italian Job (both of which featured great car chases) and the recent Straight Outta Compton, etc. He maintains a fast and furious pace throughout that barely gives the audience time to catch their breath. He has been given the biggest budget yet for a film in the franchise, which leads to more outlandish action sequences. Gray has also previously worked with the main stars of the film and knows how to use them to good advantage.
The main stars are again Diesel and Johnson who get the lion's share of the action and flex their muscles in some strong action sequences and well-choreographed fight scenes. Diesel scowls and growls his way through the film with his mumbled tough guy dialogue, while Johnson gets to deliver the bulk of the one-liners. Given reports of a rift between Diesel and Johnson during filming it will be interesting to see if this has any impact on Fast And Furious 9.
Given how Johnson's presence reinvigorated the series, it's hard to see how it could exist without him now.
Jason Statham returns as their former foe Deckard, and gets a great scene in which he takes down a plethora of bad guys while carrying a baby in a basket. Michelle Rodriguez returns as the kick-ass Letty, while Tyrese Gibson and rapper turned actor Chris Ludacris Bridges provide some much-needed comic relief. Kurt Russell also returns as Mr Nobody, the enigmatic government man in black who gives the team their assignments and equipment. This time he brings along a new associate in Little Nobody, played by Clint Eastwood's son Scott (from The Longest Ride, etc). Theron's character is a fairly generic and cliched villain whose aim of world domination would not be amiss in a Bond film, and the role hardly taxes her talents; but she seems to have enjoyed herself. Oscar winner Helen Mirren (The Queen, etc) pops up in a small but hilarious role as Deckard's tough talking Cockney-accented mother. The problem with such a huge cast is in giving everyone enough screen time to justify their existence, which leads to a rather bloated running time of 136 minutes.
It's probably best to put your brain in neutral for The Fate Of The Furious, which is something of a silly film, but a guilty pleasure nonetheless. Long term fans of the series will not be disappointed, and will lap it up.
★★★