Reviewed by GREG KING
Director: Leah Purcell
Stars: Leah Purcell, Rob Collins, Sam Reid, Jessica De Gouw, Malachi Dower-Roberts, Bruce Spence, Nicholas Hope.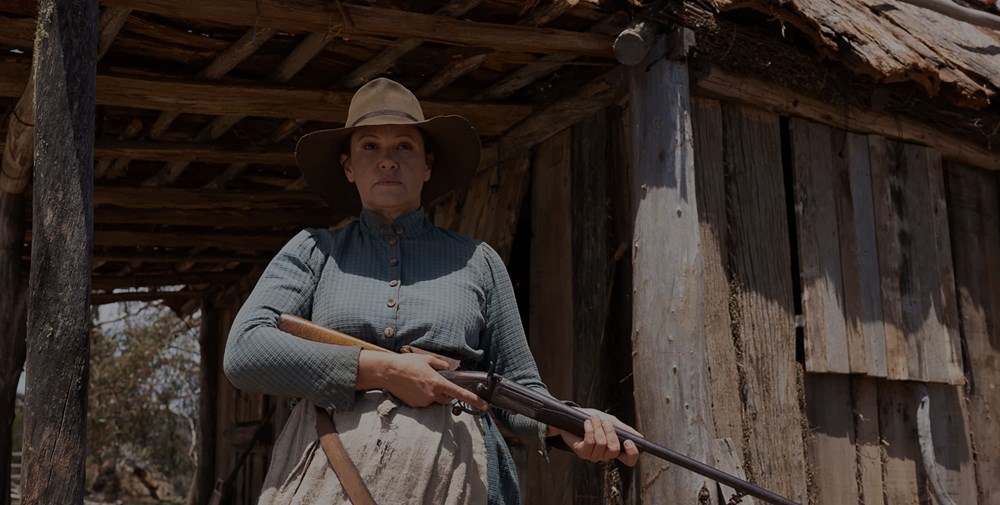 Loosely inspired by Henry Lawson's classic 1892 short story The Drover's Wife, this tough drama from writer/director Leah Purcell uses the western genre to explore more challenging and contemporary themes of race, gender, class, our colonial past, the treatment of indigenous people, women's rights, toxic masculinity, and even domestic violence in unflinching and unsparing fashion. This is a tough film to watch though.
The Drover's Wife has been something of an obsession for Purcell who first took Lawson's story and expanded on it for her award winning 2016 stage play; drawing upon her own cultural history of storytelling she expanded on the story again in 2019 for the novel, and she has now brought the story to the screen. Purcell has drawn upon her own personal history and struggles as an indigenous woman to reshape the slim narrative as a revisionist look at our colonial past. In this, the film joins those other recent films that have taken a critical view of our brutal colonial past – films like Warwick Thornton's award winning Sweet Country, High Ground and The Nightingale.
The film is set in 1893. Multi-hyphenate Purcell takes on the lead role of Molly Johnson, the resourceful and hard as nails wife of Joe Johnson, a drover who often spends months at a time herding sheep through New South Wales' high country leaving her to maintain the family home and tend her four children. The heavily pregnant Molly lives in the family's rustic shack in the Snowy Mountains and is protective of her family and her property. Her oldest son Danny (Malachi Dower-Roberts) has seen much in his tender years and is quite mature for his age.
Most of the male characters is this film are despicable sorts – either drunken brutes, rapists or rogues – although the newly arrived policeman Sergeant Klintoff (Sam Reid, from '71, etc) seems a decent sort and wrestles with his conscience as he tries to bring a semblance of law and order to this untamed outpost of Everton. Klintoff is investigating the brutal murder of a local farmer and his family. The chief suspect is a local indigenous man named Yadaka (played by Rob Collins, whom Purcell directed in Cleverman). When the wounded Yadaka stumbles onto Molly's property she reluctantly tends his wounds and gives him refuge. Yadaka also bonds with Danny and teaches him bushcraft and how to hunt. And Yadaka's presence brings out many guilty secrets from Molly's own past.
Shot largely on location in the Snowy Mountains, the film looks absolutely stunning as cinematographer Mark Wareham (Jasper Jones, etc) has captured some striking and breathtaking images of the bushland and rugged landscapes. Salliana Seven Campbell's music score is evocative. The period detail reeks of authenticity, and the production design is superb. 
Purcell gives the material a strong central focus with her intense, stoic and feisty performance as Molly who will go to any lengths to protect her family. Newcomer Dower-Roberts is also very good and delivers a confident performance as Danny.
★★★