Reviewed by GREG KING
Director: Jocelyn Moorhouse
Stars: Kate Winslet, Liam Hemsworth, Judy Davis, Hugo Weaving, Sarah Snook, Shane Jacobson, Shane Bourne, Kerry Fox, Caroline Goodall, Rebecca Gibney, Barry Otto, Gyton Grantley, James MacKay, Genevieve Picot, Julia Blake, Terry Norris, Sacha Horler, Alison Whyte, Mark Leonard Winter.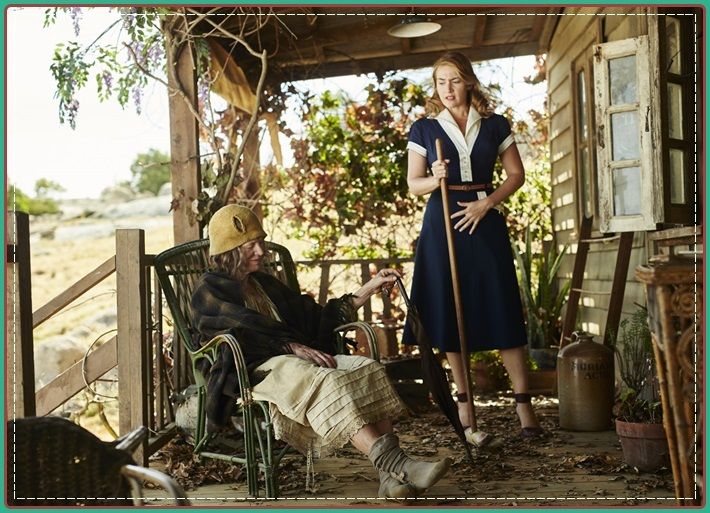 "I'm back, you bastards." With those words, Myrtle "Tilly" Dunnage (Kate Winslet) steps off a bus and returns to her home town of Dungatar, a small town situated in the middle of nowhere. Twenty five years ago she was driven out of town because of her involvement in the death of another young boy. There is still a great deal of ambiguity surrounding the events that saw Tilly sent away. Since then though Tilly has travelled the world and learned a trade in the top haute couture houses of Paris. Armed with her Singer sewing machine and plenty of attitude, Tilly has returned home to seek vengeance on those who wronged her back then. Moorhouse herself has aptly described The Dressmaker as "Unforgiven with a sewing machine."
Tilly reconnects with her mentally unstable, alcoholic and wheelchair bound mother Molly (Judy Davis, very good) who has almost become a recluse, shut away in her decrepit little house on a hill overlooking the town. At first Molly refuses to recognise Tilly, but she soon becomes part of her conspiracy to shame the town over past events.
Tilly sets out first to learn the truth behind those events from her past. She soon wins over the ladies with her creative and spectacular dresses that look like to costumes worn by some of the glamorous movie stars of the era. And she catches the eye of local football hero and all round spunk Teddy McSwiney (Liam Hemsworth).
Dungatar is a small town full of small minded people who thrive on malicious gossip, rumours, ugliness, pettiness and dirty little secrets. It's an ugly town reminiscent of the setting of that great Australian classic Wake In Fright, and thankfully it's much better than Stephan Elliott's dire and misguided take on small town Australian in Welcome To Woop Woop.
This is director Jocelyn Moorhouse's first local feature film since Proof almost twenty years ago. Although based on the 2000 novel written by Rosalie Ham, the quirky nature of this black comedy is due more to the script written by her husband P J Hogan, better known for his work on Muriel's Wedding, which was also set in a small town full of spite and viciousness.
The film has been beautifully shot by Donald McAlpine (Moulin Rouge, etc) brings a heightened sense of realism to the visual pallet and he uses the wide screen effectively to give us a real sense of this small town. Roger Ford's production design is also quite impressive, especially with his superb creation for Molly's ramshackle little house which looks as though it is about to fall down. Dungatar looks much like the setting of those classic spaghetti westerns of yesteryear from the likes of Sergio Leone, which actually suits its theme of revenge.
Moorhouse has many characters and subplots to juggle, and at times the film feels a little disjointed and tonally uneven. The third act seems a little rushed in comparison to the leisurely pace of what has preceded it, and it also takes a turn into much darker and unsettling territory with a couple of unexpected moments and twists that may shock audiences.
The star of the show is undoubtedly Winslet, who adopts a very convincing Australian accent here and delivers a characteristically strong performance as woman trying to deal with the baggage of her past. Davis chews the scenery. In a career best performance she comprehensively steals the film with her wonderfully comic turn as Molly, and she recalls the late Sheila Florence, who so memorably played Lizzie in the classic tv series Prisoner.
Hemsworth seems a little too young to convincingly play Teddy, who supposedly went to school with Tilly twenty five years ago, but he brings plenty of charm and a twinkle in his eye to his performance. Sarah Snook continues to impress with the diversity of roles she chooses and the depth of her performance here as Gertrude, a bespectacled ugly duckling who briefly transforms. She is deliberately dowdy and frumpy in her early scenes, until she blossoms and reveals her beauty under Tilly's ministrations. Hugo Weaving has a lot of fun as Farrat, the cross dressing local policeman, and his casting here probably smacks a little of the classic Priscilla Queen Of The Desert.
Moorhouse has assembled a stellar supporting cast here to play some grotesque and decidedly unsympathetic characters that includes Shane Bourne, cast against type as the slimy Evan Pettyman, Dungatar's nasty mayor who meets a sticky end; Shane Jacobson as a crude store owner; Barry Otto as a leering hunchbacked pharmacist; Kerry Fox as the vicious school teacher Beulah Harridiene; while familiar faces such as Rebecca Gibney, Julia Blake, and Sacha Horler round out the cast.
The Dressmaker is an anarchic, genre bending black comedy about murder and revenge and high fashion. It mixes dark humour with tragedy, more campier moments with laugh out loud comic moments, and lots of quirky characters. Moorhouse mixes humour and melodrama, and the result is likely to be a crowd pleaser.
★★★☆