Reviewed by GREG KING
Director: Tom Hooper
Stars: Eddie Redmayne, Alicia Vikander, Amber Heard, Ben Whishaw, Matthias Schoenaerts, Sebastian Koch.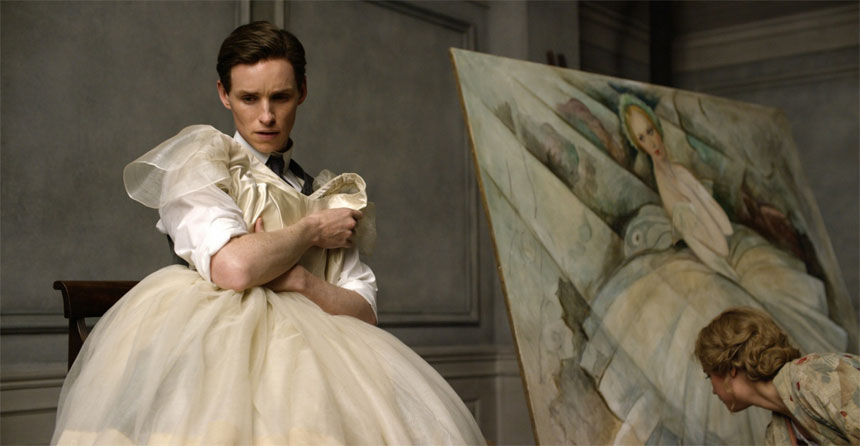 Eddie Redmayne won a well-deserved Oscar for his wonderful performance as Stephen Hawking in The Theory Of Everything. Now he backs up that fine performance with another nuanced and extraordinary performance in this biopic about a Danish painter who underwent the first recorded case of gender reassignment surgery. The Danish Girl is a deeply felt love story that explores themes of love, relationships, gender, sexuality and sexual identity.
The film is set in 1920s Denmark. Einar Wegener (Redmayne) is an acclaimed landscape artist, who is married to Gerda (Alicia Vikander, from Ex Machina, etc), who is a portrait artist in her own right, but less well known. Theirs is a loving and supportive relationship, but their unconventional lifestyle challenged the more conservative elements of society at the time.
But the nature of their relationship changes one day when Gerda asks Einar to sit in for an absent model. As Einar poses with silk stockings and a fine silk dress draped across his body and this begins to awaken strange urgings. Einar feels as though he is a woman trapped in a man's body, and he begins to identify with his more feminine side. Einar adopts the personality of Lili Elbe, and soon begins to step out in the guise of a woman. Her first public outing as Lili is at an artists' ball, where she meets Henrik (the very busy Ben Whishaw), a gay artist who is intrigued by her appearance, and their mutual attraction is instant.
Eventually the Lili side of his personality begins to take over, and Einar decides that the only way he can cope is to undergo a radical surgery. Gerda supports his decision, which takes great personal strength on her behalf.
The Danish Girl is based on David Ebershoff's novel which was inspired by Elbe's own diaries, but it offers up a fictitious treatment of the lives of Einar and Gerda. Ebershoff took several liberties with their story for dramatic purposes. The film also has some contemporary resonance as we are aware today of the struggles and enormous personal challenges facing transgender people, who want acceptance – and transgender characters and themes have gained more exposure through the award winning television show Transparent, as well as the Australian film 52 Tuesdays. And of course we also have the recent example of former Olympic champion Bruce Jenner undergoing gender reassignment surgery.
The film has been directed in measured fashion by Tom Hooper (an Oscar winner for The King's Speech), whose direction is a little laboured, calculated and ponderous. The film is technically impressive. Hooper's regular cinematographer Danny Cohen gives the film a rich and glossy visual surface that almost looks like a landscape painting itself. Eve Stewart's production design and Paco Delgado's exquisite costumes render the period detail perfectly and lovingly, and the design of their sprawling apartment in also excellent.
The film is anchored by the great performances from the two leads. Redmayne is remarkable in a complex role that allows him to show off his range as an actor. He manages to effectively portray that sense of doubt and confusion as he tries to get in touch with his feminine side. As with his portrayal of Hawking, this is another physical transformation, and his striking looks are perfectly suited to the role. Vikander is also solid as his beleaguered wife Gerda, seemingly a very modern woman in her attitude and outlook, and in particular her unwavering support of her husband's sexuality. Hers is certainly a passionate performance suffused with some modern touches.
The very busy Whishaw makes the most of his smaller role as Henrik, who falls for Lily. Belgian Matthias Schoenaerts (recently seen opposite Kate Winslet in the period comedy A Little Chaos, etc) plays Hans Axgil, Einar's childhood friend and an art dealer who Gerda turns to support during this difficult time. Sebastian Koch (from Black Book, etc) plays Warnekros, the pioneering doctor who performs the radical, pioneering but life threatening surgery.
The Danish Girl is certainly a beautiful movie to look at, but it is also rather slow moving and measured, decidedly art house in nature, and as such will not have broad audience appeal.
★★★