Reviewed by GREG KING
Documentary
Director: Sue Thomson.
Closing the 2018 Melbourne International Film Festival was the poignant, bittersweet observational documentary The Coming Back Out Ball Movie.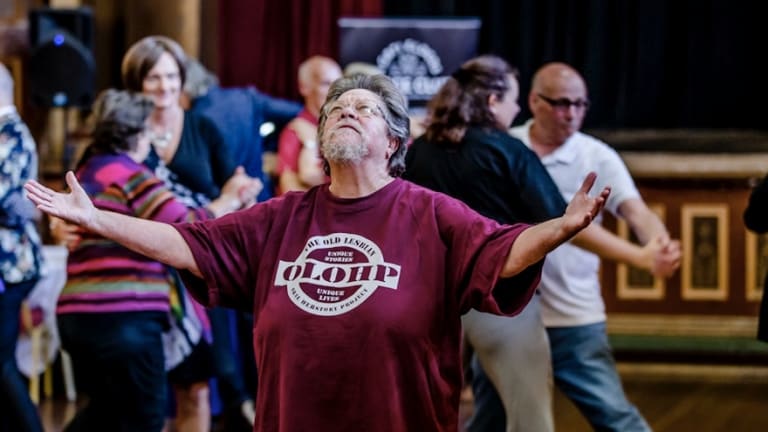 In October 2017 the Coming Back Out Ball was held in Melbourne Town Hall to celebrate the elders within the LGBTI community who had paved the way for today's generation of out and proud queer youth. Many of these elders led the ground-breaking movement to advocate for human rights, acceptance and tolerance back in the "dark ages" of the 60s and 70s. But many who had come out when young had also retreated back into the closet as they grew older and faced discrimination within the aged care industry and in nursing homes. But the October ball also fell during the divisive and stressful plebiscite on marriage equality, which added to the tensions within the gay community, and this aspect is acknowledged in the film.
The ball was the brainchild of activist and organiser Tristan Meecham, who extensively studied the effects of isolation on elders within the gay community. The ball was created as both a celebration and affirmation of the "alphabet community." Director Sue Thomson (Boys And Balls, etc) follows the lengthy process of organising the event as Meecham holds meetings with several of the stake holders. To help prepare many of the elders for coming back out, a series of LGBTI Elders Dance Club Events were held to make them feel comfortable. The film climaxes with ball itself, and performances from the likes of MC Robyn Archer.
Thomson also includes many interviews with several colourful characters, such as model train enthusiast David Morris, who is 87 years young, and Judith, a former shearer, who share their stories of some of the struggles faced by queer men and women in an earlier time when homosexuality was still illegal and gay people were persecuted and prosecuted. There's also Ardy, an outspoken activist, and Nance Peck, a fan of heavy metal. Thomson shows compassion for the interview subjects here as she draws out their personal stories. Thomson also incorporates some archival footage, sourced from the Gay & Lesbian Archives, to show the struggle for acceptance and inclusion and put the reason behind the ball into perspective.
Thomson spent the better part of three years working on the project, and shot over 70 hours of footage, which was shaped into what we see on screen. And while the film is a celebration that goes a long way to breaking down stereotypes and prejudices, it also shows that there is still much to be done in the way of improving attitudes within the wider community.
★★★☆