Reviewed by GREG KING
Director: Atom Egoyan
Stars: Ryan Reynolds, Mireille Enos, Rosario Dawson, Scott Speedman, Kevin Durand, Alexis Fast, Bruce Greenwood.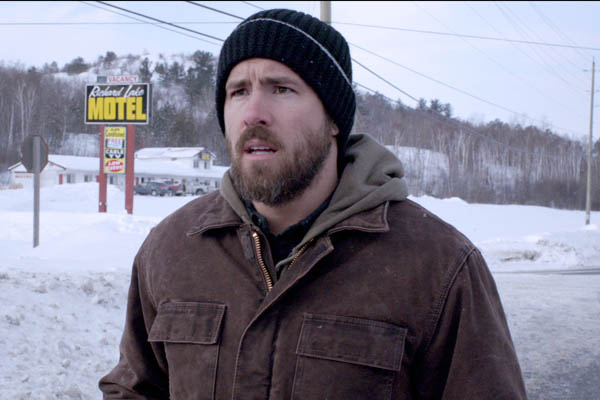 The Captive is the latest film from Canadian director Atom Egoyan, whose films like the haunting The Sweet Hereafter and Exotica, etc, have usually found favour with critics and art house audiences. But his 14th film is something of a disappointment though, and it premiered at Cannes to a round of jeering and a generally negative reaction. Egoyan seems to be going through something of a police procedural and crime phase at the moment as his previous film, the rather bland Devil's Knot, was a fictional treatment of the real life court case and miscarriage of justice surrounding the so-called Memphis Three.
The Captive is as chilly as its wintry setting. The film deals with childnapping and a sophisticated paedophile ring who groom their intended targets via the internet. At the centre of this grim film is Cassandra (Alexis Fast) who has been held captive for the past eight years by Mika, a creepy paedophile played by Kevin Durand (from Cosmopolis, Real Steel, etc). The film explores similar territory to the recent but much darker and far superior psychological thriller Prisoners, although it lacks that film's intensity and sense of urgency and purpose.
Ryan Reynolds delivers one of the stronger performances of his career as Matt, a landscaper whose daughter was kidnapped from the back of his car while he was inside a fast food restaurant buying a meal. The police investigation soon stalls due to a lack of physical evidence, and the investigating officers – the compassionate but tough Nicole (Rosario Dawson) and the hot headed Jeffrey (Scott Speedman) initially focus their attention on Matt, who is the logical suspect. As a result his marriage begins to fall apart and his wife Tina (Mireille Enos) also blames Matt for the disappearance.
More cruelly though, Mika taunts Matt and Tina with hints that Cassandra is still alive, especially when they see glimpses of her on webcams and the internet, that are hard for the authorities to trace.
Inspired by the dark and twisted nature of Scandinavian crime thrillers, Egoyan and his co-writer Paul Fraser (a veteran of television movies) have crafted a rather bleak drama that will not appeal to many. However he brings a deliberately low key approach to the sensational and disturbing subject matter and downplays its more obvious horrors. Several of Egoyan's films have explored these themes of loss, voyeurism and pain. Egoyan deliberately eschews a linear structure for his narrative and the film moves back and forth in time, which places a lot of demands on the audience to keep up.
Some of the dialogue is obtuse, a stylish trademark of the director, and has been woodenly delivered by the performers, who sometimes do not seem to be fully committed. The drama slowly spins out of control though and falls into familiar thriller territory by the end. Egoyan is not really known as a director of action, but there is a car chase here that is quite exciting and brings some much needed intensity to the flaccid drama.
Reynolds gives a wonderfully nuanced and more subtle performance as a vulnerable man haunted by the past and feeling powerless to change events and rescue his daughter. Durand is suitably creepy and loathsome as the perverse and slimy Mika, although he plays his character with surprising restraint, and he is the best thing in the film. And Bruce Greenwood, a regular collaborator in Egoyan's films, pops up in a small and thankless role.
There is some hauntingly beautiful cinematography by Egoyan regular Paul Sargossy, and the wintry setting recalls films like Fargo, etc. Mychael Danna, another Egoyan regular, provides an ominous score. But some of the interior sets, especially the police interview rooms, look like sets left over from police procedural tv shows like the Law & Order and CSI franchises.
★★☆