Reviewed by GREG KING
Director: Todd Stephens
Stars: Udo Kier, Jennifer Coolidge, Michael Urie, Tom Bloom, Rashon Thomas, Ira Hawkins, Thom Hilton, Stephanie McVay, Jonah Blechmore, Justin Lonesome.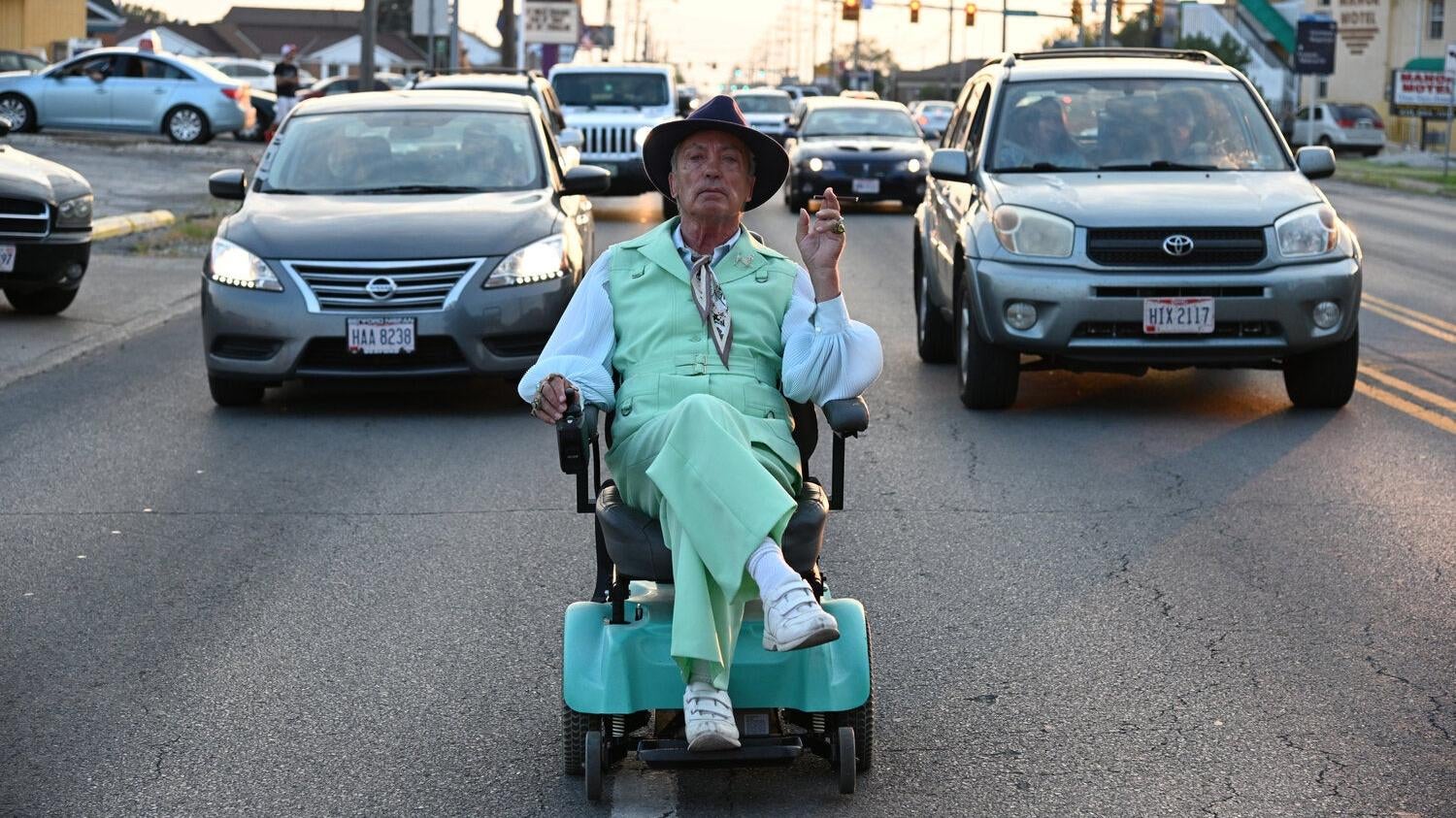 Not to be confused with the recent sci-fi film of the same name that starred Mahershala Ali, Swan Song is a gentle, poignant and moving character study that deals with themes of change, death, loss, tradition, and is also a heartfelt tribute to the millions of people – friends, family, lovers and partners – who died during the AIDS epidemic of the 80s and 90s.  
Pat Pitsenberger (played in outrageously flamboyant manner by German actor Udo Kier, a fixture in the schlock trashy horror films of Paul Morrissey in the 70s and Lars von Trier in the 90s) is a former hairdresser, once described as "the Liberace of Sandusky" who now lives in a drab aged care facility outside the small town of Sandusky, Ohio, following a stroke. One day he is visited by a local lawyer (Tom Bloom), who informs him that a former client has died, but says that she specified in her will that she wanted Pat to do her hair for the funeral. The late Rita Parker used to be his best client when he ran a beauty salon in town. But Pat is still harbouring a grudge against her because when she changed salons years ago she took many of his other clients with her. Pat is bitter and reluctant to comply with her wishes despite the offer of a substantial fee.
After an argument with one of the nursing staff over his cigarettes, Pat walks out of the nursing home and sets off for the funeral home in town. As he makes his way through the outskirts of Sandusky, he observes the changes that time has wrought on the town. During this trip down memory lane, he reconnects with his past, a past that is slowly disappearing due to change. The house he shared with his longtime lover has been razed to the ground. The gay bar where he used to perform in his younger years is about to close down and be transformed into an upmarket micro-brewery. And many of his contemporaries have since passed on.
Pat learns that the contemporary gay scene is no place for old men, even though he and others of a similar age were trailblazers who made the sacrifices that paved the way for many of the rights and freedoms that the younger generation of gays now enjoy.
Written and directed by Todd Stephens (the 1998 gay coming of age tale Edge Of Seventeen, etc), Swan Song is inspired by a true story and is intended as a bittersweet tribute to the real Pat Pitsenberger, whose openly gay lifestyle and attitude had a profound influence on him. The film has a melancholy tone, and this is obviously a deeply personal film for Stephens.
Swan Song was shot on location in the town of Sandusky (Stephens' own hometown), and cinematographer Jackson Warner Lewis paints the town in a warm nostalgia palette that adds to the nostalgic vibe. This is a fairly thin narrative that takes place over the course of one day, and Stephens maintains a leisurely, deliberately measured pace throughout that gives us time to soak up the details of both the town and the character of Pat himself.
But the focus of the film is rightfully on Pat, and Kier, who has been given the role of a lifetime, inhabits the character completely and brings swagger, mischievous charm and a wounded dignity to his performance as the aging queen. Kier is on screen the whole time and he delivers a wonderful performance that ranges from the bitchy to camp to compassionate and hurt and vulnerable. In close up, Kier's features convey the weight of his years and bitter experience (over 200 film credits to his name), which adds depth to his performance. And the superb costumes created for Pat by Kitty Boots and Shawna-Nova Foley help define his flamboyant nature.
Jennifer Coolidge (American Pie, Legally Blonde, etc) is fine in a small but important role as Dee Dee Dale, Pat's former employee who established her own beauty salon in competition with him. With a supporting cast that includes Coolidge and Dynasty's Linda Evans and Thom Hilton as a twink bar tender, Swan Song is a real camp fest and surprisingly enjoyable. There is also a great soundtrack featuring some queer classics that adds to the feelgood nature of the film. 
★★★