Reviewed by GREG KING
Director: Duncan Jones
Stars: Jake Gyllenhaal, Michelle Monaghan, Vera Farmiga, Jeffrey Wright.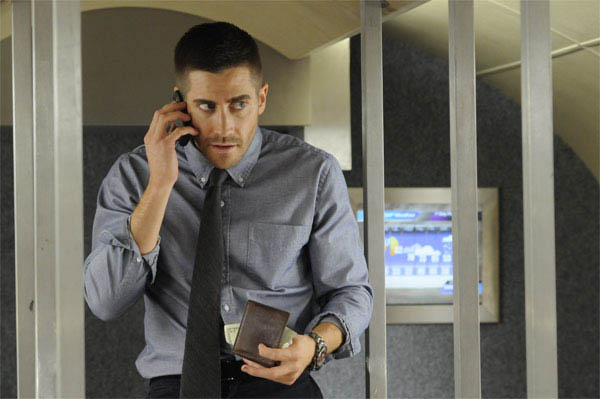 Source Code is the sophomore film from Duncan Jones, the son of rock star David Bowie, and is a wonderful follow-up to his debut feature, the intriguing low budget sci-fi film Moon, which was a study of paranoia, isolation, madness and identity. This film explores some similar themes, but, working with a bigger budget and special effects, Jones is also able to explore some high concept ideas that are increasingly rare in today's sci-fi films.
An intriguing time travel thriller, Source Code comes across as something of a cross between Quantum Leap and Déjà Vu, the recent film that saw Denzel Washington's heroic cop sent back in time to try and stop a terrorist bomb attack on a crowded passenger ferry. Here, a bomb explodes on a peak hour commuter train headed for Chicago, and a mysterious scientific organisation uses revolutionary science to try and thwart another attack. Known as "Beleaguered Castle", the organisation has found a way to tap into the final eight minutes of consciousness that the brain apparently feels after death, and they use that technology to try and identify the bomber before he can strike again.
Colter Stevens (Jake Gyllenhaal) wakes up on the train sitting next to a woman (Michelle Monaghan) he has never met before, but who seems to know him quite well. When he looks in the mirror of the train's restroom he sees another face staring out at him. He is disconcerted, and the audience immediately feels this sense of displacement and confusion as well. Then the train blows up, and Stevens immediately wakes up in a small claustrophobic chamber. There he learns that is indeed a badly wounded soldier who is the ideal guinea pig for this experiment. According to the briefing he receives from Dr Rutledge (Jeffrey Wright), he has been transported into the brain of one of the passengers who died in the explosion. Stevens has just eight minutes in which to complete his mission before the bomb explodes.
At first he is unsuccessful in stopping the bomb blast, but that is all right as he is given plenty of opportunities to rectify his mistakes. Stevens finds himself repeatedly thrust back into the same scenario in this alternate reality (as with Bill Murray's character in Groundhog Day), and each time he learns more about himself and the parameters of his assignment. He also makes subtle changes to the fate of his fellow passengers.
The film raises the usual questions regarding time travel, and how changing the past can affect the future, etc, but they are largely irrelevant in this high stakes thriller. Source Code is a fascinating, complex and gripping sci-fi thriller that initially bewilders, but one doesn't have to fully grasp its dubious science to appreciate it. A healthy suspension of disbelief is required when viewing Source Code! Writer Ben Ripley (who has written a couple of sequels for Species, etc), and Jones bring a sense of urgency to the tightly plotted material.
Gyllenhaal is excellent in a rare action hero role, and acquits himself well, bringing a convincing mix of angst, confusion and humour to his performance. Vera Farmiga (from Up In The Air, etc) is also strong as Goodwin, his controller, and she is able to convey her crisis of conscience as she communicates with Stevens. Monaghan is also good as the woman he meets on the train, and who is reluctantly dragged into his mission, although she is given little to do.
★★★☆