Reviewed by GREG KING
Director: Garth Jennings
Stars: voices of Matthew McConaughey, Reese Witherspoon, Scarlett Johansson, Taron Egerton, Nick Kroll, Bobby Cannavale, Chelsea Peretti, Jennifer Saunders, Bono, Pharell Williams, Halsey, Tori Kelly, Adam Buxton, Letitia Wright, Eric Andre, Garth Jennings, Peter Serafinowicz, Nick Offerman.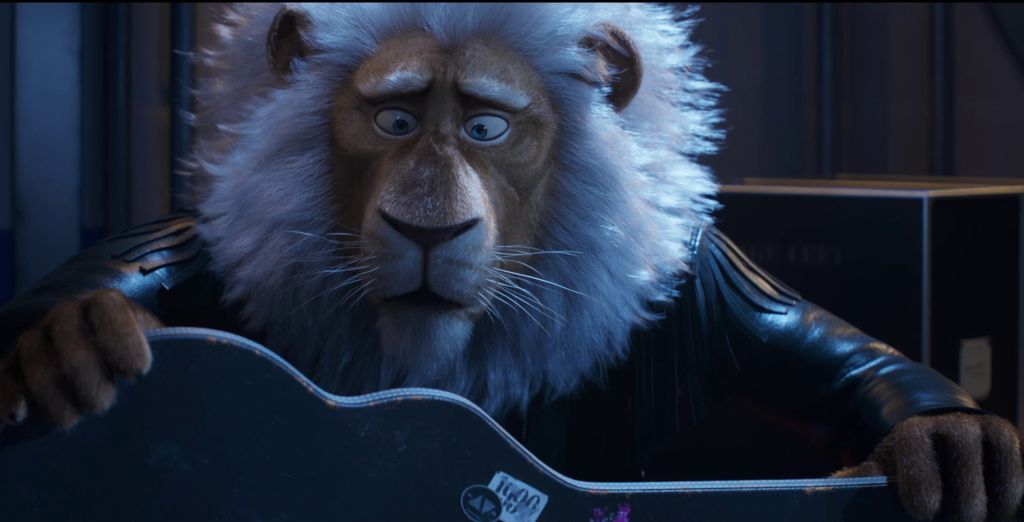 The concept of putting on a show against the odds was one of the driving forces behind a lot of the great Hollywood musicals from the 30s and 40s, and it was also a key component in the colourful and energetic animated musical Sing in 2016. That crowd pleasing jukebox musical from the same animation studio that gave us the minions proved a hit at the box office, so it was inevitable that the studio would go back for a second bite of the pie.  
Garth Jennings, who wrote and co-directed the original, is back in the director's chair for this delightful sequel and he has managed to bring back the original cast to reprise their roles. His confident direction and familiarity with the material keeps things moving along nicely. This is an entertaining film full of colour and energy and is perfect for younger audiences.
Since the events of the first film, the eternally optimistic impresario Buster Moon (voiced by Matthew McConaughey) has managed to assemble his diverse troupe of animal performers into a successful touring show that plays a lot of smaller towns. One night he spies in the audience the influential talent scout Suki Lane (Chelsea Peretti), but she seems less than impressed. He is appalled by her dismissive comment that he and his troupe "are just not good enough!" and sinks into a funk.
Encouraged by Nana Noodleman (Jennifer Saunders, from Absolutely Fabulous, etc), the grand dame of the theatre, Buster sets out to Redshore City, a glitzy entertainment mecca not to dissimilar to Las Vegas, to seek an audition with powerful but ruthless entrepreneur Jimmy Crystal (voiced by Bobby Cannavale). But it is only when Buster offhandedly mentions that he is trying to get reclusive singer Clay Calloway to play a role in his show that Crystal shows any interest. Ever since his wife was killed in a car accident several years earlier Calloway (voiced by U2 lead singer Bono) has not written any new material and has vanished from sight.
Moon continues to rehearse his performers to ready them for his ambitious epic sci-fi musical Out Of This World, while he sends iguana sidekick Miss Crawly (voiced by Jennings) to try and convince Calloway to emerge from his self-imposed exile.
Moon also has to contend with Crystal's spoiled daughter Porsha (Halsey), who wants to play a prominent role in the show. When he demotes her to a lesser role, he upsets the tyrannical Crystal and the show's future seems jeopardised even before the curtain opens.
The familiar returning characters are given plenty of screen time to further develop their characters and there is a fine dynamic and chemistry at work here. Reese Witherspoon plays the maternal pig Rosita, who has to overcome her fear of heights to perform her role in the show, while the talented singing gorilla Johnny (Taron Egerton, who played Elton John in the fantastical musical biopic Rocketman) struggles to get his choreography right under the strict guidance of the legendary Klaus Kickenklober (Adam Buxton). Teen elephant Meena (Tori Kelly) discovers love with Alfonso (Pharrell Williams), an ice cream vendor, but is too shy to approach him. Rosita's dance partner Gunter (Nick Kroll) has developed most of the ideas for the stage show. Porcupine rock singer Ash (Scarlett Johansson, from Black Widow, etc) is the one who makes a connection with Calloway.
Several of the new characters also leave their mark on the material. Cannavale is good as the ruthless Crystal, who makes Simon Cowell seem shy and retiring, and Buxton brings some humour to his performance as the exasperated Kickenklober.
As expected, this juke box musical features a superb soundtrack that contains everything from Elton John to Taylor Swift that will resonate strongly with audiences of a certain age. Having managed to land Bono for the key role of the reclusive Calloway has enabled the producers to use a couple of the band's classic tracks for the soundtrack. And U2 has even managed to write a new song for the film.
A warm-hearted musical dealing with some important and universal themes, such as never giving up on your dreams, Sing 2 is that rarity – a sequel that actually improves on the original. The computer-generated animation is colourful. There are some wonderful moments of slapstick physical humour that will delight younger audiences. Perfect entertainment for the holidays! 
★★★☆