The 2017 Scandinavian Film Festival is screening at Palace Cinemas across Australia in July.
ALL FILMS REVIEWED BY GREG KING
LAST UPDATED JULY 16, 2017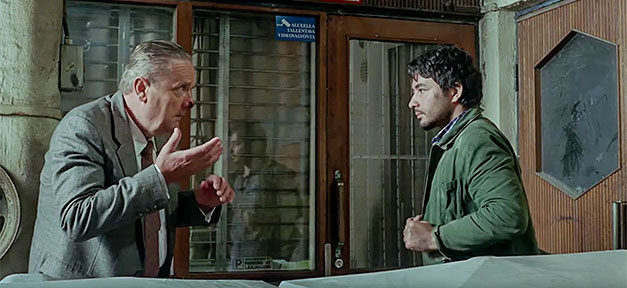 THE OTHER SIDE OF HOPE was the opening night attraction at the 2017 Scandinavian Film Festival, which is screening at Palace Cinemas around the country. It is the latest film from Finnish auteur Aki Karismaki, and is full of his usual droll humour and dead pan style and absurdist touches. Karismaki often pokes fun at the Finnish working class and their daily struggles in his films. The Other Side Of Hope is the second film in an unofficial trilogy exploring the plight of illegal immigrant and refugees in contemporary Europe, and it follows on from 2011's wonderful Le Havre, in which an aging shoe shine man took pity on a young African refugee. Here we meet Syrian refugee and asylum seeker Khaled (Sherwan Haji) as he attempts to find a new life in Helsinki. He is given a chance by the grumpy Wilkstrom (Sakari Kuosmanen), a former travelling salesman who wins at poker and decides to buy a run down restaurant called The Golden Pint.
This is essentially a culture clash comedy that explores the unlikely friendship that develops between these two men from vastly different backgrounds. The restaurant's quirky staff bring some offbeat touches of idiosyncratic humour to the material. A key subplot sees Khaled trying to reconnect with his sister from whom he was separated at the Turkish border.
The film deals with the topical issue of illegal immigrants and refugees and the violence and racism that they often suffer at the hands of fascist groups. While this is sometimes grim stuff Karismaki brings a sympathetic and compassionate and humane approach to the material and it is tinged with a sense of hope and optimism. The film has been shot in 35mm by his regular cinematographer Timo Salimanen who uses a depressing palette of blues and greys to give us a rather bleak picture of Helsinki. However there is an upbeat soundtrack that accompanies the film which tempers the mood somewhat.
Karismaki's films are something of an acquired taste with his dry humour and his long static takes and leisurely pacing and audiences attuned to his sensibility will find much to enjoy here.