Reviewed by GREG KING
Director: Jeremy Sims
Stars: Sam Neill, Michael Caton, Miranda Richardson. Asher Keddie, Wayne Blair, Leon Ford, Travis McMahon, Will McNeill.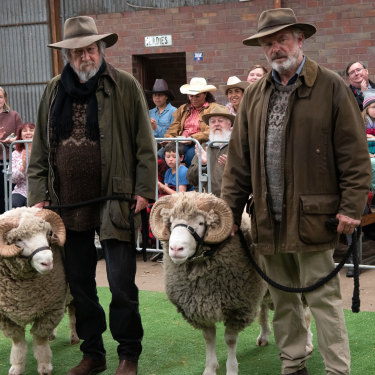 Estranged brothers Colin (Sam Neill) and the bitter alcoholic Les Grimurson (Michael Caton) live on adjoining properties in the small farming town of Mt Barker in Western Australia, and they haven't spoken to each other for the better part of four decades. They share a sheepdog which carries messages between the pair. Both men breed Dorset horn sheep and are fierce rivals at local best in show competitions. Colin treats his flock almost like family. But when Les' sheep wins top prize at the local show Colin suspects something is wrong and reports his concerns to local vet Kat (Miranda Richardson). His fears prove to be true when Les' sheep are diagnosed as suffering from OJD, a deadly and highly contagious disease.
An overly officious bureaucrat from the Department of Agriculture insists that all the sheep in the valley must be destroyed, which leads to despair and possible financial ruin for the community. Many residents plan to pack up and move away, which will further devastate the social life and heart of the community.
However, Colin manages to save three of his precious sheep and a ram, which he hides inside his house, hoping to preserve the bloodline of these rare sheep. This leads to some amusing situations but also heightens the tensions between the two brothers who are polar opposites in terms of their personalities. But it also eventually leads to a reconciliation between the two.
If all of this sounds familiar it is because this is an Australian adaptation of the drily comedic 2015 Icelandic film Hrutar (Rams). It relocates the story to Mt Barker, a small town of about 2000 people in Western Australia. Rams is the first feature film written by Jules Duncan, a former television reporter, and he remains reasonably faithful to the source material, although he infuses it with some distinctively local touches including summer bushfires and our typically laconic sense of humour. However, his script does not always move smoothly between moments of comedy and moments of drama and seems a little tonally uneven. And the subtext of a community trying to deal with the outbreak of a disease that will potentially cripple them financially and socially has a strong contemporary resonance.
Director Jeremy Sims is well known for his acting roles, particularly baring his bum in the raunchy tv soap Chances, but he has also established himself as a force behind the camera, helming plenty of television work as well as strong dramas like Last Train To Freo, the WWI drama Beneath Hill 60 and the award winning drama Last Cab To Darwin. His handling of the material here taps into the tensions between the two brothers, and also looks at the importance of community ties in overcoming adversity. He handles the material with a light touch and brings a touch of compassion to the film.
Rams has been nicely shot in widescreen by cinematographer Steve Arnold (A Few Less Men, etc) who captures the WA locations beautifully. And for anyone who has seen the original, the film draws a nice visual contrast between the icy snow covered landscapes of Iceland, which gave the film a somewhat colder and darker tone, and the warmer bronzed open spaces of the WA farming lands.
The film features some strong performances from the solid cast. Neill brings his usual warmth, affable nature and sly wit to his performance, while Caton brings some quirky touches to his performance as the flawed, bitter and sullen Les and makes him a bit of a pitiful figure. Leon Ford is nicely smarmy and oily as the overly officious and humourless bureaucrat De Vries. Richardson is good as Kat, a possible love interest for the lonely Colin. The supporting cast features many familiar local faces such as Wayne Blair, Asher Keddie and Travis McMahon, as well as newcomer Will McNeill.
Rams may not be a feel good farming film in the vein of Babe, but there is a lot riding on this local production to spearhead a new wave of local films and bring audiences back into the cinema after several months of the lockdown caused by the pandemic.
★★★