Reviewed by GREG KING
Director: Dean Israelite
Stars: Dacre Montgomery, Elizabeth Banks, RJ Cyler, Naomi Scott, Ludi Lin, Becky G, Bryan Cranston, Bill Hader.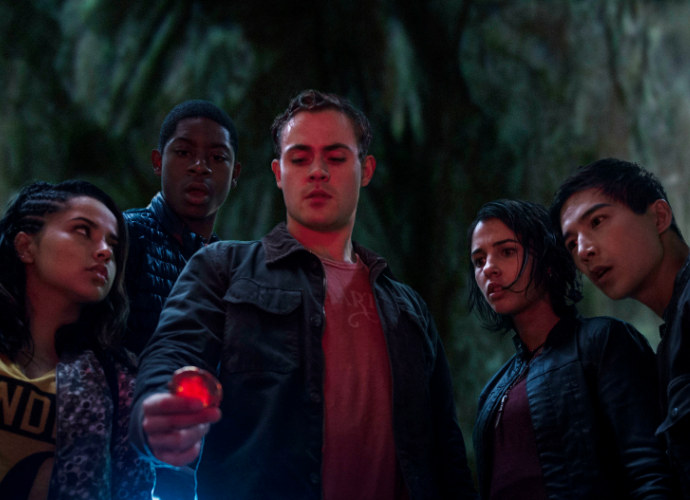 A series about a group of teenagers given super powers by an alien, The Mighty Morphin Power Rangers were popular on tv in the 90s. Created by Haim Saban, the show adapted some stock footage from a Japanese series as well as creating new adventures. There was also a feature length movie produced in 1995, and several spin offs, and a range of toy action figures, comic books and video games. Costing some $105 million, this expensive attempt to reboot the Power Rangers and make them relevant for a new generation gives the characters an update. But it misses the mark by a long way.
In this reboot, we basically get served up an origins story depicting how five angst ridden teens are transformed into reluctant superheroes.
A brief prologue set in the Cenozoic Era, some 65 million years earlier, shows us how the early rangers, led by the humanoid Zordon (Bryan Cranston) battled the evil Rita Repulsa (an almost unrecognizable Elizabeth Banks) to save the Earth. Zordon was killed when a meteorite crashed to the earth, but his consciousness was uploaded into his spaceship's computer system, where it lay dormant for several millennia, buried deep under the surface. Until it was discovered by the five teenagers who are destined to be given their superpowers by Zordon.
Jason Scott (played by Australian actor Dacre Montgomery) is the former football hero of Angels Grove until a prank backfires and he is suspended from the team. He is also forced to serve weekend detention at school. There he connects with a couple of other breakfast club detainees, including former cheerleader Kimberly Hart (Naomi Scott) and the awkward antisocial geek Billy Cranston (R J Cyler). The three wind up at the local disused gold mine where they meet fellow misfits Zack (Ludy Lin), a rebel who is also caring for his terminally ill mother, and transfer student Trini (Becky G). There they stumble upon some mysterious coloured stones and uncover a spaceship buried deep inside the mine.
They awaken Zordon, who gives them the ability to transform into a fighting unit with unique powers able to battle a reawakened Rita and stop her from taking over the world. He also gives them an arsenal of high tech weapons and a machine called Zord, which they have to learn to control. Cue lots of montage sequences of training drills laced with generous doses of humour as the five learn to control their powers.
Power Rangers has been written by John Gatins (Real Steel, etc), but the result is a bit of a mess, and tonally uneven as it seems unsure of its target audience. How else to explain the opening scene in which a pair of football jocks masturbate a bull? And Gatins doesn't seem to understand the appeal of the original Power Rangers – those who grew up watching them 20 years ago will have matured and grown up now and moved on to other interests. Younger audiences will be bored by the long establishing story and the dialogue. But one of the biggest problems is how long the film takes to get the five into the familiar Power Rangers outfits – nearly 90 minutes into the movie! And when the Power Rangers do begin to do their thing, their iconic theme song plays for a few seconds only.
The film pays lip service to some of the familiar tropes of coming-of-age tales – alienation, isolation, rebellion, family problems, sexual identity, etc. Gatins also tries to expand on the Rangers mythology, giving this reboot gets a more gritty feel.
The director is South African filmmaker Dean Israelite, best known for his work on the found footage time travel drama Project Almanac, and here he puts the cast of charisma challenged young unknown actors through their paces. Unfortunately, his direction is uneven and the tone of the film is all over the shop. However, the budget can be seen on the screen with plenty of pyrotechnics, special effects and CGI.
The climactic showdown between the Rangers and Rita and her army of golem-like rock creatures overdoses on CGI created special effects. There is a Transformers-like vibe to the sudden introduction of the Rangers' Megazord, which does battle with Goldar, a lumbering giant monster made from molten gold. And the obligatory battle also wreaks a city-wide trail of destruction that virtually destroys Angel Grove in a climax that resembles the carnage laden climactic battles from the recent Marvel/Avengers movies. This extended fight sequence is frenetically and chaotically edited, and is exhausting to watch.
The uniforms for the superhero quintet have undergone a massive revamp in keeping with the 21st century. Instead of the colourful form fitting body hugging spandex outfits of the past they now have high tech colour coded body armour that is more along the lines of the new look costumes worn by Batman and Superman in their latest cinematic incarnations.
The producers have assembled a racially diverse cast to flesh out the new breed of Power Rangers, but they are a fairly bland lot, and remain underdeveloped. Only Cyler, from Me And Earl And The Dying Girl, acquits himself well, and is a standout here as the wisecracking Billy. That one of the new Rangers is an LGBT character is fine, but this passes muster with less controversy than the gay character in the live action remake of Beauty And The Beast.
Cranston, who voiced a character in the 1993 tv series, is largely wasted here as he spends most of the time fused into a high-tech wall and talking in an alien language. SNL stalwart Bill Hader is great as the diminutive and fussy cyborg Alpha 5 who helps put the fledgling Rangers through their paces and training drills. He brings some much-needed humour, energy and a sense of fun to the material. And Banks chews the scenery shamelessly and seems to be enjoying herself as the villainous Rita – it's almost as if she is in a different movie altogether.
Somehow though it this new take on the Power Rangers is uneven, derivative and dull in patches. It would seem that this messy and flawed film is unlikely to kick start a new cinematic superhero franchise.
★★