Reviewed by GREG KING
Director: Kirsten Tan
Stars: Thaneth Warakulnakrah, Penpak Sirkul,Yukonturn Sukkijja, Chaiwat Khumdee.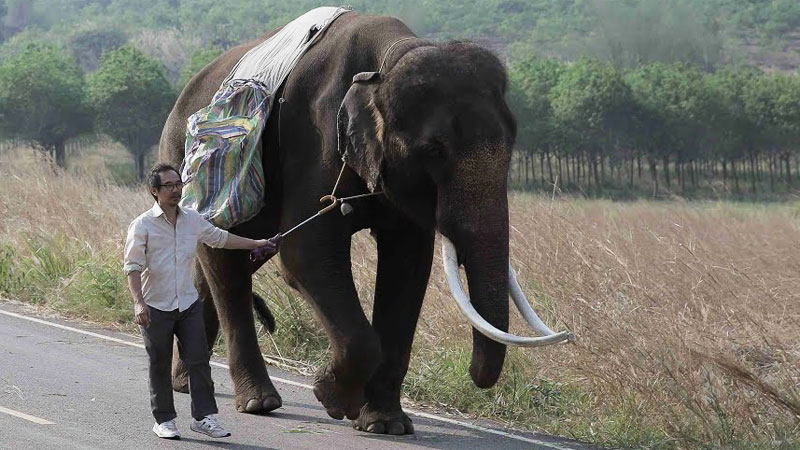 A quirky and gentle road movie from Thailand, Pop Aye is sure to please audiences of a certain age or sensibility.
Middle aged architect Thana (Thaneth Warakulnakrah) is in the midst of a mid-life crisis. He is fed up with his job and his marriage to his sexually frustrated and unhappy wife Bo (Penpak Sirkul), who feels resentful towards him for his lack of ambition and drive. Thana feels unappreciated both at work and at home. The landmark shopping centre he designed is set for demolition.
Then a chance encounter with an elephant on the street of Bangkok sets him on a course that will change his life and his attitude. He recognises the elephant as Pop Aye from his childhood, the orphaned elephant was named for the famous cartoon character. He buys the elephant from its current owner and sets off on a journey across Thailand, returning to the village of his youth, a place of happy memories and freedom.
This is a meandering journey as the odd couple meet a number of interesting misfit characters along the way, including Jenni (Yukonturn Sukkijja) a transgender prostitute in a karaoke bar. As with most road movies though it is the journey and not the destination that is important. Thana undergoes a change through his encounters and experiences. A number of flashback sequences give us more detail about Thana's life before he set out on his journey, but this device also gives the film something of an episodic feel.
Pop Aye is the debut feature film for Thai writer/director Kirsten Tan, and she maintains an unhurried and leisurely pace throughout that suits the material. This is a film with a strong humanist touch and a gentle streak. But there is also a melancholy tone to the film as it captures the changing face of Thailand, and that sense of disconnect between the urban lifestyle and pace and the relative quite of the rural life. The film has been beautifully shot by cinematographer Chanon Chotrungroj, who captures some lovely landscapes. Matthew James Kelly's upbeat guitar-laden score also adds to the film's tone.
Warakulnakrah, a rock musician making his acting debut here, brings a loneliness and poignant quality to his performance as Thana. And Bono, the elephant that plays the titular Pop Aye is really cute and has a wonderful personality that shines through.
Pop Aye received a Special Jury Prize for screenwriting at the Sundance Film Festival.
★★★