Reviewed by GREG KING
Director: Jules Williamson
Stars: Kelly Preston, Jenny Seagrove, Sally Phillips, Elizabeth Dormer-Phillips, Ben Miller, Franco Nero, Judi Dench.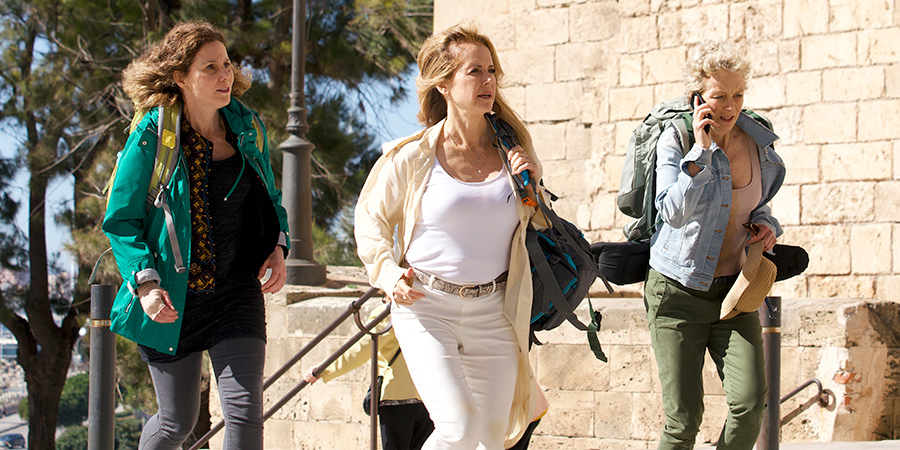 Cliched, formulaic drama about a group of women heading off to Europe on a bonding journey and trying to reconnect with their past. We've seen this sort of thing done many times before in superior films, but Off The Rails falls flat and provides very few laughs or genuine moments. 
The film opens with three women, formerly close friends, coming together to attend the funeral of Anna, a close friend before the four of them drifted apart. They learn that Anna has left them a final gift, a Eurail pass for them to revisit a youthful adventure through Europe. Cassie (Kelly Preston, who often appeared opposite her husband John Travolta in films like Battlefield Earth, etc) is an actress currently starring in a popular television series, who is involved in a custody battle with her former husband. Katie (Jenny Seagrove, from tv series Judge John Deed, etc) is a writer suffering financial difficulties; she also had a falling out with Cassie over the fact that she slept with her husband. Liz (Sally Phillips, from Bridget Jones's Diary, etc) is a nurse but she is also a control freak and an overprotective mother.
The three decide to honour their late friend by taking Anna's moody teenage daughter Maggie (Elizabeth Dormer-Phillips in her film debut) along on the trip. The four hope to reach the city of Palma in Portugal in time to witness a special phenomenon known as "God's disco ball" – the light show created by the sun shining through a cathedral's stained glass window – which only happens twice a year. Why this event means so much to the women is never satisfactorily explained.
Their journey is packed with misadventures including lost passports, missed train connections, and even a drunken night in a Spanish karaoke bar. During the journey the women also uncover lots of secrets and lies, ugly truths about their past, regrets, long simmering conflicts and even the problems of getting old and the cracks in their relationship are soon exposed. But little of this rings true thanks in part to the formulaic and uninspired scripting of actor turned writer Jordan Waller. His script lacks real wit or warmth and just scratches the surface of all this emotional turmoil.
As befits the title, this film quickly heads off the rails. There is little chemistry between the leads and it is hard to believe that they are lifelong friends. Judi Dench contributes a brief cameo at the start of the film lending gravitas to the material. Ben Miller appears as a musician who befriends them briefly while veteran Franco Nero pops up later in a small thankless role as the mayor of a small Spanish town. All the action is accompanied by a soundtrack featuring the songs of Blondie, who was apparently Anna's favourite group, but the songs don't always match the mood of the scene.
First time feature director Jules Williamson is better known for his work on television documentaries, but his handling of the material here lacks zest or energy and relies on well-trodden cliches. Cinematographer Mike Eley (The Duke, etc) gives the exotic locations a postcard like surface gloss, and the film looks great, which is small compensation.
Sadly this slight film marks the final appearance of the late Kelly Preston, who passed away before the film was released.  
★☆