by GREG KING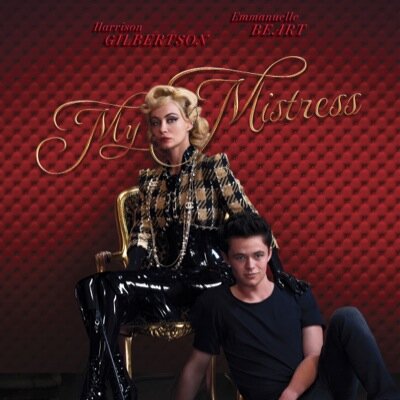 MY MISTRESS – interview with director Stephen Lance
"It's not just 50 Shades Of Grey, it's not a titillating skin flick about S&M," says writer/director Stephen Lance about his debut feature film My Mistress. "But it didn't hurt to have 50 Shades Of Grey come out."
Lance's film is a semi-autobiographical coming of age tale about Charlie Boyd (played by rising young Auatralian actor Harrison Gilbertson) a teenage boy grieving over the suicide of his father who begins a dangerous obsession with Maggie (played by French actress Emmanuelle Beart), a bondage dominatrix who lives nearby and who has her own personal demons to deal with. It has a touch of Lady Chatterley's Lover about it, but it is also a precursor to 50 Shades Of Grey, "and I dare say there are parallels to other erotic literature and films," Lance says.
"The film itself is really an impressionistic look at my childhood and my memories of my father and my mother and my relationships with older women growing up," Lance elaborates when explaining the genesis of the film. "So sex was something that the film is about."
Although the moody drama depicts an S&M relationship between a younger man and an older woman, that's only the beginning of what Lance was trying to explore. Lance was more interested in sex being an allegorical way of exploring more personal themes of pain and grief and trauma and the emotional turmoil of the characters. "It's about obsession, and it's about trauma, and how that affects everyone of us at times in our lives and how that trauma manifests itself through our behaviour," Lance continues. "That behaviour could be obsession – it could be obsession from a mother to her lover, it could be that obsession from the boy to the mistress, and from the mistress to her child. But all the people in the film are playing out roles that have to do with this underlying emotional trauma.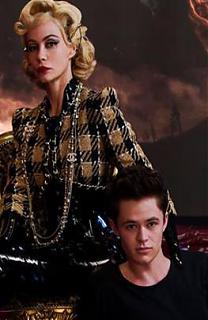 "I was interested in the sex, but it was more about the emotionality of the characters and what they were getting emotionally from that – the intimacy, the tenderness and the connection rather than sex. It wasn't really about sex, it was about tenderness."
Lance started writing the script about seven years ago with Cory Taylor, who cowrote his short film Yolk. The script went through various iterations before he was finished with it. Initially it was a fifty minute film, and then a feature albeit with a different title. "But these things just seem to grow and develop into what they want to be," Lance says with a shrug.
Lance always wanted the film to have an extra dimension to it, a kind of humour. He had always loved Gerard Lee's 1989 film Sweetie. By chance he met Lee when they were working together on a judging panel, and he asked him to come on board as a writer on My Mistress. Lee read the script and agreed, and they spent another three years working together.
"We went back and forth with the script," he recalls, "and he brought such a great sense of humour to it, a dark sense of humour to it that wasn't there in the beginning. I didn't want the film to be an earnest journey through one boy's maturation and grieving, it needed the light and the shade to it."
For the visual style of the film Lance was very influenced by European cinema as well as the photography of Gregory Crewdson, Helmut Newton and Stephen Klein. And he was also influenced by Australian filmmakers like Peter Weir and the dreamlike quality he brought to Picnic At Hanging Rock.
"I just wanted to give the film that spell like quality that is hopefully in there," he says. He worked closely with cinematographer Geoffrey Simpson with whom he had previously collaborated worked with on commercials he had filmed. "I just loved him as a person," he explains. "He's such a gentleman and such an artist, and so giving and collaborative. And I wanted someone who had shot more films than Emmanuelle, someone who was particualrly skilled at lighting women in natural light. I'd seen him do that a lot throughout his career. He has a great relationship with women on screen and he can bring them this incredibly complimentary aesthetic style and light and mood. And I also wanted someone that she would feel very comfortable with lighting her."
For the crucial role of Charlie, Lance was looking for a specific type, a guy who could be a rebel, someone who had the ability to take on this sexual role, someone who also had a fragility and a darkness to them. "And Harrison's got that," he elaborates. "He's just a mysterious boy that understands the camera and cinema. He's a minimalist actor, an impressionistic actor. Emmanuelle is very expressionistic, never does the same thing twice, she had a big presence, whereas he has this quietness to him, this brooding quality. I was looking for that. That's what I saw in him, and that's what he gave. I think he's great."
Lance says that he wrote the role of Maggie with Beart in mind. He admired her performances in films like A Heart In Winter, 8 Women, Manon Des Sources. "I was looking for a woman who not only had that fetishistic kind of beauty, that sort of thing that men would pay to experience, but I also needed someone who had the raw, fragile damaged quality. And she has that. We had always thought of her for the part, and so I sent the script off to Emmanuelle. It took months to hear back, but eventually we did hear back. She liked the script and wanted to meet me. So I jumped on a plane and took off to meet her. We got along great.
"I think that Emmanuelle is a risk taker and I think that Maggie is a risky character for her to play, not only because she's a damaged woman – that's always risky for an actress to play – but that most of it was in English. Emmanuelle speaks good English, but for her to perform in a different language and get through the text to the emotion underneath the text, is not always easy. And that was always going to be a risk for her. And then to come all this way to Australia to work with someone who'd never done a feature film before. And it was a low budget film, and for someone who is a big star in France and who is used to much bigger budget films, that was a great risk.
But the risk has paid off as Lance and the distributors have already sold the film to international markets in the UK, Russia, America, Germany, Hong Kong, Japan. "This comes not just because of the film but also because of her presence," he acknowledges. "There is a following for her."
Lance himself comes from a background shooting commercials and music videos, but candidly says that they didn't prepare him for the marathon of shooting his first feature film. "I don't think anything prepares you for the rigour, the marathon of making a film," he says. "That's not just shooting but getting the film financed, and the preproduction, and then the shooting, and then the postproduction, and now the exhibition part."
Lance has also shot a couple of short films, which he admits were more helpful in giving him entree into the world of feature film making. "Certainly working with actors and telling a dramatic story helped me," he continues, "but what it does is give you entree into a distributor's world. They see your shorts and like them, and you get a certain amount of cachet there and they want to invest in you, and distribute your film. Certainly if I hadn't done them it would have been virtually impossible to get a film up. I've done commercials and music videos, but they would not get me a feature film because people would not see that I was able to handle drama. In a way they are great, but it's a whole different thing making feature films.
"There are some distributors who are hankering for this type of psychosexual material because that's what they can sell in different markets. With this film it didn't hurt that 50 Shades Of Grey came out in 2011. Suddenly that kind of world was far more commercial than we had ever expected it could be, and so there was more interest in the film."
My Mistress has had limited screenings at film festivals, but so far the reaction has been great, according to Lance. Women over 30 have loved it. "It just seems to touch something in them, something primal and they love it."
To listen to Greg's interview with Stephen, click on the link below:
http://www.mediafire.com/listen/eyq3l8i7omxsn5r/190927_001.MP3