Reviewed by GREG KING
Director: Nicolas Pleskof
Stars: Alice Pol, Miou-Miou, Pablo Pauly, Pascale Arbillot, Eddy Mitchell, Sarah Stern, Gustave Kervern, Adrien Guionnet, Zaboui Breitmann, Lucien Jean-Baptiste.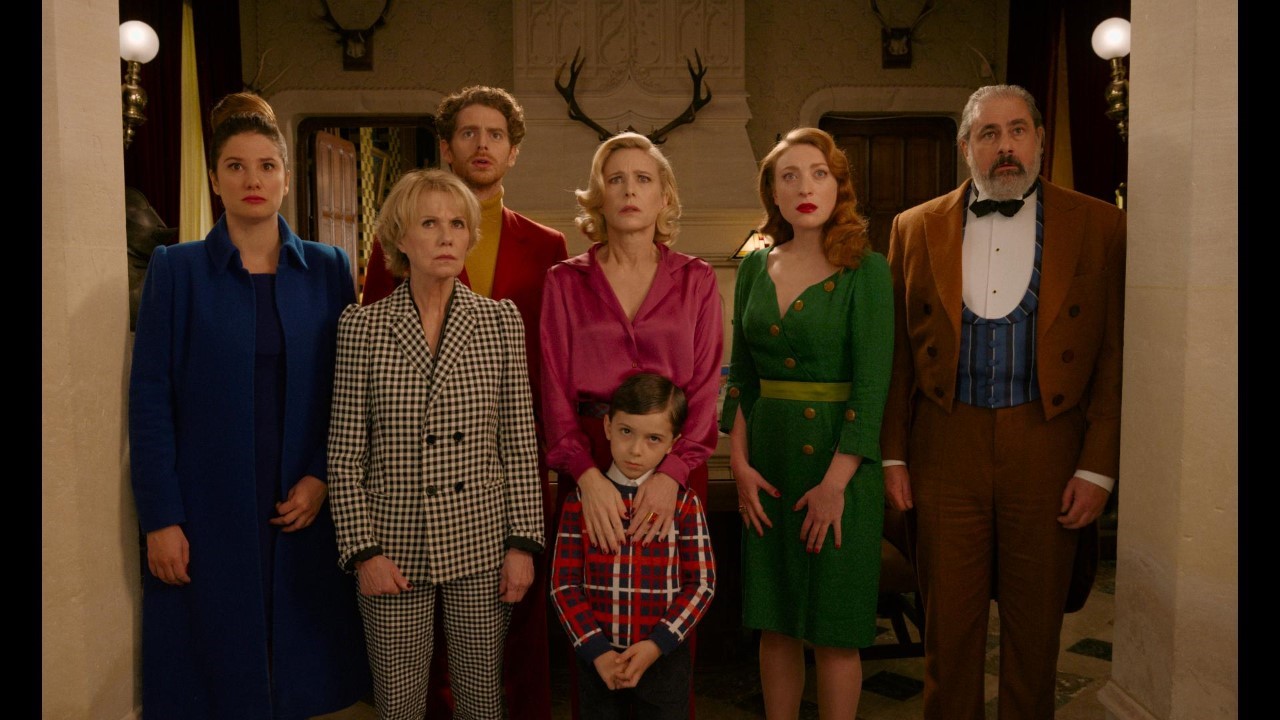 The poster, trailer and advertising material for this off beat but star-studded French comedy/drama positioned it as Gallic variation on Rian Johnson's clever murder mystery Knives Out, and it borrows heavily from other films like Ready Or Not, Clue, Murder By Death, and their ilk, and it even combines elements of the recent Escape Room phenomenon. Murder Party has a touch of the traditional Agatha Christie mysteries with a host of suspects. It works as a parody of the abovementioned films, but unfortunately Murder Party fizzles rather than dazzles.   
Acclaimed architect Jeanne (Alice Pol) has been in a bit of a funk lately but perks up when she is invited to design some renovations for the mansion belonging to Cesar Daguerre (Eddy Mitchell) who became very rich from designing and producing board games. The family consists of Cesar's second wife Salome (Pascale Arbillot, from Little White Lies, etc); his sister the grumpy and surly Josephine (veteran French actress Miou-Miou, from The Science Of Sleep, etc); his son Theo (Pablo Pauly, recently seen in Wes Anderson's The French Dispatch, etc), who is attracted to the feisty Jeanne, and Theo's bipolar sister Lena (Sarah Stern, from tv series Borgia, etc). But soon after her arrival, Jeanne decides that the family are rude and obnoxious, and she decides to leave. 
But before she can leave Cesar is found dead, poisoned, and a series of well-orchestrated but deadly games begin as Jeanne is challenged by a disembodied voice to try and identify the killer before other victims turn up. With the grounds sealed tight Jeanne has no choice but to play along. The different rooms in the house are designed after a game theme and each room holds a challenge towards unmasking the killer.
The eccentric members of the Daguerre family, including their humourless butler Armand (Gustave Kervern, from Mr Stein Goes Online, etc), are all suspects with their over inflated egos. As the film progresses their insecurities, petty jealousies and secrets are all revealed. However, the characters are all caricatures and cliched, and lack credibility. And, despite the star-studded cast, very few of the characters stand out.
The film is the debut feature for Nicolas Pleskof, who has a handful of short films to his credit, and who cowrote the script with Elda Marpeau. It benefits from the over the top and garish colour palette and glorious production design from Jeremy Duchier (Chocolat, etc) that is rich in detail, which creates the sprawling Daguerre family mansion and gives the material a suitably artificial quality. Nicely shot by cinematographer Gilles Porte (Who You Think I Am, etc).
 Murder Party is the kind of French film that almost cries out for a Hollywood remake. 
★★☆