Reviewed by GREG KING
Director: Anthony Fabian
Stars: Lesley Manville, Isabelle Huppert, Lambert Wilson, Lucas Bravo, Jason Isaacs, Alba Baptista, Anna Chancellor, Ellen Thomas, Christian McKay, Bertrand Poncet, Philippe Bertin, Roxane Duran.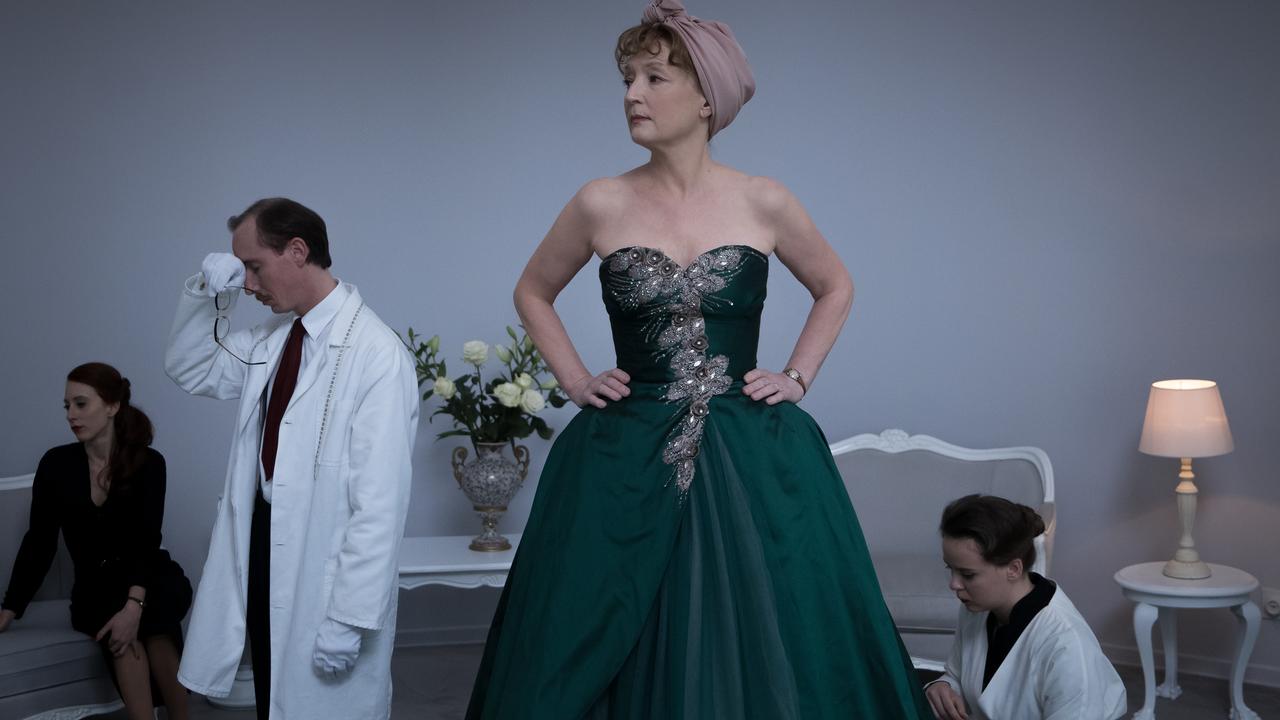 This charming and old-fashioned little film is the third adaptation of the 1958 novel written by Paul Gallico (best known for The Poseidon Adventure) – a one-hour tv movie was produced by the BBC in 1958 and there was a telemovie produced in 1992 that starred the late, great Angela Lansbury as the titular Mrs Harris and Omar Sharif. 
The setting is London in 1957, and this delightful film plays out like a fairytale for adults.
Mrs Ada Harris (played by Lesley Manville) is a widowed cleaning lady who works for a number of wealthy clients. She has been described by one of her clients as "the soul of discretion," but some of them take advantage of her good nature. She is something of an optimist and a dreamer who still holds out hope for the return of her husband Eddie, an air force pilot who has been missing since a plane crash in 1942. Meanwhile she and her best friend Violet (Ellen Thomas), a fellow cleaning lady, enjoy life with drinks and dances at the local hall.
While cleaning house for the uppity Lady Dant (Anna Chancellor), one of her clients, she spies a beautiful Dior gown which cost some 500 pounds, and she sets her heart on buying one of her own. She begins to save up her pennies for a trip to Paris to visit the exclusive House of Dior, despite never having flown anywhere before. But it is an unexpected windfall that eventually allows her to head to Paris. Full of excitement and giddy expectation, she arrives in a Paris but the trip doesn't go as smoothly as expected. The Paris she visits is far removed from the picture postcard city of the movies; the streets are covered in garbage due to a general workers' strike and there is tension in the air.
When she arrives at the House of Dior on Avenue Montaigne though with her roll of banknotes, she is quickly dismissed by the overly officious and frosty receptionist Claudine Colbert (Isabelle Huppert), who wants little to do with the commoner from Britain. There are a number of other obstacles in her path, but Mrs Harris is not to be deterred and her brash no-nonsense approach and straight-talking appeals to the workers at Dior who band together to design her gown. Mrs Harris also shakes up the House of Dior, ultimately changing their business model from haute couture to something more in line with the demands of the modern woman.
The film has been written by a team of writers that includes Carroll Cartwright, Olivia Hetreed (Girl With A Pearl Earring, etc) and Australian Keith Thompson (Lockie Leonard, etc), and it explores issues of class and following your dreams. Director Anthony Fabian (Louder Than Words, etc) maintains a nice and gentle approach throughout that suits the material. It was beautifully shot by cinematographer Felix Wiedemann who captures the superb architecture of Paris and draws a vivid contrast with the garbage strewn streets; you can almost smell the stench of the rubbish piled up. The film was actually shot on location in Budapest, which nicely doubles for the Paris streetscapes.
Manville (Phantom Thread, etc) is superb as the genial and kindly Mrs Harris, and she brings an unpretentious quality, warmth and a hint of grit and determination to her wonderfully nuanced performance. Her wonderful presence steers the film, and she's backed by a solid supporting cast who are all given their moment to shine. Cast largely against type here Huppert is great as the arrogant and disapproving Claudine. Lambert Wilson brings plenty of charm to his role as the amiable widower, the Marquis de Chessagne, who is charmed by Mrs Harris and gives her the means to view the latest fashion collection from Dior. Jason Isaacs brings a roguish charm to his role as Arthur, a bookie friend of Mrs Harris and Violet. Lucas Bravo (from Ticket To Paradise) is good as Andre, the lovesick young bookkeeper who is in love with the glamourous model Natasha (Alba Baptista). He recognises that Dior's business model is failing, and it is only through Mrs Harris' encouragement that he finds the courage to speak up and suggest some changes that save the firm.
As is to be expected there are some fabulous gowns on show here, and superb costumes designed by award winner Jenny Beavan (Cruella, etc), and the film itself goes into great detail about the care and preparation that goes into each haute couture gown from the famed fashion house. Luciana Arrighi's production design is also superb.
Mrs Harris Goes To Paris is a feel-good film with broad appeal and will certainly please its target demographic.  
★★★☆